Will J.J. Watt ever be the same player again?
This is what we know this morning about the best defensive player of this decade:
• J.J. Watt has likely re-herniated the same disk that was surgically repaired in July. After further examination this week, the Texans will determine if he will have more surgery or just a course of rehab on the back.
• It's unlikely Watt — who has played 88 straight games since being Houston's first-round pick in 2011 — will play again this season. Unlikely, but it hasn't been ruled out.
• Did he come back too soon from the summer back surgery? I'm told the Texans prevented Watt from coming back for a week after the medical staff okayed Watt's return, essentially giving Watt an extra week of rehab. But no one will be able to answer that question until or if a back specialist does the surgery and determines if Watt's injury is the result of a pre-existing condition.
• No one knows if Watt, 27, will return as the player who was most like Reggie White of anyone in football. No one. So don't believe those on either side of the argument.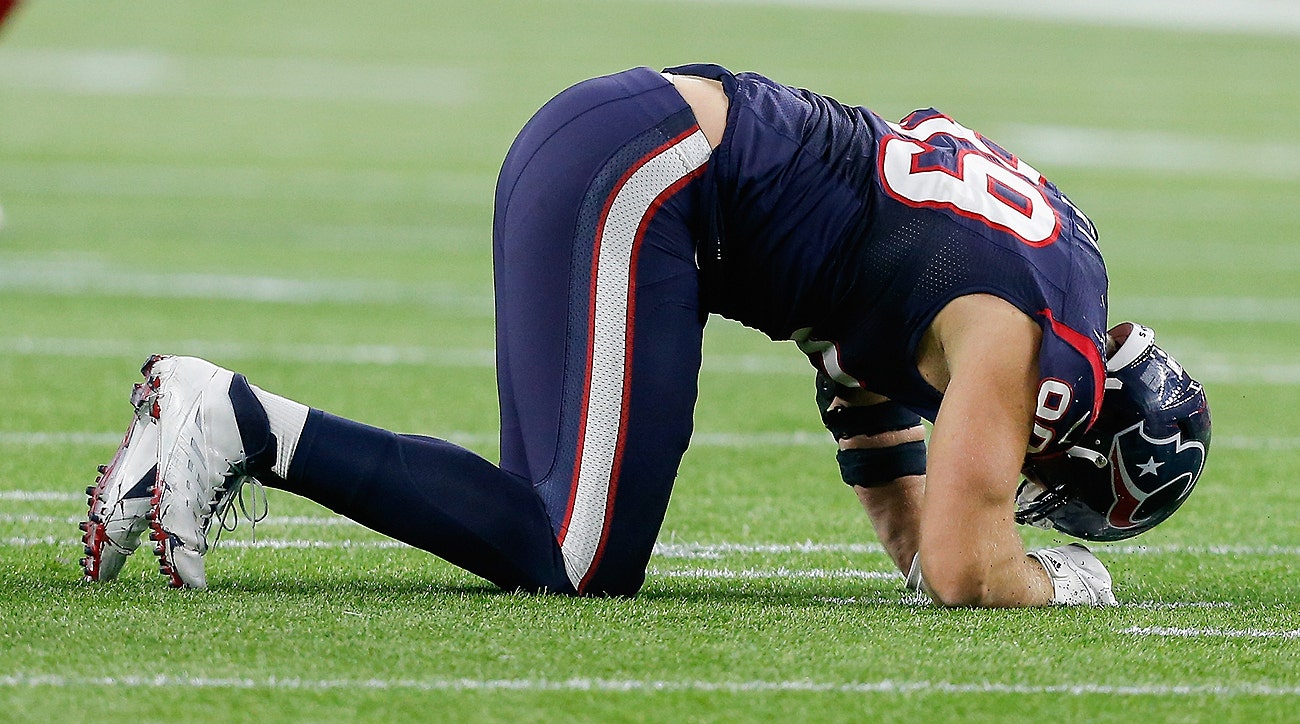 This is certainly a depressing moment for Houston, but all is not lost. Not to distract from the news of the day, but the Texans have picked two highly impactful front-seven players — Whitney Mercilus and Jadeveon Clowney — in the first round of the past five drafts, and both are healthy and playing now. And there's a wild card player — former Baltimore fourth-round pass-rusher John Simon from Ohio State. The Ravens made one of their few personnel mistakes in cutting ties with Simon, and he came to Houston to be reunited with former Ohio State assistant Mike Vrabel. Simon's off to a fast start, with 2.5 sacks. If Houston struggles and loses, it's likely not to be a defensive issue, but rather an offensive one. But that's an issue for another day.
Watt got to 74 sacks faster than all-time sack leader Bruce Smith. Faster, in fact, than any player except Reggie White. Now everyone will want to know the unknowable: Did Watt get so great because he pushed his body beyond its limits in prepping to play in the first place? And then did he get hurt because he was asking his body to do too much?
Last spring, he was convinced to take it easy by Houston team doctors. He had a serious hernia surgery early this year, and also was suffering from back pain that finally forced another surgery in July.
When I saw him in April, I asked Watt if his injuries in year six were finally a wakeup call for a body that had been asked to do too much.
"Probably. Probably," he said. "I think it was my body telling me to slow down a little bit in the offseason … Let's work a little smarter."
There's no indication Watt wasn't working smarter. There's no indication he came back too soon. What we know now is either a coincidence (the same disk rupturing twice in less than a year) or a cumulative effect of working way too hard to play the sport of football. Whatever, Watt's won three Defensive Player of the Year awards. And no one knows if he'll ever be the same.
This article originally appeared on