Jimmy Johnson: Ezekiel Elliott 'Bigger, Stronger,' Faster Than Emmitt Smith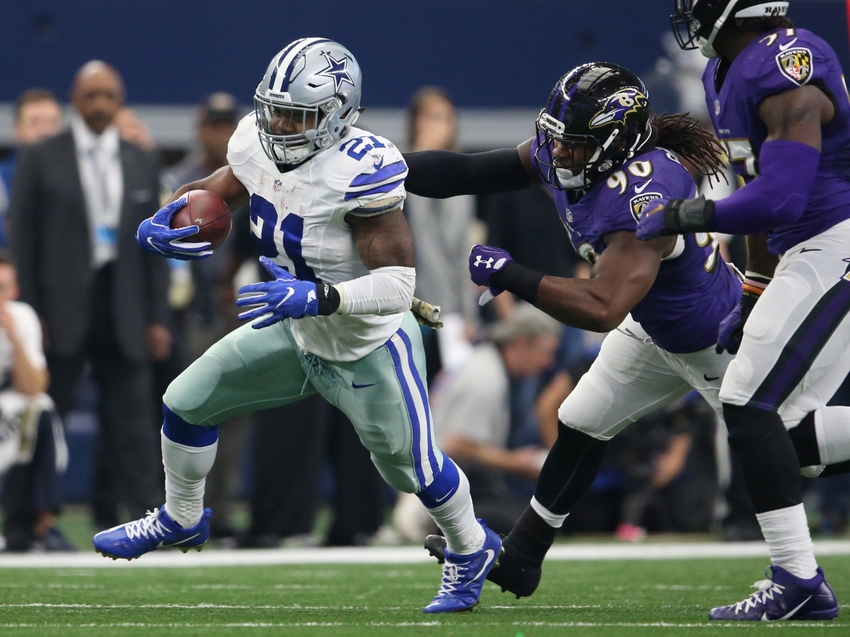 Dallas Cowboys running back Ezekiel Elliott often gets compared to the great Emmitt Smith and former coach Jimmy Johnson offered his thoughts on that.
With 110.2 rushing yards per game, 10 touchdowns, and 4.9 yards per carry, Dallas Cowboys rookie Ezekiel Elliott has been the most brilliant running back in the league this season. Elliott has moved himself into the conversation for the best back in the NFL, even if the likes of David Johnson and Le'Veon Bell provide stiff competition.
Another Cowboys running back, Emmitt Smith, led the league in rushing four times, made eight Pro Bowls, and has the most rushing yards in NFL history. Because of Zeke's dominance as a rookie is often compared to him. That's ludicrous, right?
Former Cowboys legendary head coach Jimmy Johnson said on Fox Sports's "Speak For Yourself" that Elliott compares favorably to Smith.
Hat tip to Black Sports Online's Glenn Erby for the quote.
"Elliott's bigger, stronger, maybe even a step faster than Emmitt Smith. But they're both very similar. I think, you know, Ezekiel Elliott is a more powerful runner. He runs over people. Both of 'em can make people miss, so you don't really get a big shot on 'em."
You can check out the whole video below.
In his rookie year, Smith ran for 937 yards and 11 touchdowns. Elliott is two rushing scores away from Smith's rookie total and he's already shattered the former Florida Gator's rookie rushing total with 1,102 (and counting).
Elliott's Cowboys will take on the Washington Redskins on Thanksgiving Day,and we should expect nothing less than another triple-digit rushing outing. I know, I know, we expect a lot from him. But since he averages nearly 110 yards per game and runs behind one of the best offensive lines in NFL history, Elliott is a sure-fire bet to run for serious yardage every week.
This article originally appeared on