Jimmy Graham shows he is Superman once again (Video)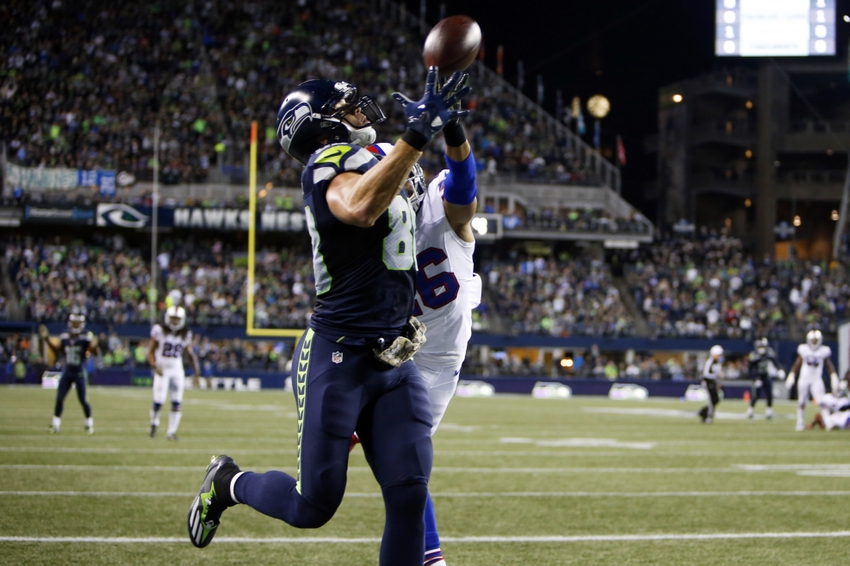 Jimmy Graham is doing his best Odell Beckham Jr. impression on Monday night, catching two one-handed touchdowns against the Buffalo Bills.
The Seattle Seahawks have struggled to move the ball on offense recently, as quarterback Russell Wilson has been slowed by injuries. On Monday night, the Seahawks took on the Buffalo Bills in front of their home crowd, and a huge free agent pickup from last year put on a show.
After catching an incredible one-handed touchdown early in the second quarter, tight end Jimmy Graham did it again before halftime, showing the home crowd why the team gave him so much money to leave New Orleans.
The first touchdown came six seconds into the second quarter, with the Seahawks trailing 14-7. Graham caught the ball on a fly route deep in the end zone, getting both feet down before heading out of bounds. It was Wilson's first touchdown pass in the last three games, the longest such streak of his career.
Up 21-17 with a minute left in the half, Wilson again looked Graham's way, but this time down the middle. Graham once again caught the ball in the end zone with one hand, in what could be the best catch of the 2016 season.
More on FanSided:
The grab put Seattle up by 11, and gave Graham the best half of football he has played in a long time.
Check out the video below.
The Seahawks play in a very winnable division, and with a win on Monday night, they will pad their lead in the NFC West. If Wilson and Graham can continue to jell, they could be very scary on offense. The team has always been led by their defense, but having an elite tight end in the NFC would give the Seahawks a weapon they have never had before.
The two teams went into the locker room with the score at 28-17, in what has been a higher scoring game than most expected. Both head coaches preach defense first, but that certainly has not been the case Monday. At least the fans at home can enjoy some good football for once in primetime.
This article originally appeared on