Jimmy Graham One-Hands Russell Wilson Dime for Touchdown (Video)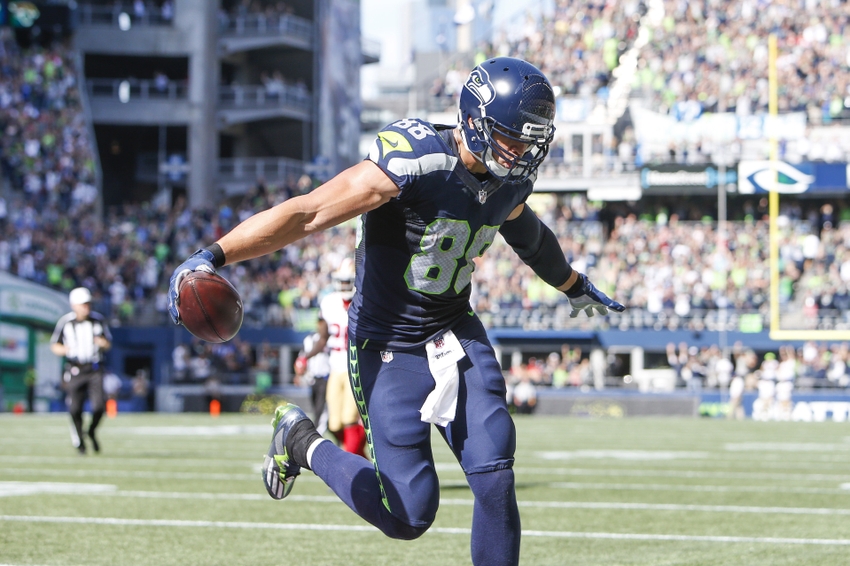 Russell Wilson's pass to the back of the end zone was perfect, but Jimmy Graham topped off the Seattle Seahawks touchdown with a gorgeous catch.
The Seattle Seahawks and Buffalo Bills found themselves going back-and-forth early on in their Monday Night Football matchup from CenturyLink Field. It looked like the visiting Bills would take momentum early off a blocked punt and score. However, the Seahawks answered that. When Buffalo scored once more, it was time for Russell Wilson and Jimmy Graham to respond once again.
Looking healthier than he has for much of the season, Wilson continued to move the ball down the field. After getting his team within striking distance, though, Wilson and company wanted to take a shot. To do so, they drew up a perfect play that had an even more gorgeous result.
Wilson ran play-action right off the snap before giving a quick pump fake to a screen on the right side. Also on the right side of the field, though, Graham was running a fly route and the fake gave him a step on his man. The Seahawks quarterback then lofted an absolute dime right on the money in the corner of the end zone.
If that wasn't pretty enough, Graham's left arm was seemingly being held, but it didn't matter. The electric tight end just brought in the grab with his right arm, a nasty one-handed touchdown catch:
UNREAL.@TheJimmyGraham makes a beautiful one-handed TD grab.
Making it look easy. #BUFvsSEA https://t.co/4JOrKyaKMz

— NFL (@NFL) November 8, 2016
Whenever Jimmy Graham is playing in that kind of mode, good luck trying to keep him contained. He's drawing the most blatant holding/pass interference penalty in the world on this play and is unfazed. The tight end still hauls in the catch for six points.
Following a play like this to tie the game, it's safe to say that the Seahawks offense might be in its best form of 2016. Of course, there's always time for things to get derailed in the NFL.
More from NFL Spin Zone
This article originally appeared on