Jim Harbaugh to Los Angeles Rams Rumor a 'Very Real Thing'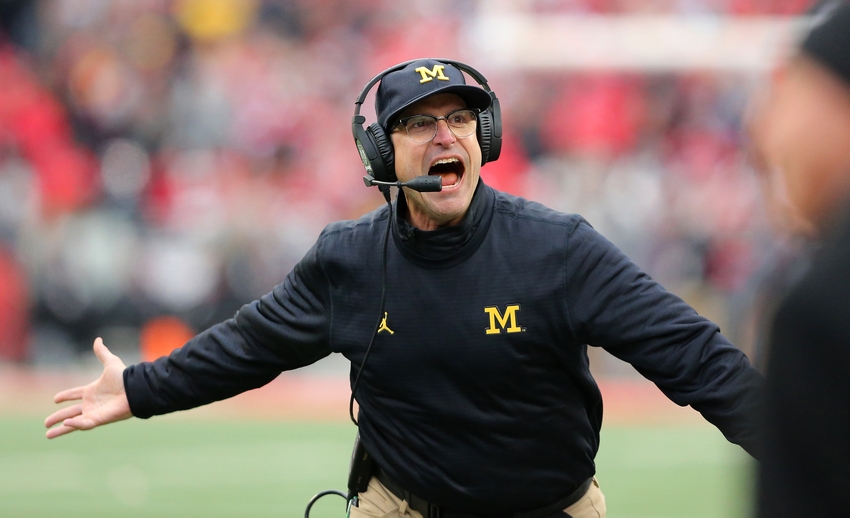 Could the Los Angeles Rams be looking to make Jim Harbaugh their next head coach?
If the Los Angeles Rams decide to make a coaching change at the end of the 2016 season, there is a possibility that Jim Harbaugh could become the next head coach.
MMQB's Albert Breer was on the Colin Cowherd show on Friday and spoke about the overall state of the Rams. Among the topics discussed was the rumor that head coach Jeff Fisher and general manager Les Snead don't get along.
After the segment was over, Cowherd revealed that Breer had told him a rumor about Harbaugh coaching the Rams was "a very real thing":
"By the way, Albert Breer on the way out said that Jim Harbaugh to the Rams rumor is a very real thing."
You can listen to the show here. Cowherd makes the comment a little after the 15-minute mark.
Cowherd then went on to talk about how Harbaugh might be unhappy with the college football system as coach of the Michigan Wolverines, which could ultimately lead to him going back to the NFL sooner rather than later:
"Did the horrible officiating at Ohio State feel small to Harbaugh? Did he feel like something was robbed? He didn't get voted into the final four, the terrible officiating, how does that sit with Harbaugh? Does it bother him? I don't know."
Is Jim Harbaugh a Good Fit for Rams?
Harbaugh hasn't coached in the NFL since 2014 when he led the San Francisco 49ers to an 8-8 record. Before his falling out with upper management that led to his exit, Harbaugh revitalized the Niners franchise.
Not only did he take San Fran to three straight NFC Championship games, but he also turned one of those trips into a Super Bowl appearance. That's exactly the kind of winning experience this Rams team needs roaming the sidelines.
Whether or not there is even a coaching vacancy for Harbaugh to take in Los Angeles after 2016 remains to be seen. However, if owner Stan Kroenke and COO Kevin Demoff want to get serious about turning this ship around, hiring a coach like Harbaugh would be the best way to go about it.
After all, he did wonders with Colin Kaepernick and could quite possibly be just what the doctor ordered to get Jared Goff and the rest of this team going. Furthermore, hiring Harbaugh would revitalize a fanbase that has been beaten down by perennial failure.
Should Fisher lose his job, there's no question Harbaugh should be at the top of the list of coaches to replace him.
This article originally appeared on