Jim Brown Offers Wise Words Regarding President-Elect Trump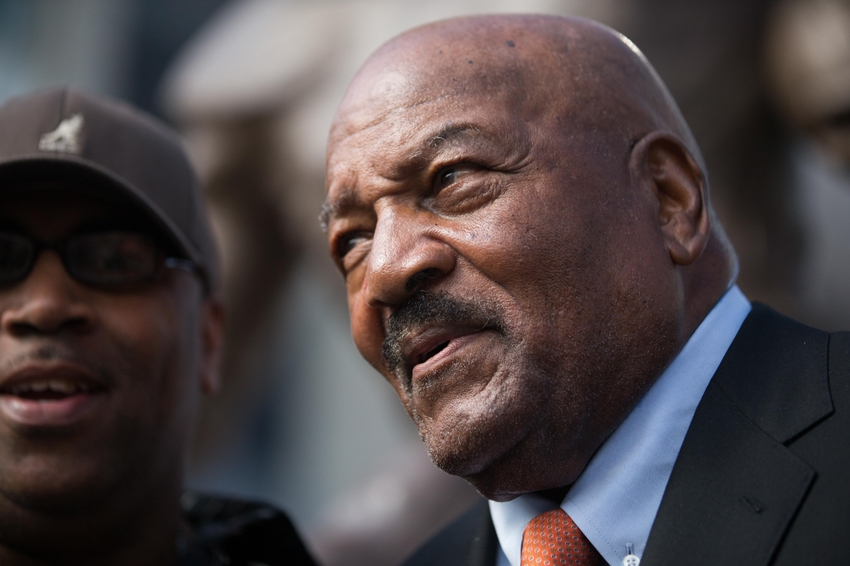 Aside from being arguably the greatest running back in NFL history, Jim Brown also has involved himself in the political landscape over the years.
Specifically he has supported the betterment of African-Americans in every walk of life, be it professional sports or elsewhere. Few have seen the depth of history he has. Brown was entering his physical prime during the peak of the Civil Rights movement. He's also seen the remarkable sway of different presidents from Richard Nixon to Barack Obama. So it was only natural somebody wanted to get his informed opinion regarding the election of Donald Trump.
Many minorities around the country are fearful of this landmark event. Trump has a reputation for being racist in the past and nobody knows what him being in charge will do. So when Brown appeared on NFL Total Access to discuss his life and career, the question was posed about his reaction to when Trump emerged victorious. His answer was one worth thinking on.
"I think that I was disappointed initially," Brown explained. "But then I realized with this kind of action, the things that have been revealed on the negative side of life and Mr. Trump is now president, a tremendous responsibility is going to be on his shoulders.

"He's going to shake up everything everywhere, but he's going to have to be a person that uses judgment. He has to be cautious and he has to do the best things for the betterment of this country. It isn't as bad as I initially thought because with him shaking things up, it's going to bring a lot of things out of the woodwork and I think eventually it will work for the better."
In many ways Brown seems to understand the situation. Actually when looking back on his career, him saying that makes perfect sense. Back in 1963, the Browns had been under the direction of head coach Paul Brown for years. He was one of the all-time greats, the man who built the franchise to its greatest heights. However, for five-straight years he'd failed to reach the playoffs. New team owner Art Model felt the time had come to make a change.
More from NFL Mocks
Something that was sacrilege to Browns fans. Nevertheless, the move was made. Brown was fired after 17 years on the sideline and replaced by Blanton Collier. The new voice in the locker room seemed to "shake things up." Cleveland finished 10-3-1  in 1964 and rolled to a 27-0 romp of the Baltimore Colts in the NFL championship game. It was proof that maintaining the status quo isn't always the best thing.
That doesn't mean a President Trump will end up being good for America, but Brown is saying that there are times when change can be good in the long run. The only thing left to do is accept it and see what happens next.
This article originally appeared on