Jerry Jones believes Dak Prescott will start Week Nine, Not Tony Romo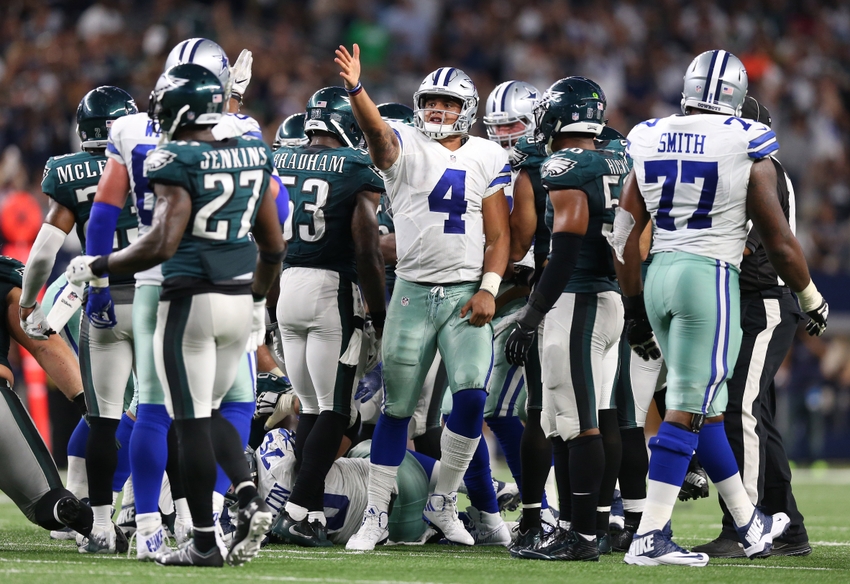 Following their 29-23 overtime victory over the Philadelphia Eagles, Dallas Cowboys owner Jerry Jones believes quarterback Dak Prescott will start in Week Nine.
Despite posting his worst performance as the starting quarterback for America's Team, Dallas Cowboys rookie Dak Prescott was still able to post his sixth-straight victory. This time, the unlucky opponent was the Cowboys' own divisional rivals, the Philadelphia Eagles.
Prescott completed just 19 of his 39 passes Sunday night in the prime time matchup on NBC. The 48.7 completion percentage is a career-low for the rookie passer seven-games into his first NFL season.
But the resilient 23-year old also scored three touchdowns, one of which off a scrambling five-yard pass that found tight end Jason Witten alone in the end zone for the game-winning score in overtime.
The now 6-1 Cowboys defeated the 4-3 Eagles 29-23 on Sunday night to take a two-game lead in the NFC East. Next up on the schedule for the Cowboys are the winless Cleveland Browns. And Dallas owner and general manager Jerry Jones believes Prescott, not Tony Romo will be under center to start that contest in Week Nine.
Jerry Jones confirms what we'd assumed for a while: no Romo vs. Cleveland. Still working his way back to full health.

— David Helman (@HelmanDC) October 31, 2016
The buzz in Dallas, and across the NFL nation, has been if the Cowboys will elect to replace the red hot Prescott once veteran quarterback Tony Romo is fully recovered from the compression fracture he suffered in his back in the preseason. With the 36-year old returning to practice last week, those questions only intensified.
But the simply fact is Romo is likely not yet ready to return. And with Prescott playing so well, there is simply no rush to make that decision. The Cowboys brass knows that in the NFL, sometimes the difficult choices are made for you. Until Romo is truly 100% healthy, Dallas will simply let this situation play out and wait to make a decision until they absolutely have to.
More from The Landry Hat
This article originally appeared on