Jeremy Maclin Injury Update: Chiefs WR Ruled Out for Groin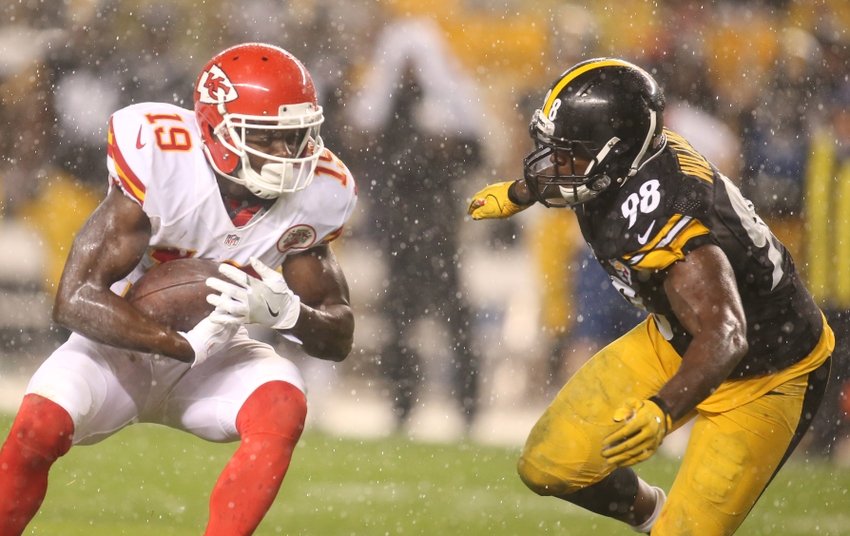 Already facing life without quarterback Alex Smith, the Kansas City Chiefs lost Jeremy Maclin to a groin injury on Sunday against the Jacksonville Jaguars.
In 2015, the Kansas City Chiefs desperately needed a true No. 1 wide receiver, and they zeroed in on longtime Philadelphia Eagles pass-catcher Jeremy Maclin. The previous season, Maclin showed no signs of rust after suffering a serious injury, and he pieced together a career year as Chip Kelly's "X" receiver with 1,300 yards and ten touchdowns.
Kansas City saw this and outbid the Eagles for his services, offering him $55 million over five years with $22.5 million in guaranteed money.
Maclin was the best player on the Chiefs offense in his first season with the team, catching 87 passes and eight touchdowns to help the team reach the postseason in 2015.
This season, however, Maclin hasn't been as much of a standout, because he is averaging 53.7 yards per game; this would be the lowest total of his career since his rookie season.
But Maclin brings so much more to the table for this team than just stats, which is why it was hard to see him go down with an injury in Week 9 against the Jacksonville Jaguars.
The Chiefs announced that Maclin had been ruled out for the game with a groin injury, and he left the game during the team's first drive. Travis Kelce led the team with four receptions for 44 yards, and Albert Wilson caught Nick Foles's lone touchdown pass.
If Maclin misses time beyond Week 9, then hopefully the Chiefs will wise up and give Chris Conley more targets. Rookie Tyreek Hill has impressed and had a big Week 8, but Conley is the best athlete on the team. He looks special when he runs his routes, but he only caught two passes for 16 yards and two targets.
This article originally appeared on