Jeremy Langford finds redemption in Bears' win over Chargers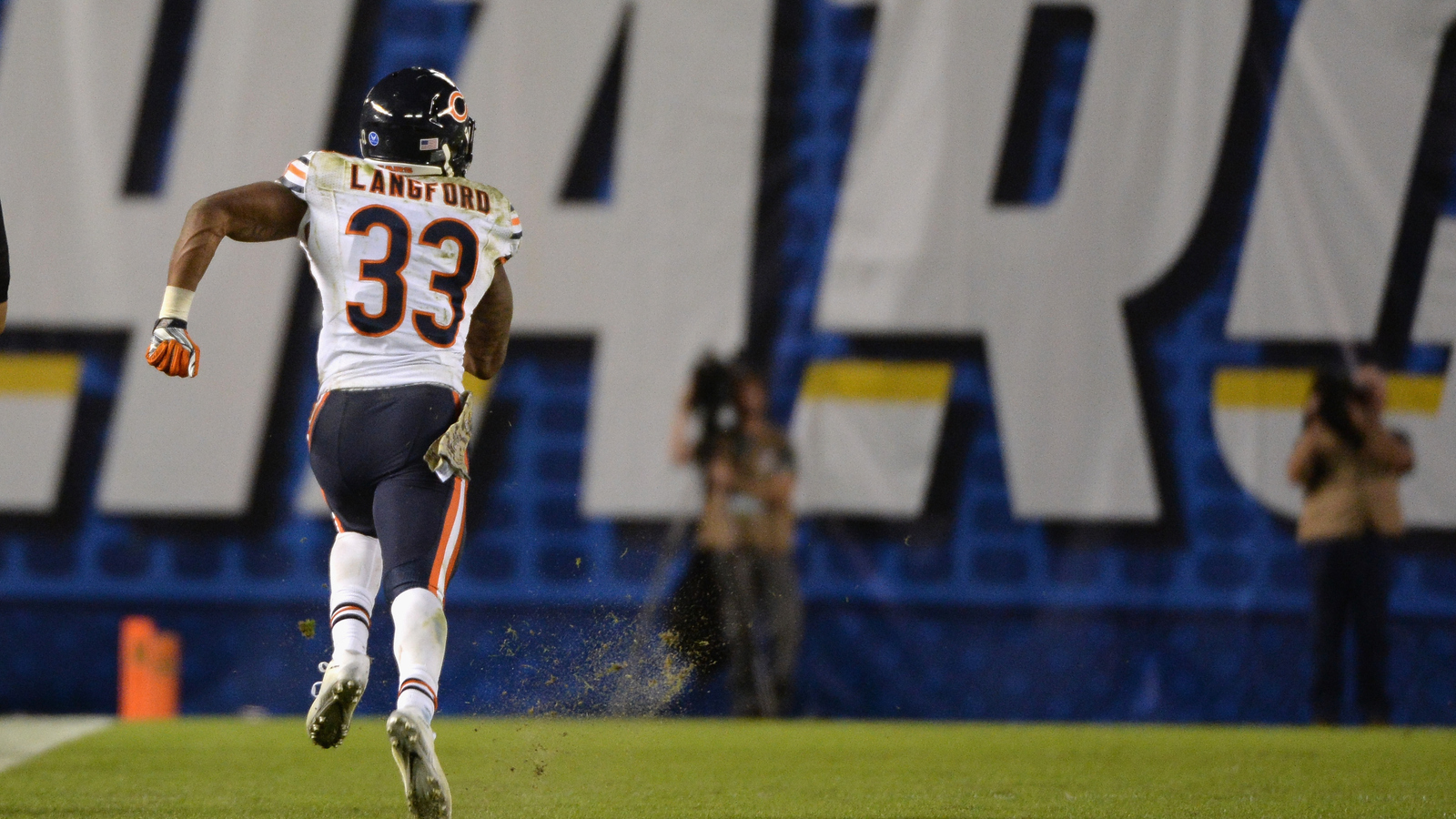 Instead of letting his game-altering drop a week ago obliterate his confidence, Chicago Bears rookie running back Jeremy Langford used the mishap to power a breakout performance in place of Matt Forte on Monday night.
Last Sunday, Langford dropped what would have been a first down reception on Chicago's final drive against the Vikings. The incompletion on third down led to a punt, allowing Minnesota to drive down the field to kick the game-winning field goal with no time left.
The Bears' fourth-round pick in the 2015 made up for the mistake in a big way against the San Diego Chargers.
Langford carried 18 times for 72 yards and a touchdown, caught three passes for 70 and punched in a two-point conversion in the fourth quarter. His 142 total yards powered the Bears to a 22-19 win.
"That was my whole point, to make up for that play last game," Langford said, via Jeff Dickerson of ESPN. "You want to forget about those plays, but when the coaches trust you and Jay Cutler trusts you, you have to go out there and make that play."
Langford didn't start, but he caught a 31-yard pass from Cutler in the first half to get rolling. Later, he had a 23-yard catch-and-run to set up his own one-yard touchdown, which pulled the Bears to within five points at 19-14.
He then put the finishing touches on Chicago's comeback.
After Cutler hit tight end Zach Miller for the go-ahead touchdown with under four minutes to go, Langford found the end zone to score the two point conversion and put the Bears ahead by three points.
Langford's 142 yards from scrimmage were the sixth most by a rookie running back this season. He also became the first rookie to produce a game with at least 70 yards rushing and receiving since Andre Ellington in 2013. Only 14 rookies have hit both marks in a single game since 2000.
"He's dual-purpose," Bears head coach John Fox said. "He can catch. The catch he made on the go route…wide receivers have a tough time on that catch. He's explosive. He can take short runs and make them into long runs. I thought he had a great night."
The Bears still aren't clear when they'll get Forte back, so Langford's opportunity in the spotlight won't be a fleeting one. And considering Forte is a free agent after the 2015 season, the next few games could be a proving ground for Langford to show he's prepared to become the offense's lead back in 2016 and beyond.
Chicago's rookie back is off to a good start. Sometimes, the disappointment of a failure — like a key drop in a divisional game — can be used as fuel to create wonderful things.
More from The Sports Daily: