Jeremy Hill Walks Into End Zone On Perfect Fake Reverse (Video)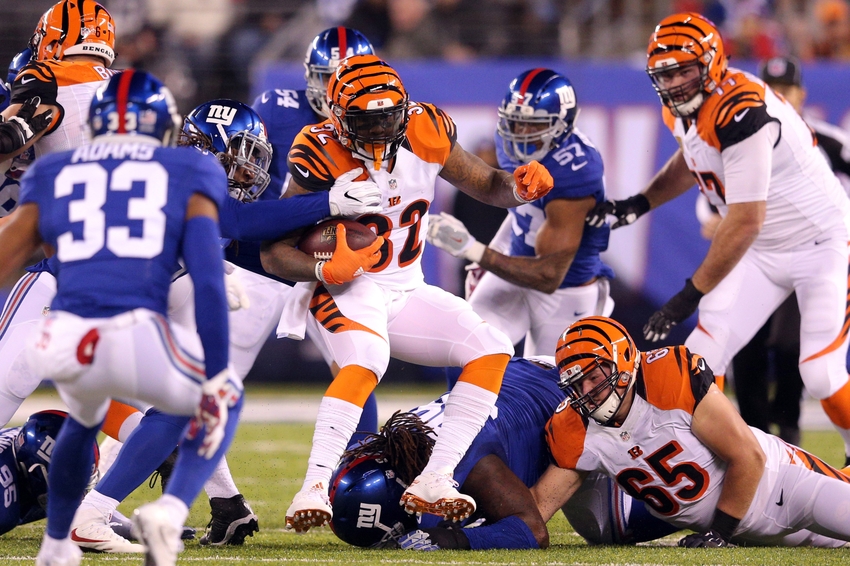 The New York Giants had no idea what was coming when running back Jeremy Hill walked into the end zone for a touchdown on a perfect fake reverse play.
Offensive plays of full trickery were on full display on Monday Night Football between the Cincinnati Bengals and New York Giants. Running back Jeremy Hill brought his A-game against the Giants on a perfect fake reverse play.
This play was a thing of beauty as it all came together so seamlessly, even the Giants defense had no idea what was coming. Take a look at how baffled they were off the fake:
Hill was easily able to walk in for a touchdown. By the time the Giants realized what exactly went down, all they could see was the scoreboard update. For a defense that was completely revamped during the offseason, it's hard to believe everyone was fooled.
The Bengals offense continues to click on all cylinders with a balanced playbook capable of keeping opposing defenses on their toes. Whether they will ever win a game in the NFL Playoffs or not in the future remains to be seen. But at least for now, they continue to play well offensively.
Even though Hill has shared reps with fellow running back Giovani Bernard, his contributions on offense are key in close football games. His ability to be a dual-threat out of the backfield goes well with everything the Bengals have tried to accomplish on offense.
It's great to see the Bengals continue hitting teams with trick plays. While it's not easy, Hill made it look like he's pulled off such a play hundreds of times already.
This article originally appeared on