Jeff Locke having a great season as Minnesota Vikings punter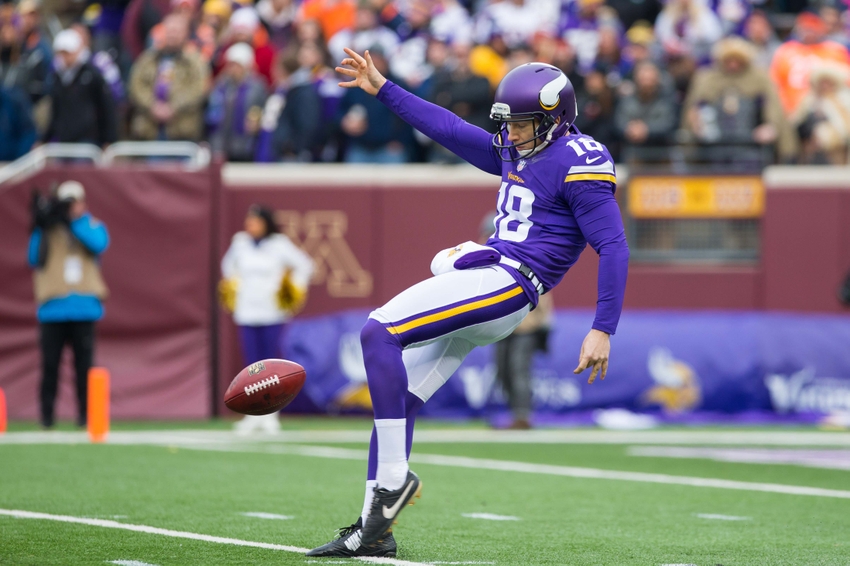 At one time, Jeff Locke was considered as a liability to the Minnesota Vikings. However, the punter has turned things around to have a great 2016 season.
Jeff Locke knew he had to make some changes following his 2015 season with the Minnesota Vikings. He was 32nd in the league in average punt distance and #30 in net yardage per punt. Both he and special teams coach Mike Priefer knew adjustments were necessary.
Thankfully, the punter worked hard during the offseason. He altered his approach to punting in order to allow for a cleaner hit of the football. So far, that change and playing games in more predictable climates have yielded solid results for Locke.
According to Vikings.com, Priefer is pleased with what he's seen from Locke, as the punts are getting good distance while not outkicking the coverage of the special teams unit.
"Jeff's been hitting the ball very, very well, and I wouldn't say his punts were bombs away," Priefer said.  "I think if he gets a 50-yard punt, it's around 4.7-4.8 hang time. That's a really good punt."
That's a hard balance for a punter to achieve. Finding that combination of power and accuracy and hang time is something many at the position fail to do over the course of their career. But, at least for now. Locke is doing a great job of giving his team solid position.
"We use the 48 – 4.8, you know, 48 yards and 4.8 seconds hang time is kind of the gauge. If it's 45 [yards], then 4.5 [hang time]. If it's 50 [yards], then closer to 5.0 [hang time], and he's had several of those," Priefer said.
While kicking is a lot of technique and situational play, it is also mental. As fans saw when Blair Walsh lost his confidence, having a positive mindset can make the difference between executing a good punt and shanking one out-of-bounds.
"He's hitting the ball very, very well," Priefer added. "He's confident. We're protecting him well, we're covering well, our gunners are doing a good job and we've got to keep that up. The stretch of returners we've got coming up is outstanding."
It's always nice to see a player taking his job very seriously. When Locke realized that his performance wasn't meeting the expectations of the Minnesota Vikings, he was willing to try some different things to improve and help the team. And so far the results of his efforts have paid off in a big way.
This article originally appeared on