Jeff Fisher Takes Blame for Rams Woes, then Makes Excuse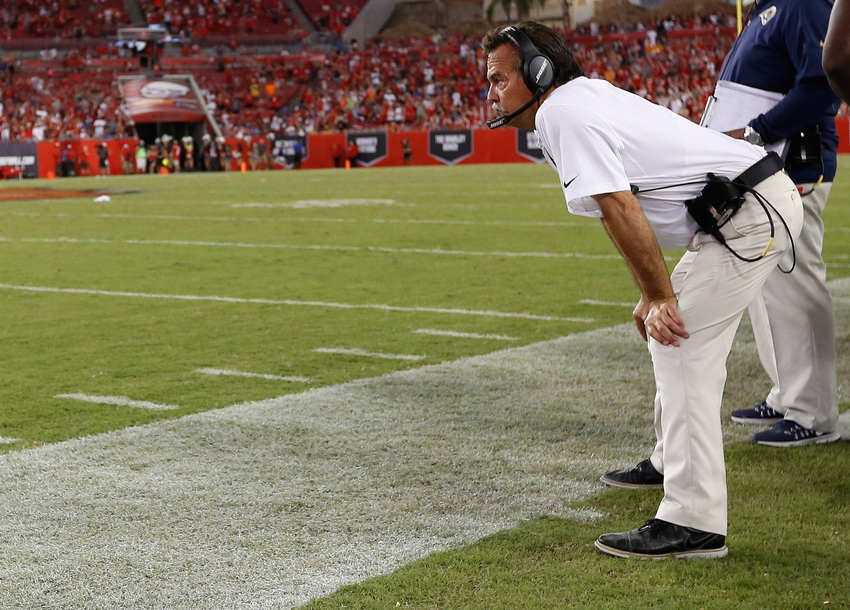 Los Angeles Rams head coach Jeff Fisher took blame for the team's woes this season, but then went on to make an excuse.
Just when Los Angeles Rams head coach Jeff Fisher placed blame on  himself for the team's lackluster season, he couldn't stop himself from making an excuse.
During his Monday press conference, Fisher made it clear that the team's 4-7 record is on him, which is an obvious assessment of the situation in Los Angeles considering he built this failing team:
Jeff Fisher said Rams fans have the right to criticize him: "The win-loss record falls on my shoulders."

— Jack Wang (@thejackwang) November 29, 2016
In true Fisher fashion, the head coach then went on to use the team's moving to L.A. as an excuse for not getting the job done:
Jeff Fisher: "That's not an excuse. We've been through more than any other team in the National Football League this offseason."

— Jack Wang (@thejackwang) November 29, 2016
The OC Register's Rich Hammond summed up Fisher's presser perfectly:
Jeff Fisher in short:
We're bad, it's my fault, but we had to move.
Greg Robinson needed a break but he's starting again.
We love Dickerson.

— Rich Hammond (@Rich_Hammond) November 29, 2016
Fisher's excuses have grown excruciatingly old and unbearable at this point. His welcome has been worn out for a few seasons now and there is no excuse for owner Stan Kroenke allowing Fisher to keep his job after four losing seasons, let alone after what is looking like a fifth in 2016.
With the news that Eric Dickerson was banned, things have officially spiraled out of control in Los Angeles. There might not have been a less ideal scenario than what has transpired this season for the Rams.
This article originally appeared on