Jeff Fisher Doesn't Know Names of Patriots Running Backs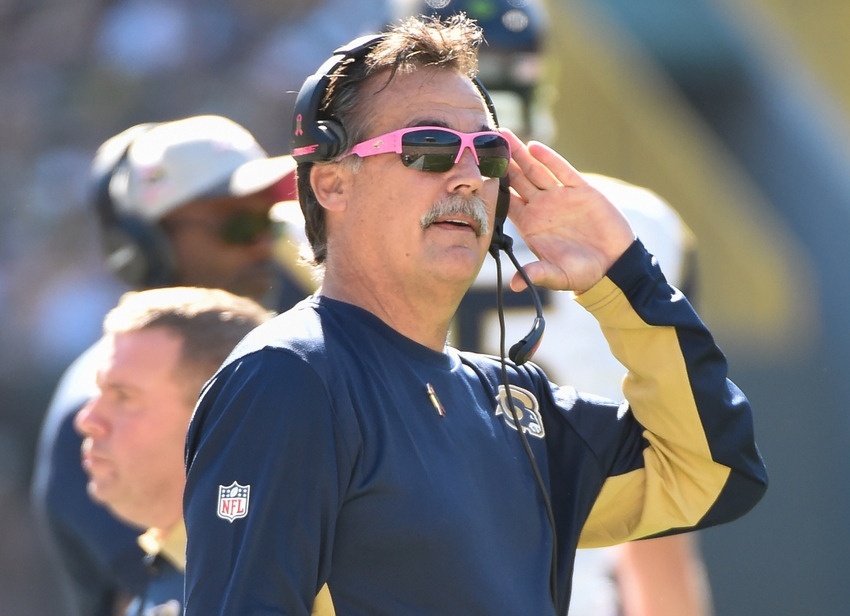 Los Angeles Rams head coach Jeff Fisher called two of the three New England Patriots running backs by the wrong name.
Los Angeles Rams head coach Jeff Fisher doesn't know who will be carrying the ball for the New England Patriots in Week 13.
During a Wednesday conference call with the Patriots' media outlets, Fisher was asked a very simple question about the three-headed rushing attack the Patriots have consisting of LeGarrette Blount, James White and Dion Lewis.
Now, you would figure a guy who has watched film and knows anything about football wouldn't have an issue answering this question. However, Fisher had all sorts of issues with this simple inquiry. In fact, it appears to have been a brain-buster for the Rams head coach.
While Fisher clearly knew Blount by name, he whiffed badly on naming the other two Patriots backs, per Zack Cox of NESN.com:
"Well, they're all different," Fisher said. "I have a place in my heart for LeGarrette, because I gave him a start, and I have great respect for him. He's a big back, and he's hard to get down. And as they rotate through, different guys play in different situations, and they do a good job with it. He knows where the ball's going to go, and the guys are very, very disciplined.

"I've been impressed with Brandon and what he's done out of the backfield. You've got to deal with him, in addition to Danny. You've got playmakers all around, so we have to play sound defense."
Who are "Brandon" and "Danny?"
The "Brandon" Fisher is talking about is Brandon Bolden, who spends all of his time playing special teams and has just three touches this year.
As for "Danny," there is no running back on the roster named Danny. The only Danny on the Patriots is former Rams wide receiver Danny Amendola, who also played under Fisher while a member of the then-St. Louis Rams.
So maybe Dion (Lewis) is Danny – which is kind of close – but James (White) is Brandon?!
Regardless, there should be no confusion on Fisher's part. He should have studied the Patriots so much he should know what all three backs ate for lunch this week, let alone what their names are.
Oh Jeff, you can never help yourself.
This article originally appeared on