Jeff Fisher continues to refuse putting Jared Goff on the field, and it may cost him his job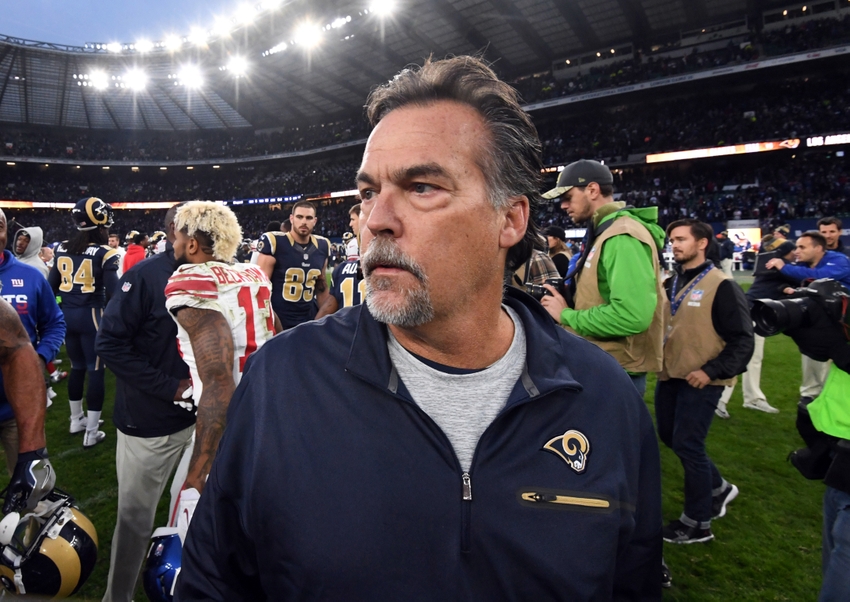 Jared Goff not seeing the field should be the nail in the coffin for Jeff Fisher.
Case Keenum continues to receive support from Rams head coach Jeff Fisher, but it's not what's best for the team.
Taking Jared Goff with the top overall pick in 2016 shouldn't have been just for show, but that's all the Rams have made of it thus far.
Keenum has been average at best, but it's not all his fault. At some point, the demise of a team in the NFL rests on the shoulders of its head coach.
Knowing this, Jeff Fisher still acts like change at quarterback won't help the team.
It may not help them, but how does it hurt them?
Keenum's numbers speak for themselves, and it's not pretty. So far, he's thrown just nine touchdowns while tossing 11 interceptions and giving up five fumbles.
The media has taken serious note of how things are unfolding after Week 9, especially USA TODAY.
Per the report:
Apparently Fisher is not only hearing impaired, but also sight impaired. After watching his Rams lose to the Carolina Panthers 13-10 and suffer their fourth straight defeat, the coach said he saw no reason to entertain the idea of benching Case Keenum, the team's starting quarterback, in favor of Jared Goff, the No. 1 overall pick from the 2016 draft.
Things got so rough for fans during Sunday's game against Carolina, that chants calling for Goff and even Tim Tebow could be heard.
Los Angeles is now 3-5 after starting 3-1 on the season and second to last in the NFC West. The only reason they aren't in last is because the 49ers have gone 0-7 since beating the Rams in Week 1.
Next week, the Rams will go on the road against the New York Jets, who've had quarterback problems of their own.
Let's hope how Fisher handles things in that game doesn't do any more damage.
This article originally appeared on