Jeff Fisher Comments on Los Angeles Rams' Eric Dickerson Ban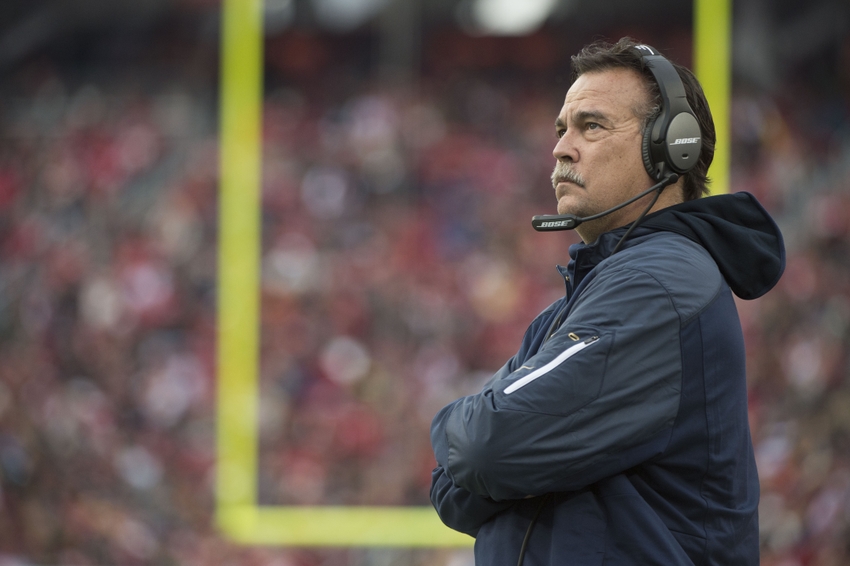 Los Angeles Rams head coach Jeff Fisher gave his thoughts on the reported ban imposed by the team on legend Eric Dickerson.
Los Angeles Rams head coach Jeff Fisher claims Eric Dickerson is welcome on the team's sidelines at anytime, despite the legend himself saying the team doesn't want him there.
The news broke Monday afternoon when Dickerson claimed the Rams had banned him from the sideline because he made the players uncomfortable with his blunt opinions.
Well, Fisher is here to tell you that Dickerson isn't banned and he can join the Rams whenever he'd like:
Fisher on Dickerson's supposed Rams-game ban: "I don't know where that's coming from. … We welcome the alums."

— Rich Hammond (@Rich_Hammond) November 29, 2016
Fisher even added he'd like to have Dickerson in team meetings:
"He's always welcome. He's welcome on the building. I'd love to have him in the meetings." — Fisher on Dickerson

— Joe Curley (@vcsjoecurley) November 29, 2016
Dickerson would be great to have in meetings, however he's probably too much for this bunch to handle considering the circumstances.
Kevin Demoff's Reaction
Rams COO Kevin Demoff also denied the ban on Dickerson in an earlier statement:
All Rams alumni, and especially @EricDickerson, are always welcome at our games and practices.

— Kevin Demoff (@kdemoff) November 28, 2016
I have reached out to Eric to see where a miscommunication may have occurred & to clear up any confusion over his presence at games.

— Kevin Demoff (@kdemoff) November 28, 2016
Most importantly I want to make sure he knows that he is a valued member of @RamsNFL family. We all share his love for our team & our fans

— Kevin Demoff (@kdemoff) November 28, 2016
Again, there's no reason for Dickerson to lie about this. He's always very honest in his assessment of the Rams and there's no reason to believe his straight-shooter style has been compromised here.
The Rams made a mistake, now it's time for the team to own up to it.
This article originally appeared on