Jeff Fisher a Lock to be Fired if Rams Finish with Losing Record?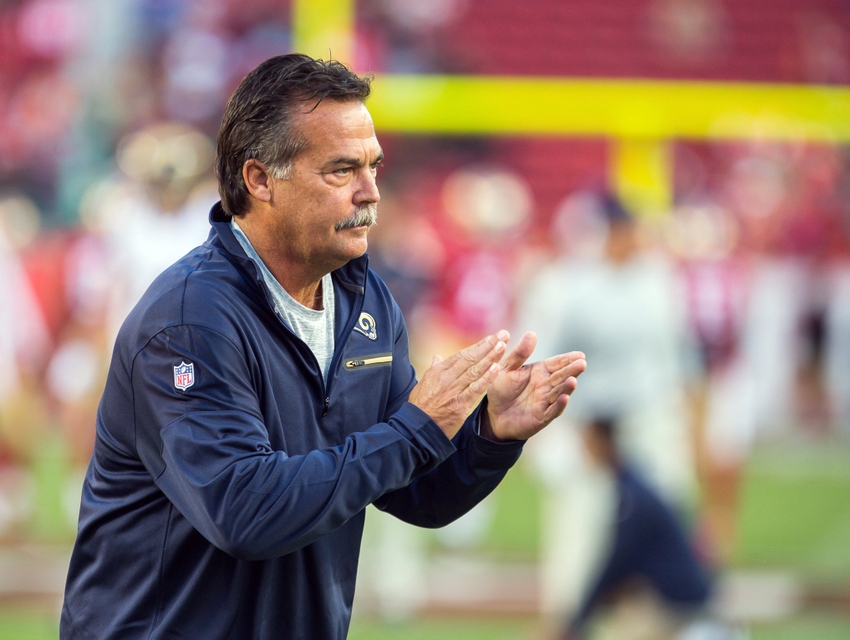 Los Angeles Rams head coach Jeff Fisher doesn't have history on his side if he hopes to keep his job after another losing season.
With the 4-6 Los Angeles Rams on their way to another season below .500 under head coach Jeff Fisher, he's almost a lock to be fired at season's end.
Fisher is now in his fifth season as the Rams' head coach and has yet to see any of his teams finish with a winning record. In fact, the Rams haven't even finished with a .500 record, let alone a winning one.
In a separate article during the week, I wondered aloud just how rare it was for a coach to keep his job after losing as much as Fisher has.
Well, the OC Register's Rich Hammond spelled out just how rare it is for coaches to have five losing seasons with one team and keep their job. As he reports, there have only been two.
Jeff Fisher records since he took over the Rams: 7-8-1, 7-9, 6-10, 7-9. No QB development. No O-Line improvement.

— Matthew Gade (@TheGreat_Gade) September 15, 2016
History is NOT on Jeff Fisher's Side
That's right, only two coaches have accomplished such an undesirable feat, with Dallas Cowboys legend Tom Landry and former Philadelphia Eagles head coach Bert Bell being the lucky ones.
Landry was the head coach of an expansion team and finished with a losing record in each of his first five seasons. Of course, Landry later became one of the best head coaches in NFL history and won two Super Bowls with the Cowboys.
The other case involving Bell was a special one to say the least. Yes, Bell did survive a horrid start as the team's head coach, however he was also the team's owner. After an 0-2 start in his sixth season, Bell quit his position.
I think we can all agree that Fisher is no Landry in terms of coaching and he certainly isn't the owner of this franchise like Bell was of the Eagles.
The only thing that can save him now is owner Stan Kroenke giving him another chance or the Rams winning four of their last six games. The former is much more realistic than the latter.
There were rumors of a possible contract extension for Fisher at the start of the season, but neither Kroenke nor COO Kevin Demoff have wanted to talk about Fisher's future lately. That might be a sign that Fisher's days are numbered.
Despite how obvious it is that Fisher should have already been fired, Kroenke continues to stick with him, so we can't rule out Fisher returning beyond this season.
Thankfully for those who want Fisher gone, at least history is on your side.
This article originally appeared on