Jay Gruden Sees Redskins Defense Improving After Week 5 Win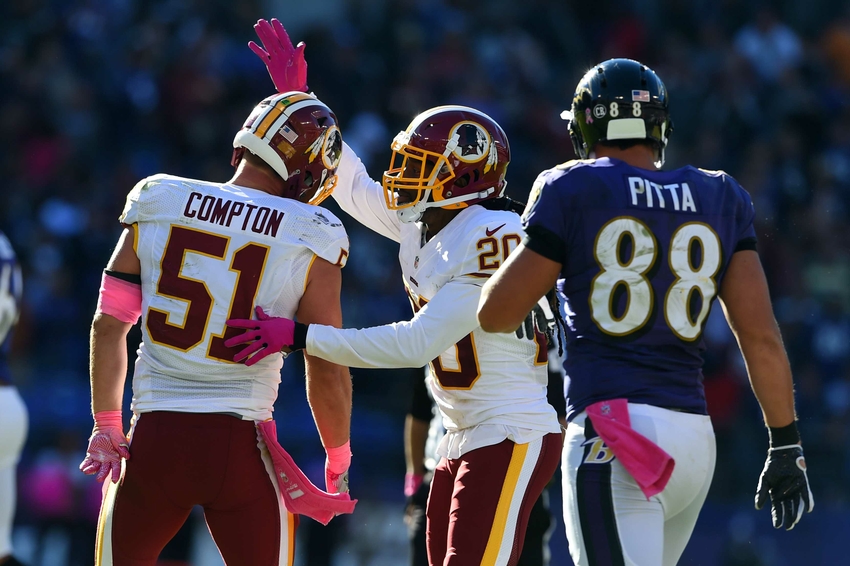 The Washington Redskins won on the road against the Baltimore Ravens Sunday. Head coach Jay Gruden said the hardfought 16-10 victory was due in large part to the defense.
With the win over the Ravens, the Redskins improve to 3-2 on the season.
Jay Gruden and the Skins shutdown QB Joe Flacco and the Ravens offense in the second half, allowing no points in either the third or fourth quarter. All aspects of the defense stepped up on Sunday. Gruden cited tackling and sound fundamentals as playing a big part in the performance.
Compared to Cleveland I thought it was a major improvement [laughter], that's for sure. So, I'm happy. I think they took it all upon themselves to make sure they were more sound in their fundamentals as far as tackling is concerned. I got tired of hearing about it, man. And they all stepped up. You know, linebackers had a great day. [Will] Compton, Mason Foster making open-field tackles was very good to see. The safeties when they had to step up and fill a gap made tackles. So I think overall I was happy with the tackling.
The Redskins defense has allowed a total of just nine points in the second half over the past three weeks. Referring to the defense, Gruden said that Sunday's performance "was great to see for their confidence." Momentum is trending in the right direction, with the three-game winning streak due in large part to a reliable defense.
On the offensive side of the game, QB Kirk Cousins had to fight against the wind. The Redskins again tried to incorporate a balanced run-pass attack on offense despite not generating much yardage from RB Matt Jones. Gruden brought RB Robert Kelley into the mix to add an extra spark and it could be a sign of things to come.
I think you'll see more of Robert. I think Robert shows that he's deserving of some carries. You know, we like Matt Jones, but I think there's a good combination there where the both of them can get the ball.
Gruden and the Redskins face a tough Philadelphia Eagles team in Week 6 but are on the right track. Cousins congratulated his teammates and all of Washington, DC via Twitter after the Week 5 win. With the Washington Nationals also celebrating a playoff victory Sunday, the city looks to continue winning on all fronts moving forward.
Great day to be a DC sports fan! 2-0 #Nats #Redskins

— Kirk Cousins (@KirkCousins8) October 9, 2016
This article originally appeared on