Jay Cutler Officially Out for Season; Is He Done in Chicago?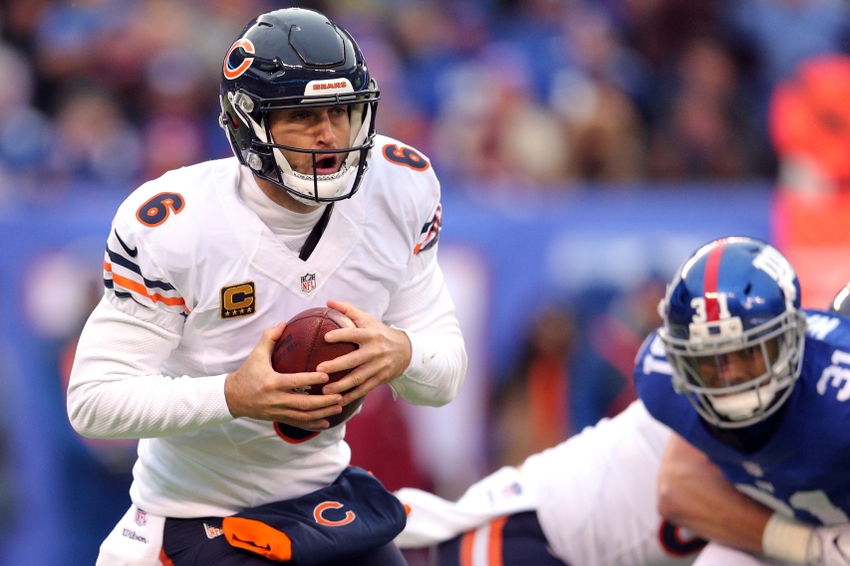 The Chicago Bears announced that Jay Cutler's season is officially over; is his career in Chicago over as well?
As the season draws to a close and the training staff sifts through all the injuries, determinations are made as to the best course of action for each player. With the Chicago Bears season lost, in most cases, the team will proceed with caution and shut most players down for the season. News surfaced today that is exactly what they decided to do with Jay Cutler.
John Fox announced today that Jay Cutler would indeed have surgery on his injured shoulder and would miss the remainder of the season. This was the smart move and was expected. The only reason it wasn't announced earlier is because of Fox's ongoing games with the media insisting everyone is day-to-day.
As Chicago continues its rebuild and looks to get younger at every position, quarterback should be high on Ryan Pace's priority in the offseason, if not number one. Not only does it make sense for the Bears to move on from Cutler from that perspective, it makes even more sense to move on from an injury perspective. After being able to battle through injuries most of his career, Cutler will miss 11 games this year and you have to wonder if being banged around as much as he has is finally catching up on the quarterback who will be 34-years old next season.
The Bears will give Matt Barkley another start this week against the San Francisco 49ers while newly signed David Fales will keep his role as QB2. Barkley and potentially Fales are both vying for a roster spot next season and the Bears will treat December as an audition for both of them.
As for Cutler, his career in Chicago is likely over and he will finish his career with a perfectly mediocre 51-51 record.  If that record doesn't summarize the Cutler Era in Chicago, nothing will. The Bears were never great, and they were rarely bad, they were… Average. Cutler supporters will argue that Cutler is far better than an average quarterback and his detractors will say he's far worse. But both sides are wrong, Cutler had all the skill but never put it together. His inconsistent play was maddening. He had the ability to play like a top ten QB and the worst QB in the league in back-to-back weeks. He was the epitome of average.
If Cutler is indeed gone, the Bears will venture into unknown waters this offseason. The Bears haven't had a question as to who will be under center for the team for a decade. Not knowing what the future holds at that particular position is dangerous. This decision will be Ryan Pace's defining moment. Let's hope it's the decision that catapults the team from the pits of the league to the peaks. If it doesn't, Pace will be looking for a new job sooner rather than later.
Bill Zimmerman is an editor and featured writer for FanSided's BearGogglesOn. Like his Facebook page or follow him on Twitter for more news and interaction.
More from Bear Goggles On
This article originally appeared on