Jay Cutler Injury Update: Bears Quarterback Leaves With Hurt Hand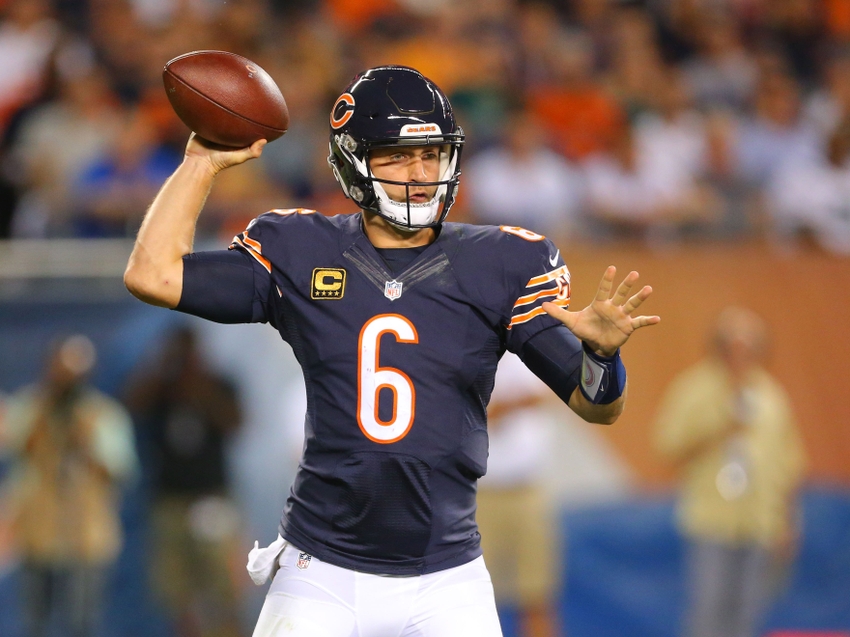 Injury update on Chicago Bears quarterback Jay Cutler after he hurt his hand on Monday Night Football against the Philadelphia Eagles
When it comes to Chicago Bears quarterback Jay Cutler, the story has always been a bit of a rollercoaster. The quality version of Cutler looks like one of the five best players at his position in the NFL. However, the opposing version within the quarterback is absolutely appalling to watch in the worst way. After a fumble and horrible interception on Monday night, though, there was clearly something wrong with Jay Cutler beyond just his normal troubles with inconsistency.
On the play when Cutler fumbled against the Philadelphia Eagles, he came down awkwardly on his hand. Throughout the next few drives, both on the field and on the sideline, he could be seen trying to shake it out. However, all of this was to no avail. His inability to get comfortable with his hand led to the costly interception and then an Eagles score.
After throwing the interception, though, the Bears had seen enough from Cutler. Head coach John Fox called the shot and forced his quarterback to go back to the locker room. He was last seen on the broadcast talking with trainers in the back.
There's obviously no official word just yet as to what happened with Cutler. All that can be said is that he didn't look right after that fumble. For the sake of the Bears, who have Brian Hoyer as Cutler's backup, let's hope their starter can get past this soon.
This article originally appeared on