Jay Cutler done for the season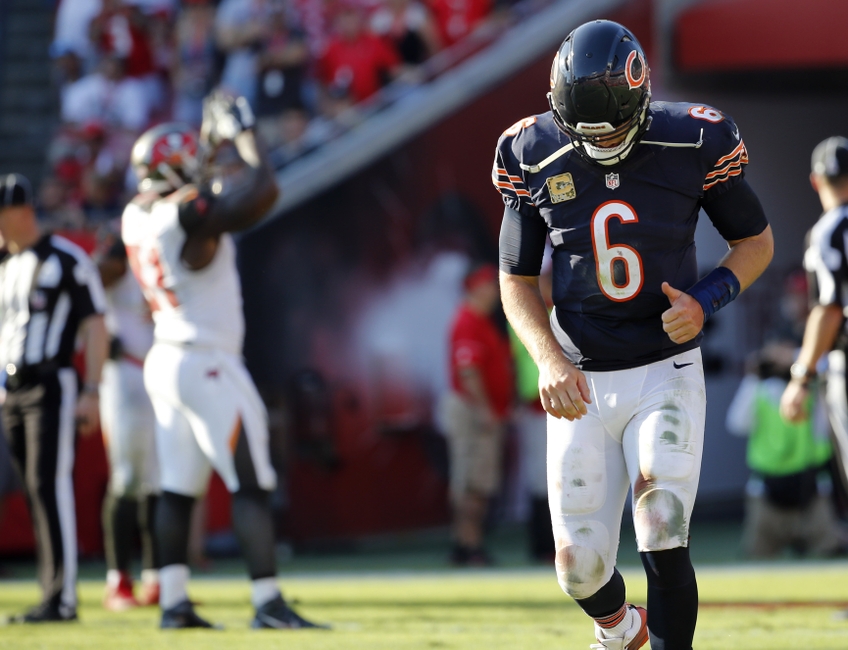 The Chicago Bears announced today that Jay Cutler will not return to the field this season.
It's been a rocky season for the Bears quarterback. After missing games early on in the season with a thumb injury, he is out again. This time, it's much more serious. Cutler suffered a right shoulder injury against the New York Giants on Sunday. He's scheduled to have surgery on Saturday and will be placed on injured reserve.
John Fox's presser at Halas Hall is over. Jay Cutler will not return this season. Shoulder surgery scheduled.

— Dan Wiederer (@danwiederer) December 1, 2016
Now we have certainty on Cutler's status for the rest of the season, the question becomes: Is this the end of his career with the Bears? Cutler had a stellar year in 2014, posting a pass completion rate of 66 percent and throwing 28 touchdowns (both career highs). However, last year his performance fell off, and it has declined even further this season. This season, prior to the injury, his completion percentage dipped to 59.1 percent and his TD-INT ratio was an ugly 4-5. This is the first time in his career that he has had more interceptions than touchdowns.
The Bears are a woeful 2-8, and it seems to make sense for them to part ways with Cutler. The sell-high window has probably passed by now, but Chicago would not face any financial penalties if they decide to let Cutler go. There are plenty of teams in need of a quarterback who would be willing to take a flyer on the Vanderbilt product.
With Cutler out, the responsibility will fall on Matt Barkley as starting quarterback, with David Fales playing backup. In his first start, Barkley was equal parts terrible and heroic, so we will have to wait and see how things play out in Cutler's absence.
This article originally appeared on