Jay Ajayi is his own man, through and through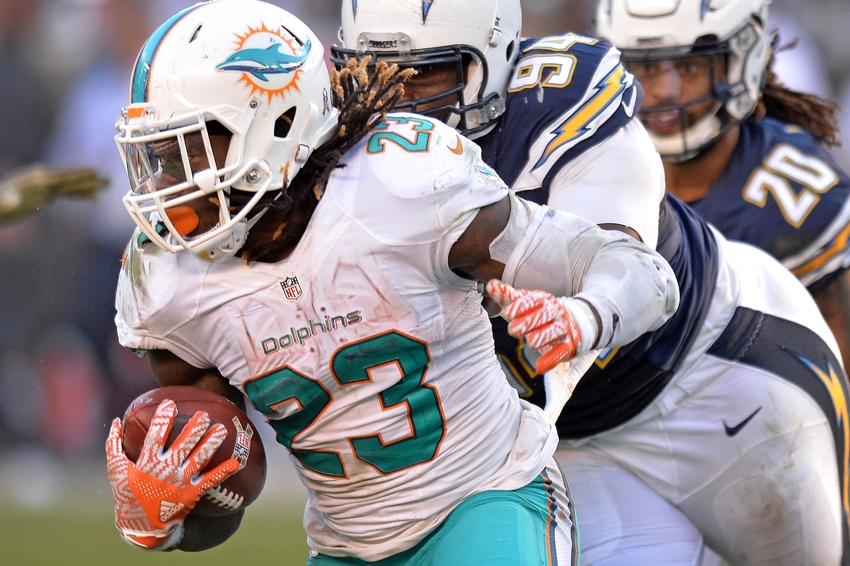 Miami Dolphins running back Jay Ajayi is turning heads and scoring touchdowns. But who is the man? Well, that remains a mystery to most.
Earl Campbell, O.J. Simpson, Ricky Williams and Jay Ajayi. Sure, that's a group of men you expect to be listed together. Not. But there Jay Ajayi is, the fourth member of an exclusive club: the only players to ever in the Super Bowl era to rush for at least 200 yards in consecutive games. Williams, of course, is the last beloved Dolphins running back and he was the most recent running back to achieve this feat (in 2002) before Ajayi did in back-to-back October games (204 yards against Pittsburgh and 214 yards against Buffalo the following week) this season.
Ajayi is 23 years old and wears No. 23 for the Miami Dolphins. In his rookie season out of Boise State last season, he posted a grand total of 187 yards in nine games. So, yeah, he's found a groove. But who the hell is he?
Dan Pompei wrote an opus on Ajayi's story appropriately titled "Dolphins RB Jay Ajayi Can Take A Hit and Keep Going—and Not Just on the Field, which was posted to Bleacher Report on Friday, Nov. 11. The cliff notes? Well, that's hard. And fairly amazing that someone most everybody didn't know existed a few months ago is now someone who people can't get enough of, someone who can't be contained to cliffnotes—even though nobody should be stripped down to cliffnotes.
But, for those of you on a time crunch: Ajayi was born and lived in London for seven years. His family is of Nigerian descent; he chose American football over world football. He made a dumb decision at Boise State and almost got cut from the team, but his reputation preceded him and he rushed for 3,796 yards and 50 touchdowns in three seasons. He was drafted in the fifth round by Miami in 2015 and had a disheartening rookie season. Ajayi is experiencing his potential to its highest degree so far in his sophomore season. The rest of his story we will all learn at the same time he does.
He's probably not the next Ricky Williams. Nobody is really "the next" anything. And that's probably the direction your mind is heading given what Ajayi is doing now and that he's doing it in South Florida. The Dolphins are on a six-game winning streak, and the turnaround started when Ajayi started coming into his own. It's exciting times in Miami. Fans should enjoy it, and they should fully experience it. In order to fully experience it, you have to know the characters you're experiencing it with.
No fan can truly know Jay Ajayi—that's idealistic and unrealistic—but every fan can show him the same respect they'd have shown him if they had bumped into him on the street a few months ago. Back when he was anonymous, when he didn't shoulder their high expectations, hopes and dreams. When he was just Jay Ajayi, a person.
He's certainly the most entertaining running back Miami has had since Williams, but to hold him to Williams' standard or compare the two is never the point. It's an icebreaker, a conversation point, and that's fine. But it's not how life works away from sports.
Ajayi's link to Williams is inevitable and certainly not all bad; in fact, if you ask Ajayi I'm sure he'd say it's an honor. But don't miss out on him by simply stopping at "Jay Ajayi is the next Ricky Williams."
Take this opportunity to learn about the man. Maybe then you can learn something about yourself, take a slice of inspiration and put it toward making your dreams come true like he has.
In an April 2015 story for The Guardian, Ajayi told writer Paolo Bandini this: "It was very stressful at that time because I was trying to please a lot of people and in the end my dad told me: 'You can be good at both of them or you can be great at one. You really need to choose which one you want to be great at.'"
Now, Ajayi is seen as the potential "poster boy" for American football in London. He is a Dolphins fan favorite. He's excelling at something he decided he wanted to be great at a long time ago.
Ajayi chose. He keeps deliberately choosing. It's up to you to choose to care about another human being you were previously unaware of and learn from him. Be entertained by him. That's the gift athletes give those who watch them.
More from FanSided
This article originally appeared on