Jay Ajayi continues dominance on 20-yard TD (Video)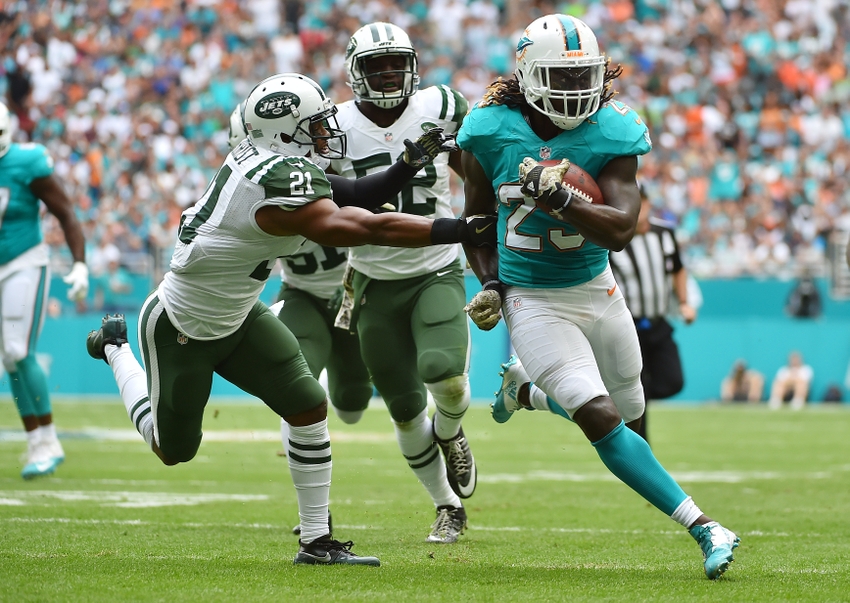 Jay Ajayi continues to be an absolute stud in the Miami Dolphins backfield. Here is the latest touchdown from the Miami tailback against the New York Jets.
The Miami Dolphins might only be 3-4 through their first seven games, but this is a dangerous football team in the AFC East. That is because new head coach Adam Gase has found something really special in young running back Jay Ajayi.
Ajayi has rushed for over 200 yards in the last two games for the Dolphins. He would be the first player in NFL history to rush for over 200 yards in three straight games if he does it against the New York Jets on Sunday afternoon. Here he is going for six on an impressive touchdown run early against New York.
JAY AJAYI CANNOT BE STOPPED 🚂🚂🚂 #NYJvsMIA https://t.co/SLdo9mcYDi

— NFL (@NFL) November 6, 2016
On a second a six from the New York 20-yard line, Miami quarterback Ryan Tannehill would hand the ball off to Ajayi. He would go off tackle and find a hole at the line of scrimmage before exploding into the second level of the New York defense.
Ajayi would outpace a would-be Jets tackler to find pay dirt to make it 7-3 Dolphins after the made PAT. Having the ability to lean on Ajayi on offense should make things easier for Tannehill under center in Miami.
Tannehill is nimble himself, but has never done a great job of reading NFL defenses pre-snap. The best thing for him is to have a reliable running game to open up the pass. With the Florida potentially being a factor the rest of the way, this could aid the Miami offense considerably with their newfound ground-and-pound approach.
It's remarkable that pass-heavy Gase would decide to go with the run more than anything in his first year in Miami. To say it is working out marvelously with Ajayi at running back would be an understatement.
This article originally appeared on