Jason Witten drinks from fountain of youth in win over Browns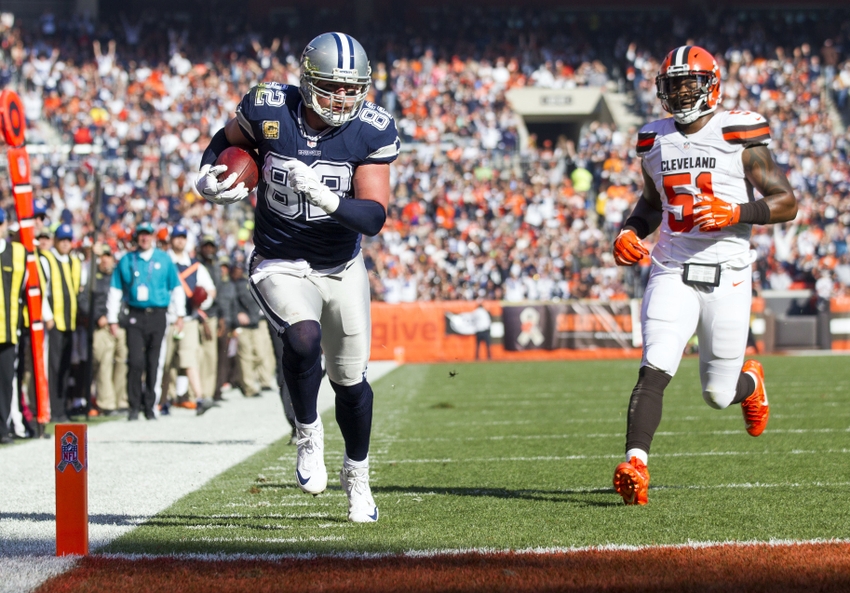 The Dallas Cowboys legendary tight end had a near career-best performance that sparked a victory over the Cleveland Browns in Week 9.
Dallas Cowboys tight end Jason Witten is a future Hall of Famer.
Since 2003, Witten has amassed 1,058 catches for 11,639 yards and 62 touchdowns.
Jason has had a highly productive 14 year career for the Cowboys, and a lot of that can be attributed to his professional mindset, work ethic, and his understanding of the game.
Witten has never had blazing speed. He has never used his superior athleticism to create separation on vertical routes down the field. He has never been a consistently dynamic player after the catch either.
What he does have is an uncanny ability to read coverages, decipher where the open space is going to be, and present himself as an available target on the majority of passing plays.
Year in and year out, Witten has wanted to improve his game, both mentally and physically.
While he has been the model of consistency at the tight end position for the past 14 seasons, prior to his most recent game in 2016- a Week 9 victory over the Cleveland Browns, Witten's last 100 yard receiving game was in Week 17 of the 2013 season against the Philadelphia Eagles.
Speaking of the Eagles, it seems as if the game winning touchdown that Witten caught in overtime in Week 8 on Sunday Night Football against Philadelphia has ignited a spark in Witten.
In Week 9 against the Browns, it seemed like Witten was open all day long, mopping the turf with Cleveland defenders as he gashed them for eight catches and 134 yards with a touchdown on 10 targets.
It seems as if the young talent of the Dallas Cowboys, including rookies Dak Prescott and Ezekiel Elliott, have brought out the best in Witten.
If number 82 can continue playing at a level that is above his consistent norm, there is no limit to what the explosive Dallas Cowboys offense will be able to accomplish.
This article originally appeared on