Jarvis Landry is a man worth knowing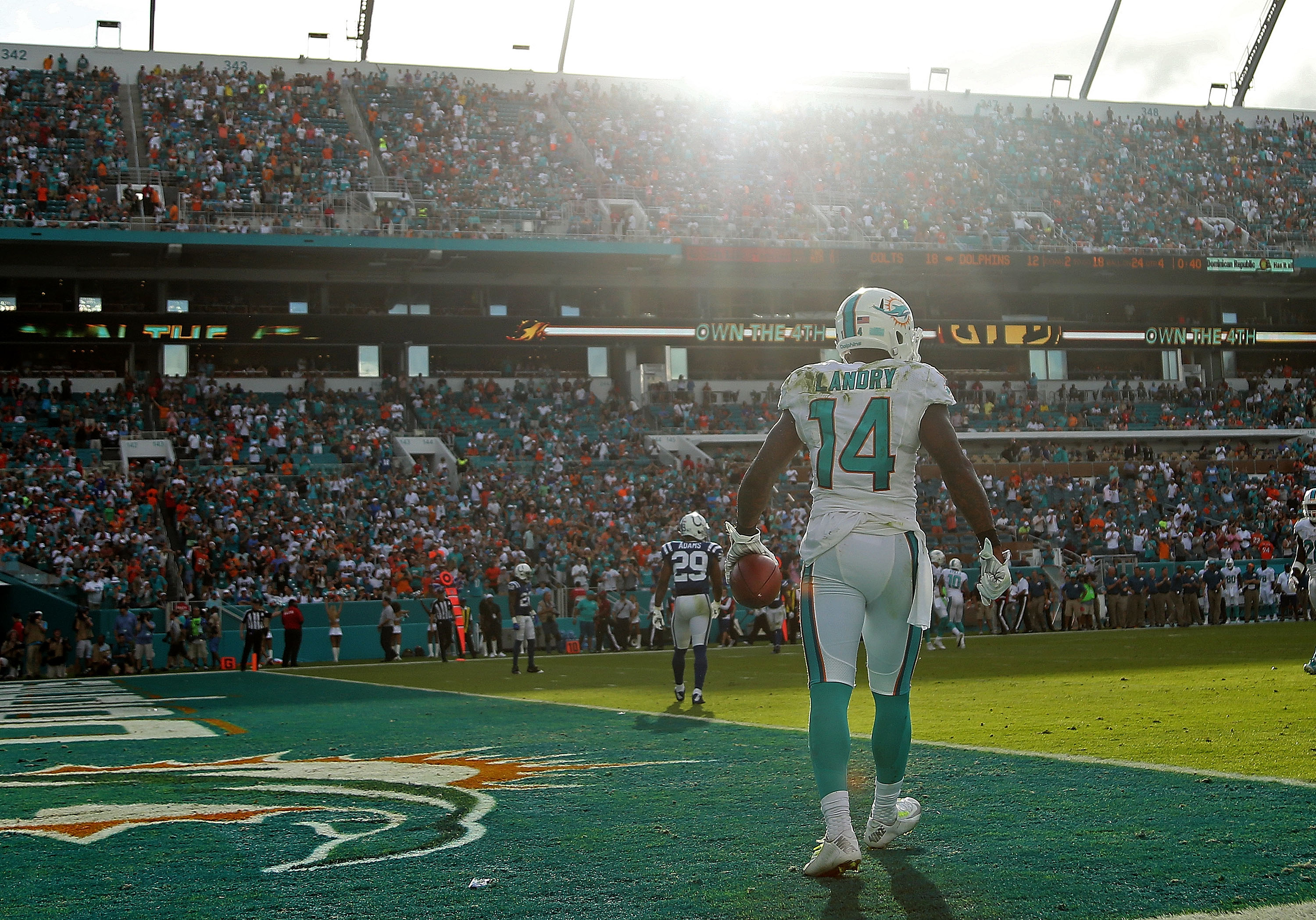 Can you pick Jarvis Landry out in a crowd?
Let's rephrase: can you describe Jarvis Landry beyond Miami Dolphins star receiver and Odell Beckham Jr.'s best friend? Probably not.
Landry is just as expressive as his more mainstream-popular, net-loving best friend. The two met in high school and then continued to bond with when the two were both wide receivers at LSU. Beckham Jr. wears No. 13 for the New York Giants, Landry wears No. 14 for the Miami Dolphins. Fitting.
Landry is a very talented wide receiver, too. He's the most reliable player the Dolphins have, by far. But he's not well-known or widely respected, popular and talked about. Why? Because his one-handed catches somehow aren't seen as amazing as Beckham's?
The fame monster is so random in its selections.
This is not to suggest that Beckham isn't deserving of widespread admiration, and yes, fame—instead, that Landry, or "Juice" as he was nicknamed for the energetic ripples he spreads through anyone around him, is just as deserving.
Last season, Landry was targeted 165 times for 1,157 yards and four touchdowns. Last season, Beckham was targeted 159 times for 1,450 yards and 13 touchdowns. Apparently, in our warped world, Beckham's 293 more yards and nine more touchdowns makes him the one worth NFL fans' time. And that's not Beckham's fault, even though he does love the attention and makes the most of it. Wouldn't you?
It's our fault. Who freaking cares who catches more yards or touchdowns? (Too many people, unfortunately.) Why don't we care more about who Landry is, why he is designing backpacks for people with Beckham, what his tattoos say, and what we can learn from him and his experiences as a human being?
The evasion of a proper limelight doesn't appear to bother Landry. It doesn't appear that he needs your validation.
His Twitter bio simply says, "God, above all things." He tweeted on October 5, "People who love attention will do anything to get it.." He has a tattoo—he has a body full of tattoos—of Psalm 23:4: "Even though I walk through the darkest valley, I will fear no evil, for you are with me; your rod and your staff, they comfort me." Landry told Trey Labat of LSUNOW.com in September 2013 that "I was raised in a religious type of family, so it just kind of carried over," Landry said. "From my first tattoo to my last tattoo, all of them are symbolic, all of them mean something to me."
Speaking of his family, the opening paragraph of Yaron Weitzman's profile on Landry for SB Nation in October 2015 reads:
There in his room, one of about five in the house belonging to a man who was not his father but with whom he was living with at the time, the words just began to flow. Jarvis Landry had never written poetry before. Suddenly, though, this confused 11-year-old boy found himself dealing with a whirlwind of emotions. Out came a pen and pad.
Forget about the statistics, forget about his best friend who he is shallowly regarded as less-than. Read about an upbringing filled with a boy not feeling wanted, a boy realizing that football was his way up and out and onto better, a boy just wanting to love and help the people around him.
Jarvis Landry doesn't need you. He doesn't need your eyes but he deserves your ears. You should want to know him and learn from him. And, sure, you can watch him catch footballs on Sunday if you want to.
One more clue from his Instagram, which to be fair does have 875,000 followers, a quote he posted on July 5: "Don't compare your version of success with anyone else's. Everyone has their own unique path. There will almost always be someone richer, fitter, happier, or more successful than you. The real challenge is to learn to appreciate what you have while you pursue all that you want."
This perfectly explains why Landry is both worth knowing, and hardly known.
This article originally appeared on