Jarrin Solomon's Unprecedented NFL Journey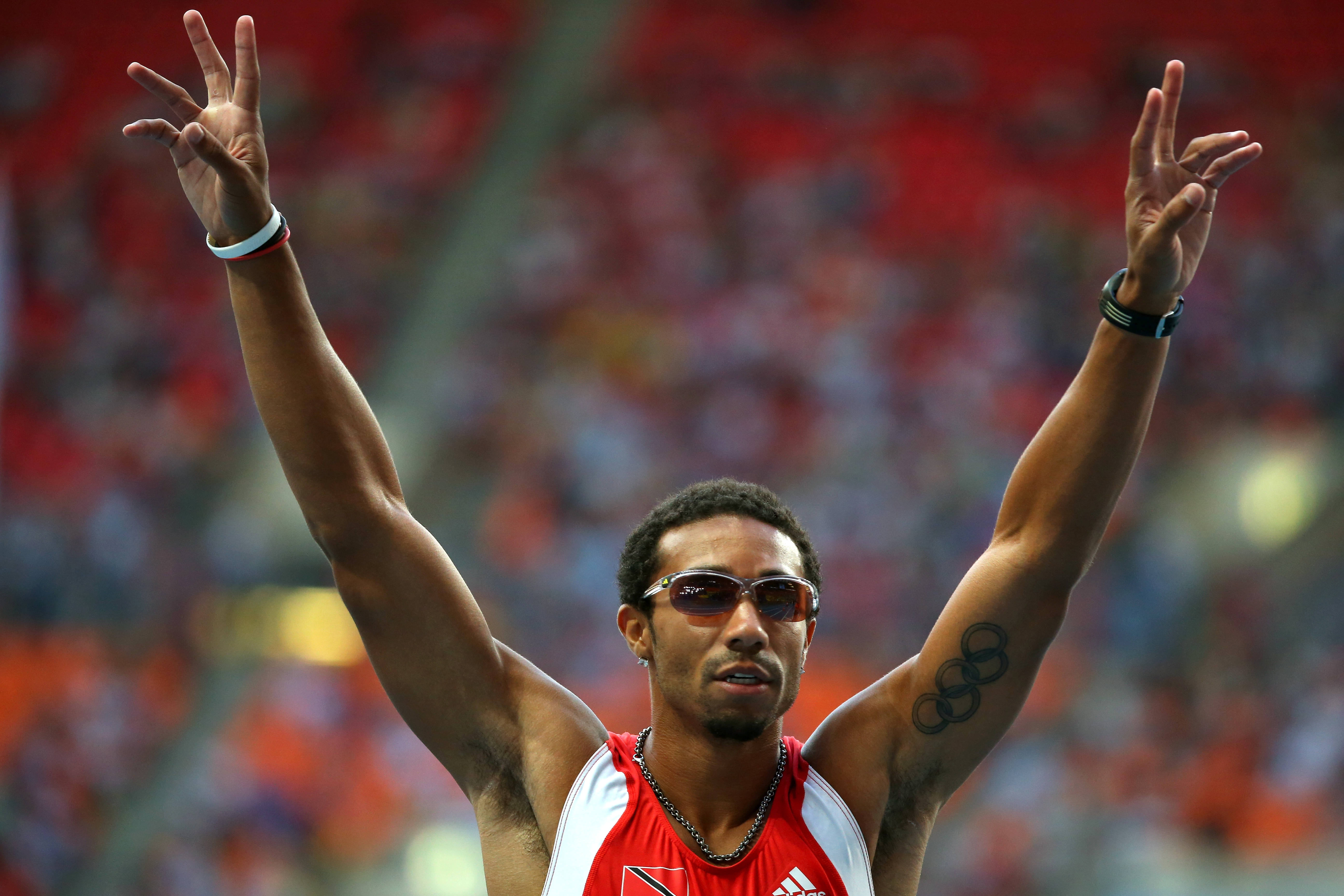 Jarrin Solomon speaks easily and openly of the hyper-competitiveness that fuels him. Really, a few minutes spent chatting with Solomon provides a clear understanding of why this Olympic medalist, who competes internationally in track and field for Trinidad and Tobago though he grew up a soccer fanatic in New Mexico and is now, at the age of 30, all-but certain that his immediate and, if all goes as planned, long-term future lies on an NFL field, conducts himself the way he does.
"I'm probably the most competitive person you'll ever meet."
Boastful maybe, self-certain certainly, but it's the kind of mindset you have to have when planning to attempt a feat so difficult, so rare, there are few historical precedents to which to even point for reference. Sure, plenty of players have made the leap to professional football from odd or steep and ultimately unlikely angles. But have any been into their 30's, never having played a down of football at either the high school or collegiate levels, with only slight football-specific training and a handful of loose connections to their name?
So Solomon, were he to be successful, would represent a number of firsts.
"I'm a shoot-for-the-stars kind of guy," Solomon told The Outside Game. "I don't like to do anything just to say I went there. I want to be the story. I want to be the star."
Solomon likes to shine, of that there is no question. But just like when he runs in the 4 x 400m, his area of expertise on the track, Solomon isn't worried about times or ages or any numbers at all really.
He's worried about the man in the lane next to him. About the man lined up across from him. The man tasked with beating him. The man trying to win over him. The man trying to take his spot. The man whose spot he's trying to take. On the podium. On the field.
In life.
First Leg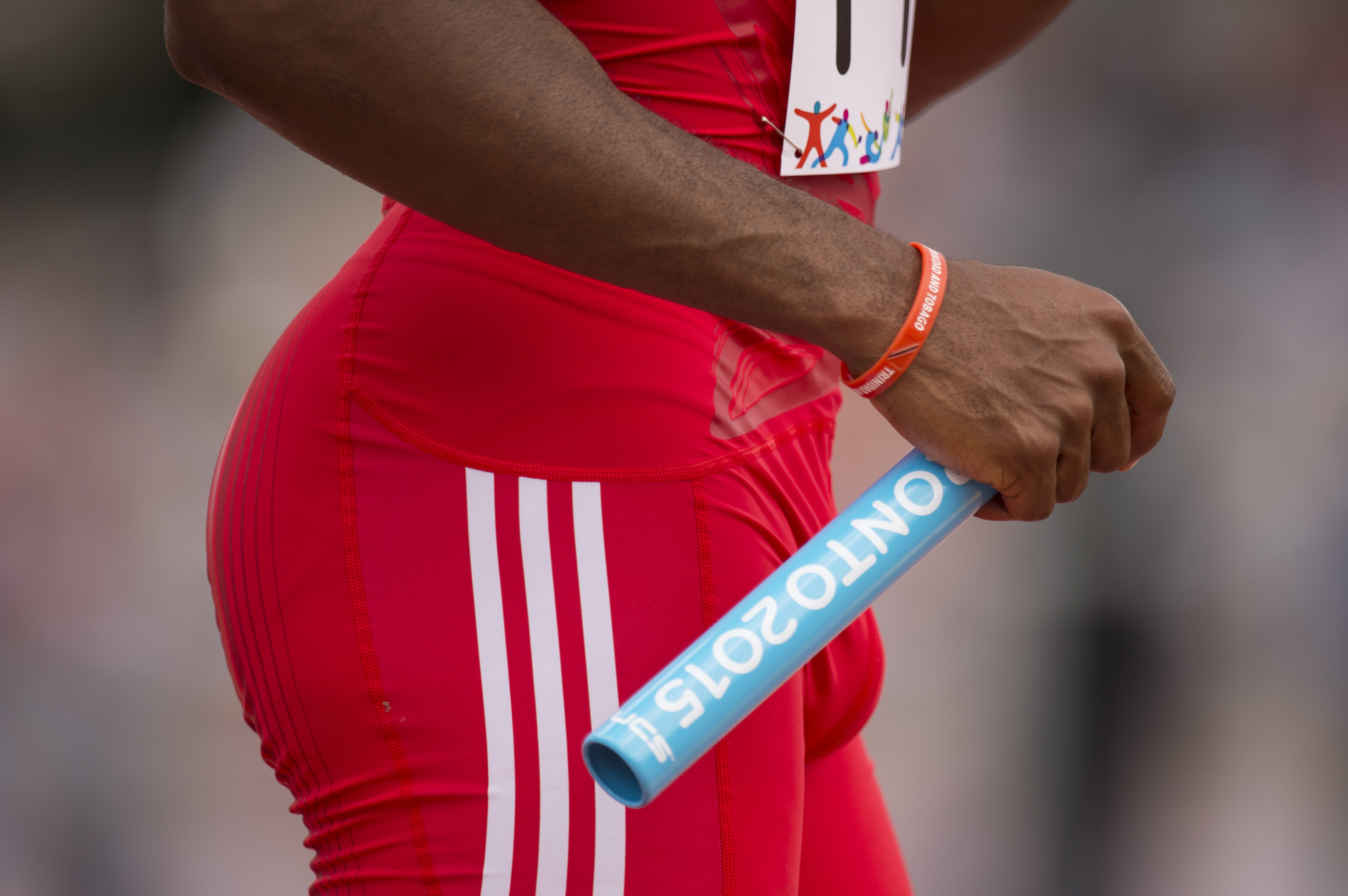 Solomon is the son of Trinidadian track and field Olympian, Mike Solomon, whose events also happened to be the 4 x 400m and the 400m and who also represented Trinidad and Tobago at a pair of Olympic games. So that competitive nature wasn't just something innate – it was part of the fabric of Jarrin's childhood home.
But that doesn't mean that track was forced on him by the elder Solomon. No, Jarrin was left to his own athletic devices, following his heart initially to the other football – soccer.
Sure, in high school, Solomon ran track too. He just didn't take it all that seriously.
"It was more of a social event for me."
That lack of commitment then, in a sport where, much like gymnastics, kids who show early aptitude tend to be put on an accelerated track toward expected Olympic accomplishment and existing outside of or off that track entirely for any portion of your adolescence often means being left behind, has, Solomon believes, hindered him to some degree. Even now, to this day, he feels very much the underdog, the outsider, struggling to find endorsements, paying his own way to events and for training.
It's an attitude that Solomon took with him to the University of New Mexico. And even when he ran so fast the school offered him a full ride scholarship, and even despite the many accolades he received during his time with the Lobos and thereafter as a professional – 2013 gold medals in the 400m and 4 x 400m at the Central American and Caribbean Championships, 2015 silver medal in the 4 x 400m at the World Championships in Beijing – and even after Solomon's biggest success to date at the London Games, that attitude remains. Always the underdog. Always desperate to win.
"I don't want to just be an Olympian," Solomon said. "I want to win gold."
Second Leg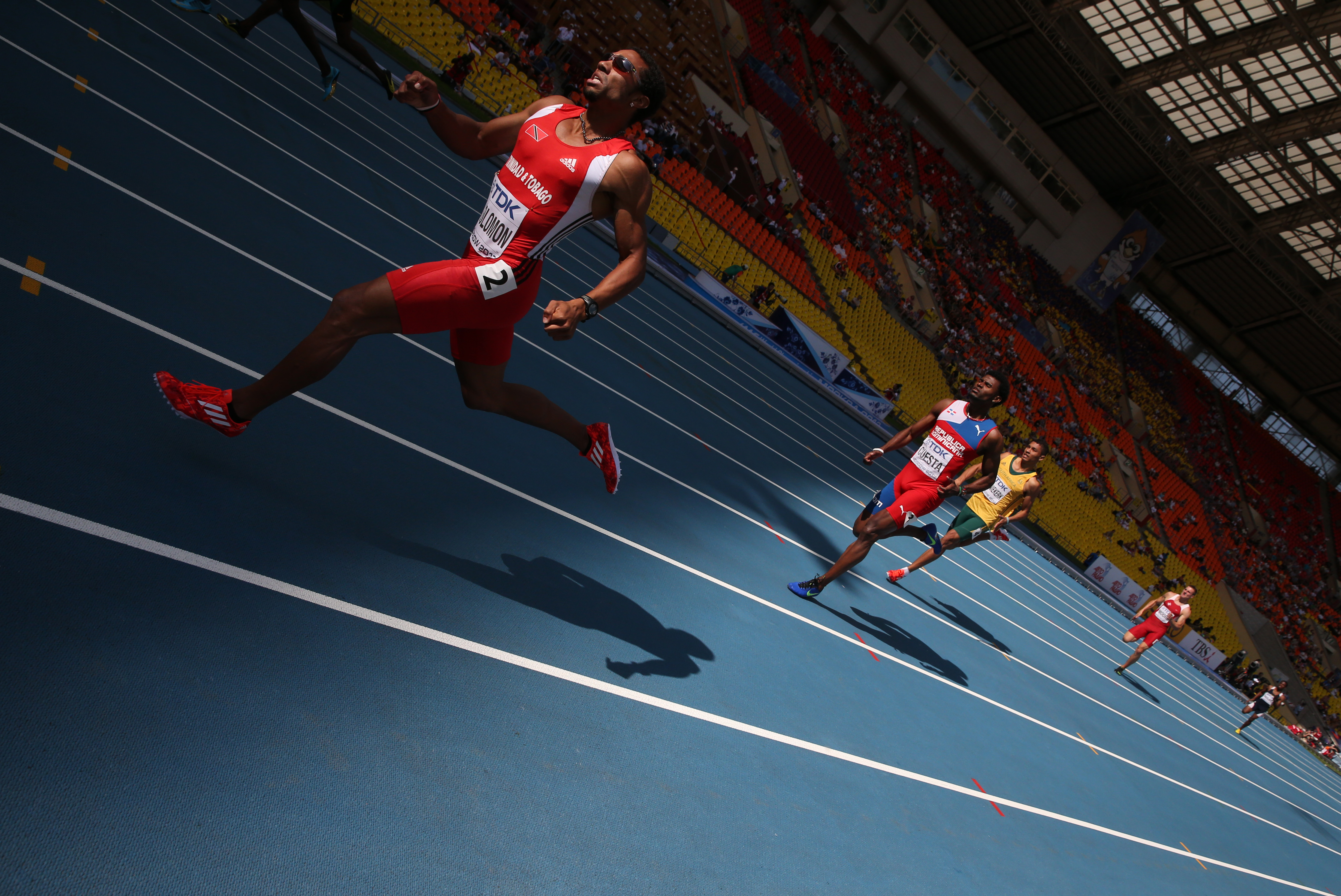 The second leg of the 4 x 400m is where Solomon excels. It's where, he says, the entire race tends to be decided.
"That's kind of the leg that sets up the whole rest of the race."
At 2012's London Olympics, Solomon helped the 12th-ranked Trinidad and Tobago team to Bronze in what was considered one of the most surprising finishes of that year's games.
Solomon summed up his ability to shine brightest when the lights are their hottest, their most direct, how he was able to take home that hardware, despite the odds stacked against himself and the rest of the Trinidadian team, with 10 simple words.
"I like those big stages. I like the bright lights."
For Solomon, London was two Trinidadian national records – one during qualifiers, a second during the finals – and it was an olympic medal. At the time, Solomon spoke of pride, of succeeding as much for his family as himself – Mike, despite appearing in two Olympic Games himself, never managed to take home any hardware of his own. But Solomon's eye also remained steadfastly to the horizon, looking ahead for whatever was next, for the nearest bank of lights under which to shine.
What's next though, isn't always for the best.

At Rio this past summer, Trinidad's coaches decided to make a change. Instead of his normal spot running the second leg, Solomon was tasked with opening the race for a Trinidad and Tobago team coming off that silvery finish at the World Championships and not just expected to medal, but considered one of the favorites behind the stacked American squad. Solomon did his part, ran well, but when the second leg, his baby, ended in disaster for the suddenly heralded Trinidadian team in a pre-finals heat – the teammate running in Solomon's normal spot stepped out of his lane, resulting in a disqualification – Solomon was devastated.
"To tell you the truth, it was just coaches thinking too much," Solomon said of the decision to change things up.
Failing to medal in Rio was a bitter pill for the perpetual underdog to swallow. But there's 2020 and Tokyo to look forward to. And in the interim, football to chase.
"In football, if a teammate doesn't catch the pass, hopefully it doesn't get intercepted and you guys can go back out. Whereas in the Olympics, it's one shot. If a teammate screws up, you're done."
Third Leg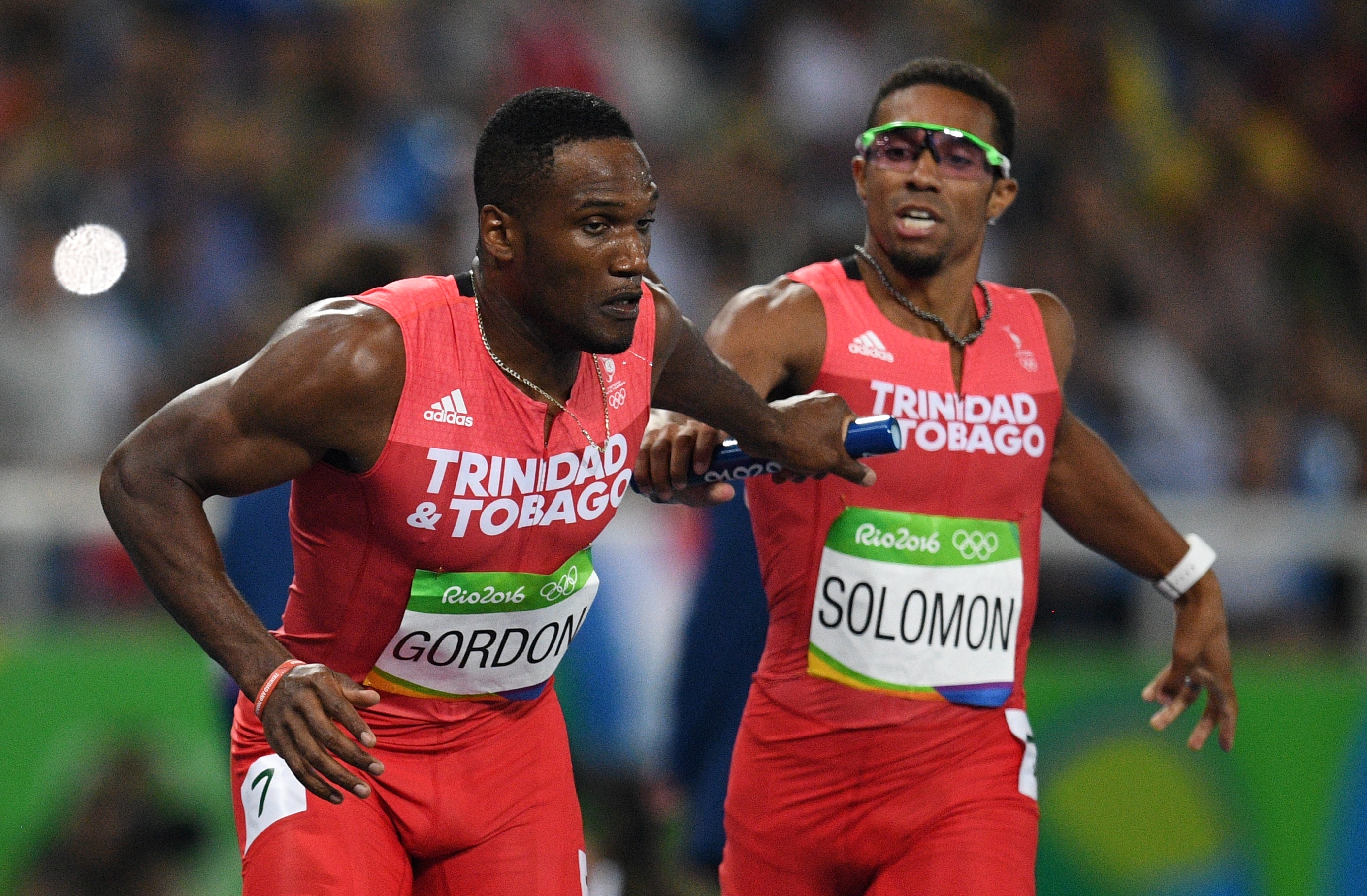 Finding success has never been hard for Solomon. It hasn't been easy of course – succeeding at a high level in any area requires some combination of talent, hard work, and sheer will, with hard work the deciding factor more often than most, especially those who come out on the losing end, would like to admit.
But successes, both on and off the track and/or the field, have been plentiful. Whether it be running a relay, playing on the pitch, hitting the rink with a new pair of skates or starting and running his own cryotherapy business back home in Albuquerque, Solomon's been able to find a way to make it work.
So how does a 30-year-old with nary an organized football rep to speak of make his case for a wide receiver and returner spot on an NFL roster?
He trains. Three times a day, in fact. He runs, he lifts, plyometrics – the usual. He also works with a former community college quarterback, as well as a former UNM football player and CFL alum, on the various skills specific to the gridiron (all this while training simultaneously for a run at the 2020 Olympics).
"They've been working with me on footskills, movement of my hips, the cerebral part of the game."
He gains (good) weight. Solomon, though he cuts a more imposing figure than his father, isn't a big guy. At 5-foot-8 and about 170-pounds, he knows the rigors of an NFL season would be difficult to handle. Solomon's a stocky guy, but, for racing purposes, he doesn't do much weight-lifting or protein loading because he gains weight too easily. But if the NFL were to come calling, he'd gladly – and he estimates, easily – put on 10 to 15 pounds of muscle.
He uses his world-class speed to his advantage (Note to NFL broadcasters: Solomon hears the term "world-class speed" thrown around quite a bit and he's not sure you know exactly what you're talking about. Unless you're talking about former NFLers like Jacoby Ford or Trindon Holliday, 40-yard dash record-holder Chris Johnson or, someday soon, Solomon, you're probably not talking about the kind of speed a track and field athlete, a true world-class competitor, can muster).
It's not that he's afraid of the physicality of the NFL, Solomon just knows that longevity, especially for a smaller player, is about protecting yourself, about avoiding big hits whenever possible and saving yourself for the next down, the next shot at a game-breaker.
"Tavon Austin said, 'if you're fast, they can't hit you.'"
Then – it's just about getting the name Jarrin Solomon out there. Regional combines. Private workouts. Maybe a visit to Michael Johnson Performance in Dallas for further training and bit of schmoozing.
Really, the answer to the question of "how?" is a simple one for the underdog, the outsider to answer because the answer is, itself, something of a catch-all – by doing whatever it takes.
Success in business. Success on the track. Plenty of people would take the life Solomon has managed already and call it a win several times over. Solomon though, the soccer player-turned track star, doesn't think his story is over yet, envisions – at least – one more successful leg to his athletic journey.
Fourth Leg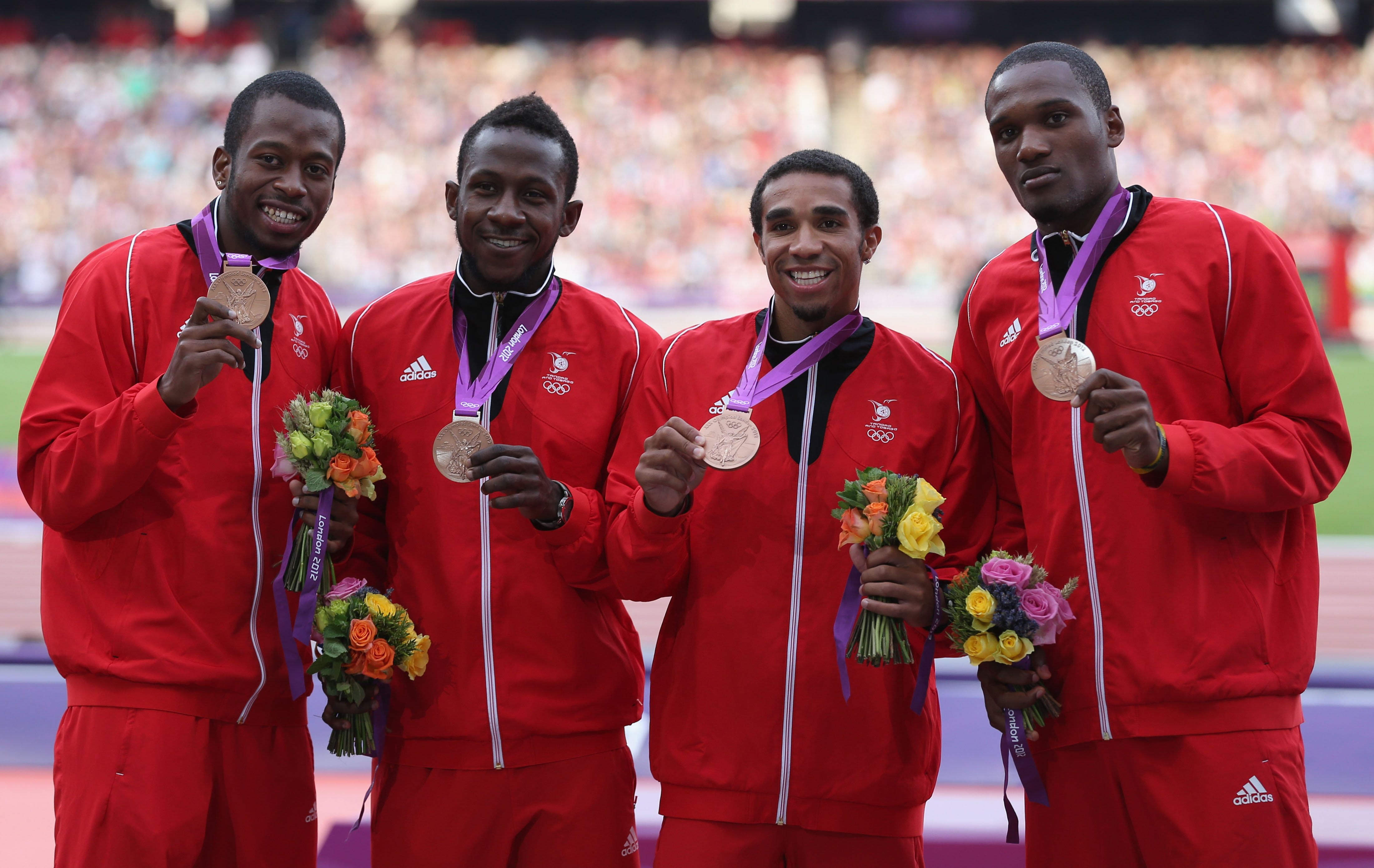 In the end, Solomon, despite all the skill, all the will power and the hard work, doesn't know how all this will go. How could he? The track record for experience-less athletes – even elite world-class ones – making the leap to pro football while staring down the barrel of their 31st birthday isn't short or even poor – it's nearly non-existent. Sure, there are plenty of rags to – relative – riches stories in the NFL. Jakeem Grant of the Miami Dolphins is the most recent example, the star of "Undrafted" having carved out a role on Adam Gase's new-look Dolphins squad. But Grant is 23 and played his college ball at Texas Tech. Maybe you could point to Jarryd Hayne, the rugby superstar who decided to try his hand at the NFL in 2015. Though he's already returned to his native sport.
Super Bowl XX champion Willie Gault was a track star who won gold at the Olympic Boycott Games in 1980. But he played football collegiately at Tennessee and was a first-round pick in the NFL Draft.
The closest comparable to Solomon is probably Renaldo Nehemiah. Nehemiah was a world-record hurdler who, despite a stellar track and field career, decided in 1982 to alter course and pursue his dreams of playing football. Nehemiah would spend three years in the NFL, from 1982 to 1985, playing wide receiver for the San Francisco 49ers. During that period, he racked up 43 catches for 754 yards and four touchdowns. His mediocre numbers don't hide any truths either – he was part of the 84' Super Bowl-winning Niners, but he didn't play a major role, was used mostly as a speedy decoy meant to take the tops off defenses for Bill Walsh (Nehemiah though, maintains that a vicious hit in the 83' season kept him from ever blossoming the way he could have).
And when the team drafted his replacement – Jerry Rice – in 1985, Nehemiah's football career was over.
But while Nehemiah may be close, even he was just 23 when he first worked out for NFL teams. Precedent, true precedent, for what Solomon is attempting simply does not exist.
But Solomon, the underdog incarnate, does have things working in his favor – namely that will. That hard work. That belief.
He may not know how things will end up, how his foray into football will go, but Solomon knows that when the time comes, when he's finally suited up, in front of a crowd of thousands or one grim-faced coach with a clipboard, that's exactly what he'll do. He'll go. He'll take his chance with whatever team in whatever league – the CFL is a consideration as well – is willing to take a chance on him, and he'll, for lack of a better term, run with it.
He'll run until there's nowhere else to run. It's what he's got to do. Because it's what he was born to do. To go. To run.
"When the lights turn on, it's time to go."
More from The Outside Game
This article originally appeared on