Jared Goff to Sit Until Rams Eliminated From Playoff Contention: Report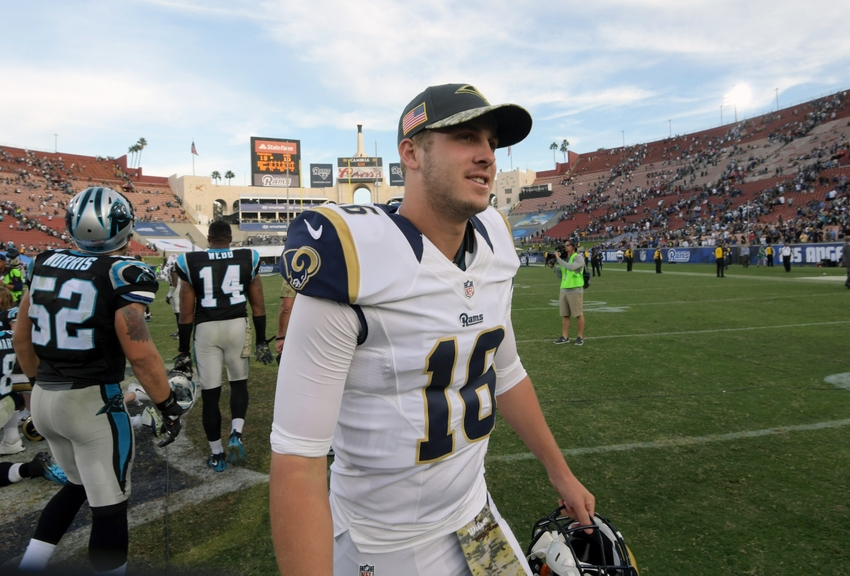 A new report suggests the Los Angeles Rams will only play No. 1 overall pick Jared Goff when the team is eliminated from playoff contention.
The Los Angeles Rams are planning on playing Jared Goff after the team is eliminated from playoff contention, a new report suggests.
Rams fans have been begging for head coach Jeff Fisher to insert Goff into the starting lineup with Case Keenum struggling. Now it appears that may happen at some point this season.
NFL Network's Ian Rappoport was on Good Morning Football when he gave the latest on the Goff situation, per Chris Wesseling of NFL.com:
"My understanding of the Rams quarterback situation," Rapoport said, "is that they're not going to make a switch — barring some sort of epic collapse by Case Keenum — until they fall out of playoff contention."
NFL Network's Steve Wyche also chimed in, saying the Rams think that Goff isn't ready to play, according to the same report.
It remains to be seen if the Rams have any plans on playing Goff this season, despite this report. Keenum has played bad enough to be replaced by the No. 1 overall pick, however Fisher still hasn't made the switch.
The Rams are 3-5 at the moment and have lost four straight after a 3-1 start. Things are going south quickly in LA and it won't be long before the Rams are eliminated from the playoffs at their current pace.
This report will undoubtedly put even more pressure on Fisher and the Rams to get Goff on the field once all hope for the season is lost. What a firestorm it will be if even that scenario doesn't breed a Goff appearance in 2016.
Los Angeles is doing the right thing for now in giving Goff more time, as well as giving the franchise more time to build a better team to put their future quarterback in a better position to win games.
This article originally appeared on