Jared Goff Throws 24-Yard Strike for First-Career Touchdown (Video)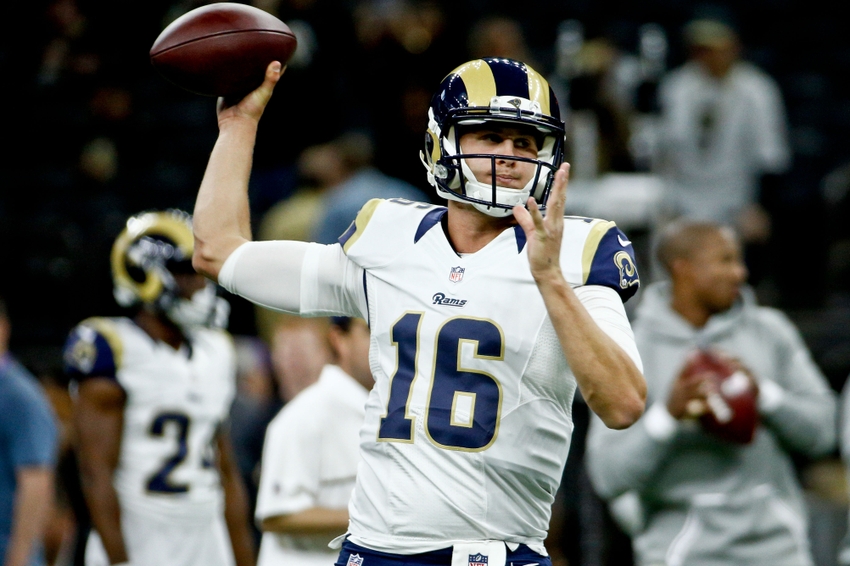 Los Angeles Rams rookie quarterback Jared Goff got his second start off right, throwing a strike for his first-career touchdown throw.
When Jared Goff got the starting nod one week ago at quarterback for the Los Angeles Rams, it was a big moment for the rookie quarterback. Not only was it a move fans had been calling for over the course of the season, but just to get him experience. However, Jeff Fisher and the Rams coaches didn't give him much of a chance. They didn't open up the offense and, on top of that, it was raining. The hope was that it would turn around in the Superdome in Week 12.
With better conditions and a promise to let Goff loose a bit more, the rookie proved quickly that was the right decision. After starting off the drive with a 31-yard short pass to Todd Gurley that the running back made a great play after the catch on, the rookie then went to work to end up with points.
Just outside of the red zone, Goff dropped back and was looking for six points the entire way. He spotted Tavon Austin in one-on-one coverage on the left side of the field and uncorked a throw to him. From 24 yards out, he put the throw perfectly on the money and over the hands of the defender for his first-career touchdown pass:
That's the type of throw that shows why you were the No. 1 pick in the 2016 draft.
Without question, there have been rumblings that Goff is a bust before ever taking a snap. Why else would Fisher wait so long to put him in as the starter. Well, the simple answer is that he's a bad coach, but Goff's first start didn't do much to inspire confidence in the rookie. His second start, however, is off to quite the nice start as that touchdown throw was money.
This article originally appeared on