Jared Goff Starting for Los Angeles Rams in Week 11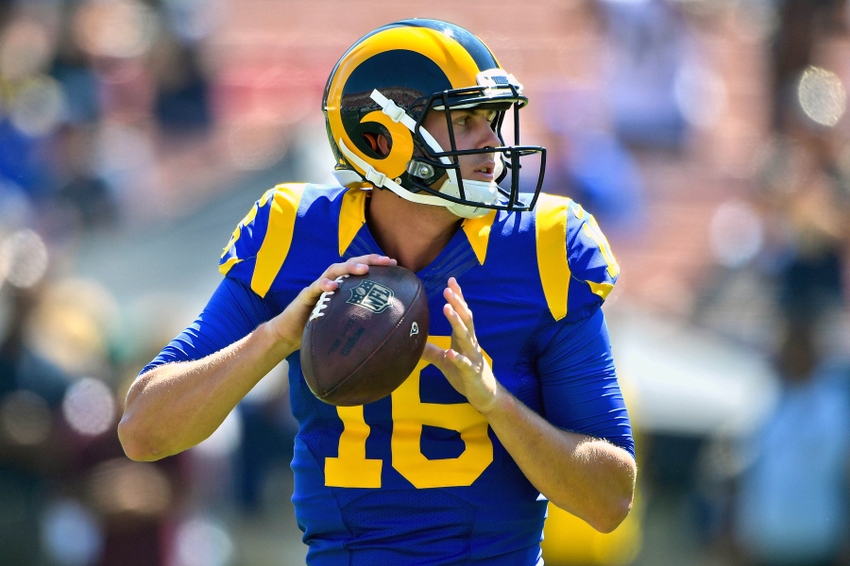 It's finally happening; the Los Angeles Rams have come to their senses and will start Jared Goff at quarterback against the Miami Dolphins.
This is not a drill! Batten down the hatches, grab what you can, and stop calling Jeff Fisher blind. According to a report from ESPN's Chris Mortensen (via Adam Schefter), the Los Angeles Rams will start rookie and 2016 No. 1-overall pick Jared Goff at quarterback in Week 11 against the Miami Dolphins.
From the same report, the reasoning of the Rams in finally making this move is that they want to make a playoff push with Goff at the helm. Of course, this comes in stark contrast of previous reports that Fisher and the team would wait until Los Angeles was "out of contention" before making the move to the rookie as the starter.
When those reports came out, it was laughable that they were in the playoff hunt—and even more so that they thought Case Keenum gave them the best chance to convert on that outside shot. However, Keenum's 9-6 win over the New York Jets accomplished two things. First, it has the Rams at 4-5 with the possibility of still sneaking into the Wild Card. Secondly, it showed that Keenum simply can't provide the necessary offense to beat teams that aren't as hapless as the 2016 Jets.
Granted, Jared Goff looked subpar throughout his snaps in the preseason with the Rams. But so too did Carson Wentz for the most part and that has worked out more than fine out in Philadelphia. Even if he's not Wentz in terms of success, poise, and production, Goff is almost surely an upgrade from Keenum.
So the time has finally arrived when the Rams get out of their own way. They're throwing him into the fire against a red-hot Dolphins team, but it's a change that's been long overdue in LA. Now the rookie has to go out and prove that all the weeks-long chatter about starting him was warranted.
This article originally appeared on