Jared Goff Reacts to Being Named Rams Starting Quarterback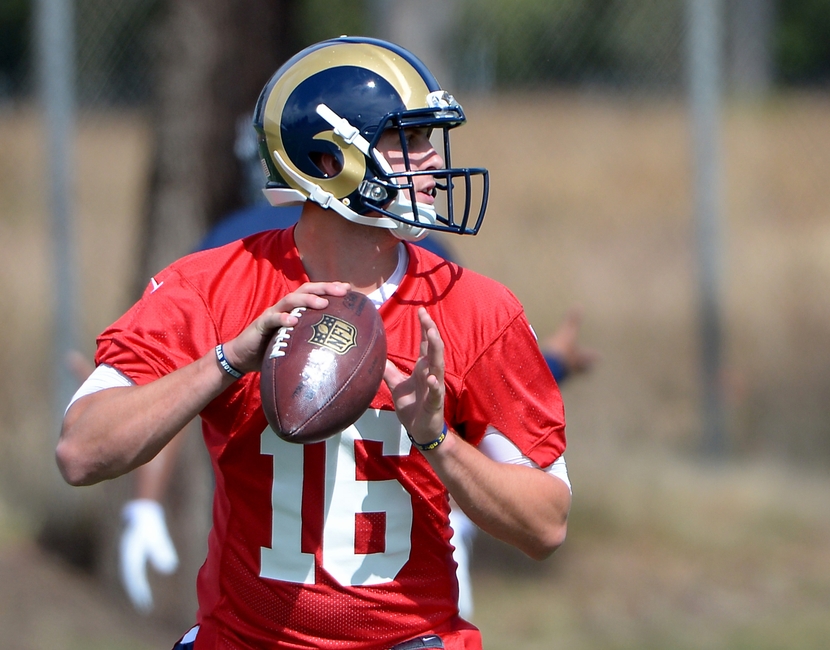 After Los Angeles Rams head coach Jeff Fisher confirmed Jared Goff would be the starting quarterback on Tuesday evening, the No. 1 overall pick gave this thoughts on the big news.
It has been a busy day for Jared Goff and the Los Angeles Rams. Head coach Jeff Fisher has officially made the switch to the No. 1 overall pick. Goff spoke to the media shortly thereafter and gave his reaction to the promotion.
Goff found out just how fast word travels in this world. The 22-year-old claims the news broke just minutes after he was told, which he had to explain to his friends, according to Alden Gonzalez of ESPN:
New Rams QB Jared Goff estimates that he has received about 100 text messages today. Two minutes after he found out, he had friends texting him pictures of Chris Mortensen's tweet announcing that he would be the starter, They were upset that he didn't tell them. "I just found out!" he said.
Goff's promotion ends a 10-week wait that has been filled with frustration for Rams fans. Chants for Goff could be heard at the team's last home game and horrid play from behind center by Case Keenum only proved to exacerbate things.
But all of that is over now. It's time to look to the future and that starts on Sunday against the Miami Dolphins. The rookie signal-caller will have the benefit of starting off at home, but will also have to deal with a defensive line of Cameron Wake, Ndamukong Suh and Mario Williams.
As a whole, the Dolphins rank in the top 10 in passing yards allowed per game and are one of the hottest teams in the NFL at the moment following four straight wins.
The league will waste no team in challenging Goff, so let's see what he has.
This article originally appeared on