Jared Goff Primed for Breakout Game Vs. Saints in Week 12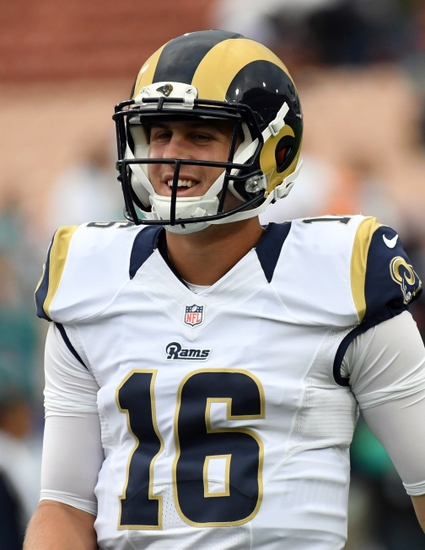 Los Angeles Rams quarterback Jared Goff may be primed for a big game against the New Orleans Saints this week.
Los Angeles Rams quarterback Jared Goff might be on the verge of a great game when he takes the field for his second NFL start in Week 12 versus the New Orleans Saints.
There wasn't a lot to be excited about in Goff's debut. Outside of a few good plays, Goff threw for an underwhelming 134 yards and no touchdowns while completing just 54.8 percent of his passes.
Thankfully for Goff, he won't be facing such a talented pass rush this week as the one he faced in Week 11 versus the Miami Dolphins.
The Saints have seen their pass defense improve overall the last two games after holding both Trevor Siemian and Cam Newton in check. However the overall story of the Saints defense through the air has been bad, with New Orleans ranking as the second-worst pass defense in terms of yards allowed per game.
History of First-Year Starters in Superdome
What's more interesting about this matchup in the Superdome is how well rookies and first-year signal-callers have fared since 2012, as ESPN's Mike Triplett pointed out:
Last year, Jameis Winston made his first NFL road start in New Orleans and won. Later in the season, Marcus Mariota threw four TDs in a win in the Superdome. In 2012, rookie Robert Griffin III and second-year pro Colin Kaepernick each made his first NFL road start in New Orleans and won.
For you know whats and giggles, I figured I'd add up those stats from the four games mentioned in Triplett's piece and see how it averaged out.
Winston, Mariota, Griffin III and Kaepernick completed 69 percent of their passes (77-of-111) for an average of 283 yards and two touchdowns per game. Not a bad track record of success for Goff and the Rams to hang their hats on in this upcoming game.
Rams Letting Jared Goff Off the Leash?
The Rams seem ready to have an added emphasis on the deep ball against the Saints. Goff himself suggested that we may see more deep throws this week, which could lead to more chunk gains for an offense that ranks 20th in yards per reception (11.1).
Here's what Goff had to say about being let off the leash so to speak, according to Gary Klein of the Los Angeles Times:
"I sure hope so," he said after practice. "We've got some good stuff in this week, got a really good plan going. Guys look really good, look fast."

"And I think we've got a good chance to push the ball a little bit."
Speaking of yards per reception, the Saints are allowing the fifth-most in the NFL in 2016. The opportunity will be there for Goff to make big plays if the Rams' offensive line can give him the time and the coaching staff will let him.
Head coach Jeff Fisher sure seems to be ready to let Goff air it out. Fisher had a glowing review of his new quarterback this week, saying Goff was "lights out" in practice, per Rams insider Myles Simmons.
Jared Goff Just Needs to do What He's Supposed To
Goff will certainly have more than enough pass attempts to fulfill his destiny of first-year starter success in New Orleans. As good as young quarterbacks have been at winning in the Superdome, the Saints are still an offensive juggernaut at home and can put plenty of points on the board against anyone.
The Rams do have the defense to challenge that, but there still remains a realistic scenario in which the Rams fall behind and need Goff to throw more. Depending on how that goes will give you a pretty good indication of where the rookie quarterback is as well.
If he can pile it up and throw some touchdowns, that's a great sign. If the offense remains stagnant against a relaxed defense and the Rams get blown out without much of a fight offensively, then we're in the same depressing boat.
While a win would obviously be nice, Rams fans will gladly take a loss as long as Goff goes out there and does what the numbers say he's supposed to.
This article originally appeared on