Jared Goff Not Playing Helps Jeff Fisher Keep Rams Job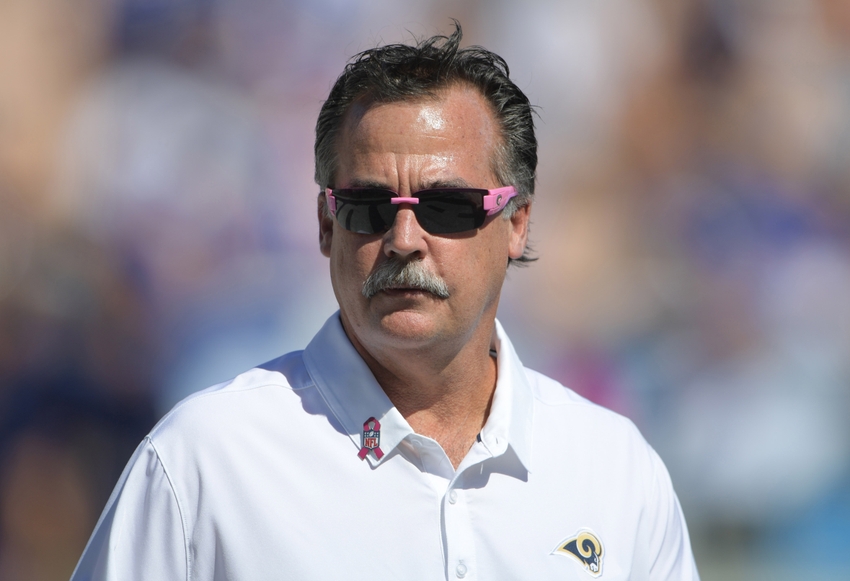 Los Angeles Rams head coach Jeff Fisher remains on the hot seat after another loss and No. 1 overall pick Jared Goff is his last hope to keep his job.
There may be no head coach in the National Football league who is more hated by his fanbase than Jeff Fisher right now, as Los Angeles Rams fans continue to call for his firing.
The Rams jumped out to a 3-1 start this season but have since lost their last four games, with the latest loss coming against the Carolina Panthers on Sunday. Through eight games, the Rams' record is eerily similar to those of past teams under Fisher, showing zero progress from the rest of his tenure.
Los Angeles once again was stagnant on offense on Sunday and didn't score its first touchdown until 34 seconds left in regulation. Case Keenum struggled as usual, the Rams offense as a whole was nowhere to be found and fans were loudly chanting for Jared Goff (and even Tim Tebow), who remains the last piece of hope fans have for this season.
The Rams after 8 games, Jeff Fisher era:
2012: 3-5
2013: 3-5
2014: 3-5
2015: 4-4
2016: 3-5

— Zach Whitman (@zjwhitman) November 7, 2016
Despite all that, Fisher doesn't appear to be ready to make a change at quarterback. The Rams are headed for another season below .500 and without the playoffs in the inaugural campaign of the return to Los Angeles.
It's Jeff Fisher's Fault
It's clear this roster is lacking more than just a quarterback. The offensive line has played poorly and Todd Gurley has been non-existent in 2016. While that takes some of the heat off of Keenum, it only adds fuel to the fire for fans that want Fisher gone. After all, it was he who constructed this roster and the blame rests squarely on his shoulders. Not to mention, he tabbed Keenum as the guy who gave the Rams the best chance to win.
So, what can Fisher do differently? With the exception of inserting Goff into the starting lineup, there really isn't much he can do. It's not like emptying out his bench will change anything and I think we can all agree that Sean Mannion is not going to make things any better.
Fisher needs Goff and he needs him to play well once he gets into game action. The No. 1 overall pick is all Fisher has left to improve this team and keep his job, a seemingly impossible task at this point. Things can only change if Goff shows flashes of brilliance and looks like the top pick the Rams thought they were getting.
When that will happen exactly remains to be seen. Teams and fans will be patient with quarterbacks, although even that grace period eventually ends. And, the longer it goes, the more blame will be placed on the coach.
Fisher has until Week 1 of the 2017 season at the latest to get Goff into a game, otherwise he'll be in inexcusable territory, which is a place many feel he is in now. If Goff isn't in by then, Fisher will have yet another black eye and a reason to be fired because it means Goff still isn't ready.
Why Jared Goff Not Playing is a benefit to Jeff Fisher… For Now
Goff playing this season isn't likely to happen considering this team just isn't very good outside of the defensive unit. Fisher hasn't done a good enough job to put his rookie quarterback in the best position to win, further proving Fisher has done a lousy job putting this roster together.
Much to the chagrin of Rams fans, Goff not playing now is a benefit to Fisher. Should Goff get the starting job over Keenum and play poorly, the last leg the Rams coach can stand on would be gone. Not only could he be blamed for Goff's poor development and a lack of help around him, but it would leave the Rams in total disarray with no franchise quarterback to look forward to.
Perhaps that's why Goff isn't playing yet. Maybe Fisher knows that Goff is so far behind in his development and the offense is so bad that the 22-year-old is no good to him or his team. Instead, Fisher can hold Goff back and keep pointing to him as the player that will finally put this franchise over the top when he gets the chance. In the mean time, Fisher can keep his job for longer with that excuse and hope another offseason yields better results.
Goff remains the shining light at the end of the tunnel that Fisher can say will change everything once the rookie is ready. It's all Fisher has left with his job hanging by a thread and as Goff goes, so will Fisher's job. Until Goff plays, Fisher will continue to get the benefit of the doubt from ownership, even though he doesn't deserve it.
This article originally appeared on