Jamize Olawale Ties It, Amari Cooper Wins It for Raiders (Video)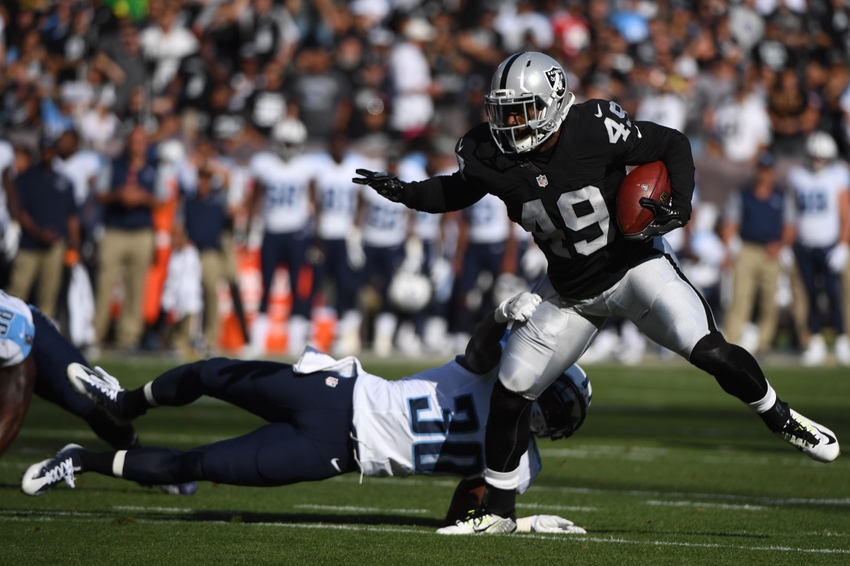 Fullback Jamize Olawale showed up as the unlikely second-half hero for the Oakland Raiders offense in Mexico City against the Houston Texans
The Oakland Raiders are a team on the rise. They have a great balance of youth and veterans that are ready to make some serious noise this season. In their Monday Night Football game against the Houston Texans in Mexico City, they found themselves in a solid game that went back and forth. Fullback Jamize Olawale made an amazing play in the fouth quarter that will undoubtedly be a highlight shown all throughout this week.
Despite having weapons like Amari Cooper, Michael Crabtree, and others on the offense, it was the fullback in Olawale that came up in the biggest moment at that point.
With the Raiders trailing by a touchdown, quarterback Derek Carr sent his fullback on a deep route down the field. The coverage on Olawale was poor and Carr's throw was on the money. It was absolute money for Oakland after that:
With a cannon of an arm, quarterback Derek Carr continues to make a name for himself. As a catalyst on offense, Carr has made everyone around him better as they do their best to make this season memorable.
On this 75-yard touchdown pass, Olawale took it to the house and didn't look back one bit. He turned on the jets and ensured that it would be a difference-making touchdown. As the Raiders are on their way to victory, it was Olawale's play that turned the tide in their favor.
It also gave this Oakland team all the momentum that they needed. After tying it up, they came up with a big stop. Then Carr found Amari Cooper short and the star wideout put on the moves before getting off to the races:
Carr. Cooper.

35-yard @Raiders TOUCHDOWN! #HOUvsOAK #MiPartidoMiNFL https://t.co/H9CcC2kGCD

— NFL (@NFL) November 22, 2016
Cooper's touchdown proved to be the game winner for the Raiders.
With the win, Oakland moves into sole possession of first in the AFC West with eight wins. They've been phenomenal in their breakout season. So much so that their success now extends south of the border.
This article originally appeared on