Jameis Winston Is The Leader We Thought He Was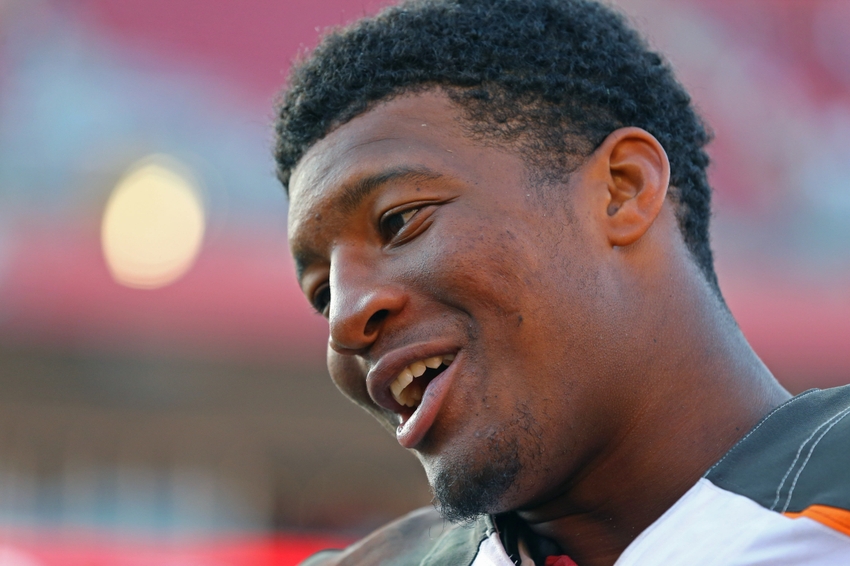 At 22 years old, Jameis Winston is showing the leadership and tenacity you'd only expect from a long time veteran. He's showing each week why he deserved to be drafted first overall.
A road win in late November goes a long way. A road win in late November against a team that won ten straight at home and was tied for first in their division is massive. Dirk Koetter said Jameis Winston had his best game as a pro on Sunday in a 19-17 win over the Kansas City Chiefs. There are a few reasons that was probably the case.
For starters, it was a must win. Period. No way around that. Falling to 4-6 and a three way tie with the Saints and Panthers, two games back of the Falcons had doom written all over it. Second, Winston's composure and poise from opening kickoff to the final horn was admirable. The Chiefs' defense is one of the best in the league and they prey on opposing teams' mistakes. Winston has a tendency to make mistakes when forcing plays, but avoided doing so in a big game.
Finally – and arguably, most importantly – the way Winston brings his teammates together. The way he gets behind them, raises their level of play, and is willing to lay it all on the line for each and every one of them every game. That's not something you see out of every quarterback. That's not something you'd expect from a second year player at 22 years old. That's the intangibles the Buccaneers saw when they drafted him.
After the win, Dirk Koetter awarded the game ball to Jameis Winston for his performance, and this is what Winston responded with;
For those that aren't familiar with what Winston is referring to about telling his teammates how thankful he was for them, here's the story from Cecil Shorts;
This is what the Buccaneers desperately need. A leader that can rise above the odds, bringing his teammates with his. That never wavers no matter how difficult the task or competition.
Finally, there is a quarterback, a leader with the passion we haven't seen in over a decade. The turnaround is in full swing and – thankfully – Jameis is leading the charge.
More from The Pewter Plank
This article originally appeared on