Jamaal Williams, RB, BYU – 2017 NFL Draft Scouting Report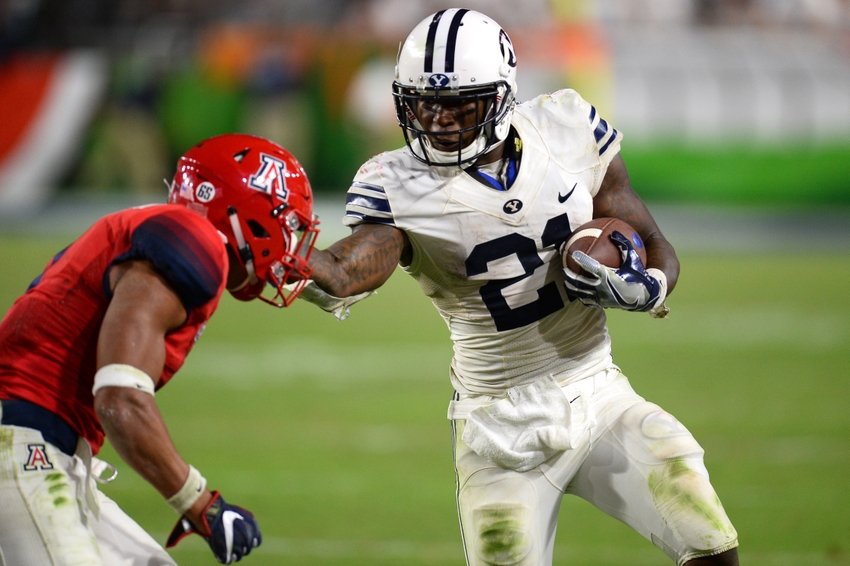 In a deep running back class, Jamaal Williams is a prospect that you probably haven't heard of.
Jamaal Williams had not played for the best part of two years due to injury and personal issues but has returned to Brigham Young with a vengeance this season.
Height: 6'2 Weight: 220lbs Class: Senior Hometown: Fontana, California
Career Stats: 682 ATT/3,560 YDS/5.2YPC/33 TD/4 Fumbles (Stats + Info)
Jamaal Williams is mighty impressive. His lower-body power stands out on film, and he runs incredibly hard. He handles a heavy workload, and is both slippery and fast enough to break away from defenses with his long strides.
Williams shows nice vision, patience and the ability to break outside when everything clogs up inside. He is also able to become skinny through the hole, power through arm tackles and shows pesky elusiveness at the second level.
Despite his aforementioned huge workload, Williams has only fumbled four times during his career and it is clear why. He carries the ball with perfect technique, switching arms when necessary and covering up when contact is imminent.
Weaknesses
Williams has missed two of the Cougars' past three games with injuries, and suffered a significant knee injury during his junior year against Middle Tennessee in 2014. He sat out the 2015 season due to 'personal issues' which have not been made public.
He was arrested on suspicion of underage drinking in February 2014 and was therefore suspended for BYU's 2014 opener against UConn.
He isn't much of a receiving threat out of the backfield, he only has one career touchdown reception, which came all the way back in 2012. He could also stand to improve his pass protection.
During his record-breaking day against Toledo, he whiffed on one block and was completely dominated on another assignment.
Outlook
Since his return to Provo, Williams has shattered two school rushing records. Earlier this season he trounced Toledo with 286 yards to break the single-game rushing record, and he broke the school career rushing yards record against Mississippi State. With three games left in his college career, Williams has 3,560 career rushing yards and 33 touchdowns. That is what I call production.
Jamaal Williams is one of my favorite prospects in this upcoming class. A runner who has proven himself capable of being a bell cow at the next level, he would be great value in the fourth-round of this upcoming NFL Draft.
This article originally appeared on