Jaguars at Bills: Game preview, odds, prediction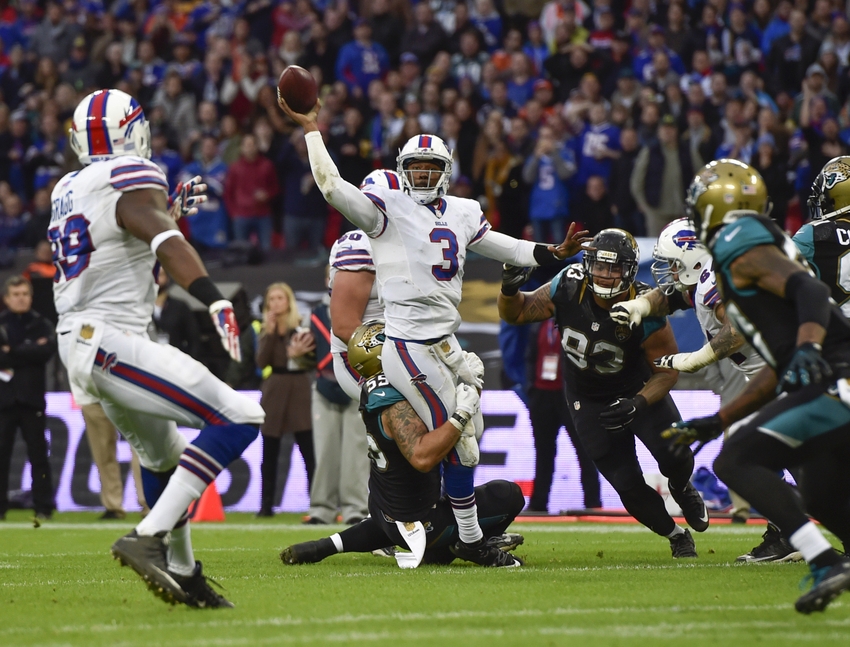 The Buffalo Bills look to stay alive in the AFC Wild Card race as they square off against the struggling Jacksonville Jaguars on Sunday, Nov. 27.
The AFC Wild Card race is starting to develop. While the Denver Broncos (7-3) and Kansas City Chiefs (7-3) are both in a great position, the Buffalo Bills (5-5) are just two games behind. They'll look to keep their playoff hopes alive on Sunday at 1:00 p.m. ET when they host the visiting Jacksonville Jaguars (2-8). The game will be held at New Era Field in Buffalo.
This is a must-win game for Rex Ryan's team. While a loss doesn't necessarily kick them out of the Wild Card race, it would make their path to the playoffs more difficult. With a win, Buffalo can stay alive. LeSean McCoy and quarterback Tyrod Taylor lead the NFL's premier rushing offense (157.0 rushing yards per game). Combined, they have 1,117 yards and 11 touchdowns.
While Taylor is a great rusher, Buffalo averages a mere 185.7 passing yards a game, the lowest in the NFL. He has 1,935 passing  yards for 10 touchdowns with four interceptions. Buffalo's offense scores 25.3 points a game, 10th highest in the NFL. Defensively, the Bills have been slightly above average, allowing 21.5 PPG and 346.0 yards per game.
Meanwhile, the Jaguars are looking to end an embarrassing five-game losing streak. Jacksonville struggles to score (19.3 PPG) and can't keep their opponents out of the end zone (26.5 points allowed per game). Quarterback Blake Bortles leads the NFL with 13 interceptions and is 17th in passing yards. Neither T.J. Yeldon or Chris Ivory have been impressive out of the backfield.
Odds
Line: Bills (-6.5 spread, -417 moneyline)
Over/Under: 47
Take the slight over in this one. Buffalo should have no problem scoring in this game, but the Jaguars are going to struggle to score. While the Bills should score at least 28 points, Jacksonville shouldn't score much at all. They have been held to 19 points or under six times so far.
Prediction: 38-17. Buffalo's rushing offense should have a field day against the Jaguars.
More from FanSided
This article originally appeared on