Jaguars at Bears: Highlights, score, and recap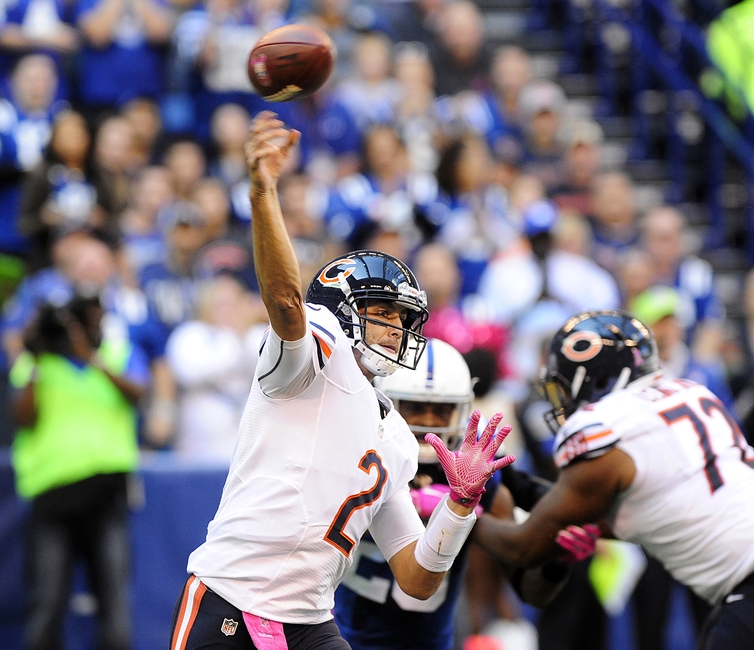 For the first time since 2008, the Chicago Bears will host the Jacksonville Jaguars in Week 6.Here are all the highlights, a game recap, and the final score.
As Week 6 of the NFL season is set to start, frantic times come for the Chicago Bears and Jacksonville Jaguars. In a rare showdown at Soldier field, the two teams will look to rise from the class of the bottom-dweller teams in the NFL.
The home team Bears come in at 1-4. Entering the season, the team had little hope to make the playoffs, but it was expected that they would at least be competitive with head coach John Fox leading the surge. This season, Chicago have been the opposite as they've lost four out of their first five games.
The once Monsters of the Midway are without Jay Cutler at quarterback, and Brian Hoyer has been under center, and to a surprise, he's thrown for over 300 yards in the past three games. While Hoyer's stats may be noble for fantasy football, it hasn't translated into wins for the Bears.
For Jacksonville, there was promise after a quasi-exciting 2015 season.
At the start of this year, the team has lost some of their magic from last season. Quarterback Blake Bortles hasn't mirrored last year's production as he is off to a pedestrian start with 1,050 yards, seven touchdowns, and six interceptions. With his sputtering play, it has affected his dynamic duo at wide receiver as Allen Hurns and Allen Robinson are off to sluggish starts as well.
Both teams are in need of a win. As both John Fox and Gus Bradley's coaching seats become as hot as the Sahara desert, a victory would quiet speculation of being fired for just a week.
Highlights
Posted live as they happen
Three Stars
1. Jordan Howard
The rookie running back has been the lone bright spot for the Bears. Since entering the starting lineup, he's run for 296 yards on 51 carries including back-to-back 100-yard games. As Howard faces a defense that has a proclivity for giving up plays in the ground game, it's likely that he continues his streak of gaining over 100 yards on the ground.
2. Jalen Ramsey
Bears quarterback Brian Hoyer has yet to throw an interception this season. Having said that, his streak may come to an end thanks to Ramsey. Even though he's facing Alshon Jeffery, the rookie out of Florida State has shown that he does not back down from top-tier receivers thus far in his career. Look for Ramsey to have an interception or two against the Bears offense.
3. Blake Bortles
For most of the season, Bortles has played mediocre, but against Chicago, he's likely to awaken from his slumber. Bortles has under 210 yards in back-to-back games for the first time in his career. Coupled with his inconsistent play and the need to have a big game, look for Bortles to throw for 275 yards, three touchdowns, and zero interceptions.
Next Game
Chicago will be making their routine trip to Green Bay in Week 7, which spells bad news for the Bears. Jacksonville's next game will be an AFC clash against the Oakland Raiders, who boasts one of the most potent offenses in the NFL.
This article originally appeared on