Jadeveon Clowney is so good, he could make the Houston Texans this year's Denver Broncos
Jadeveon Clowney was never a bust.
Clowney, the Texans' third-year defensive end and the No. 1 overall pick in the 2014 NFL Draft, was an impact player from the moment he entered the National Football League — a force to be reckoned with on the outside of the Houston Texans' defensive line.
But he was also an injured player. He sustained a concussion in his first NFL preseason and then tore his meniscus in Week One of the 2014 season. He played four games in his rookie year before undergoing microfracture surgery in his right knee.
Despite playing 13 games last year, the 2016 season is the 23-year-old Clowney's first healthy NFL campaign. And it has been spectacular.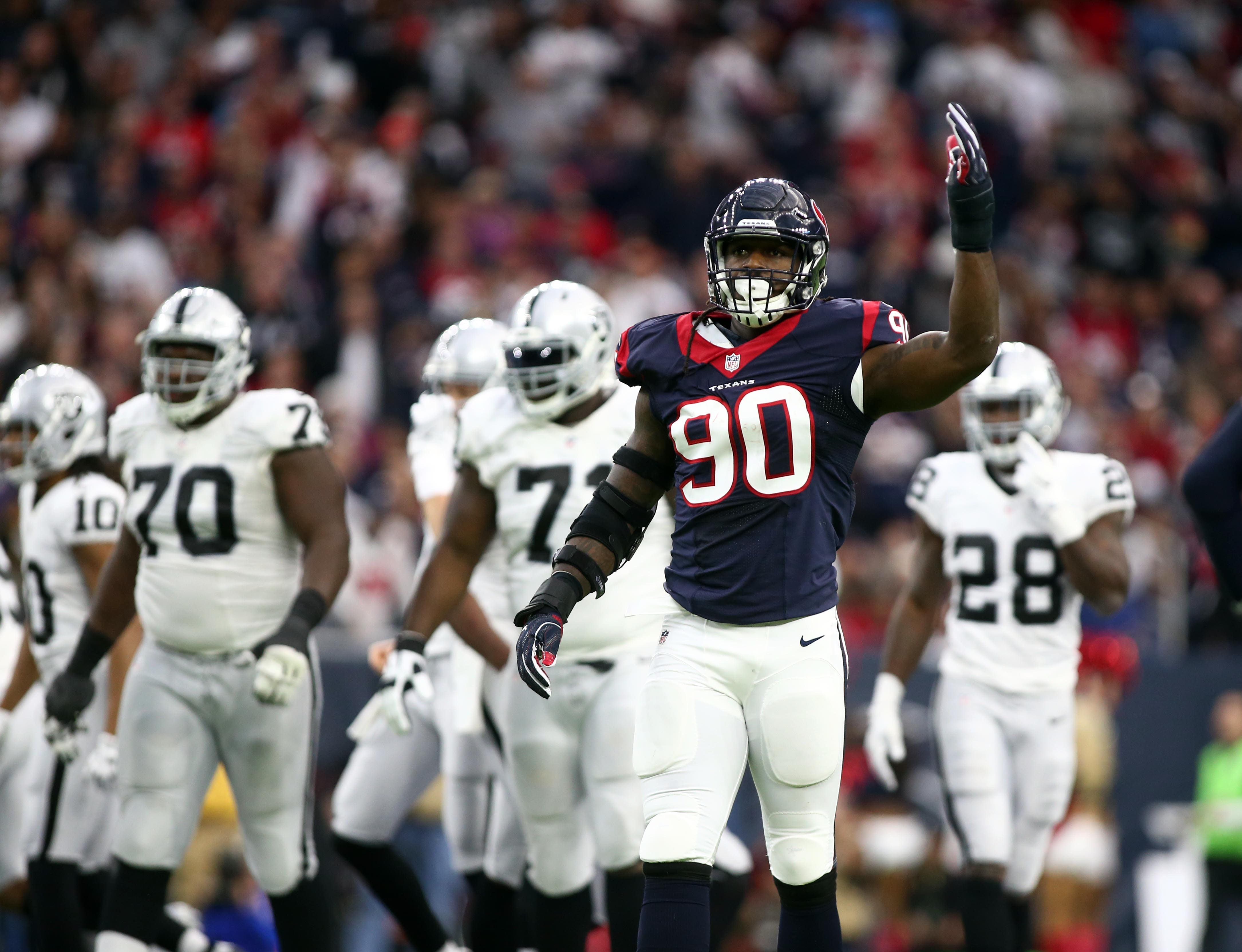 The box score doesn't fully represent the impact of pass rushers — disruption is a hard thing to effectively quantify — but Clowney's season of havoc was boiled down into one huge contest Saturday in an AFC Wild Card game against the Oakland Raiders, where he played a critical role in the Texans advancing to the second round of the playoffs with a 27-14 win.
The final stat sheet might say that Clowney had only one tackle and no quarterback hurries, but anyone watching Saturday's contest knows that Clowney was the best player on the field for either team at Houston's NRG Stadium.
The Texans might not have a quarterback worthy of starting a playoff game, but if Clowney can continue to impact games the way he impacted Saturday's, the Texans will have a fighting chance this postseason, even with Brock Osweiler at quarterback.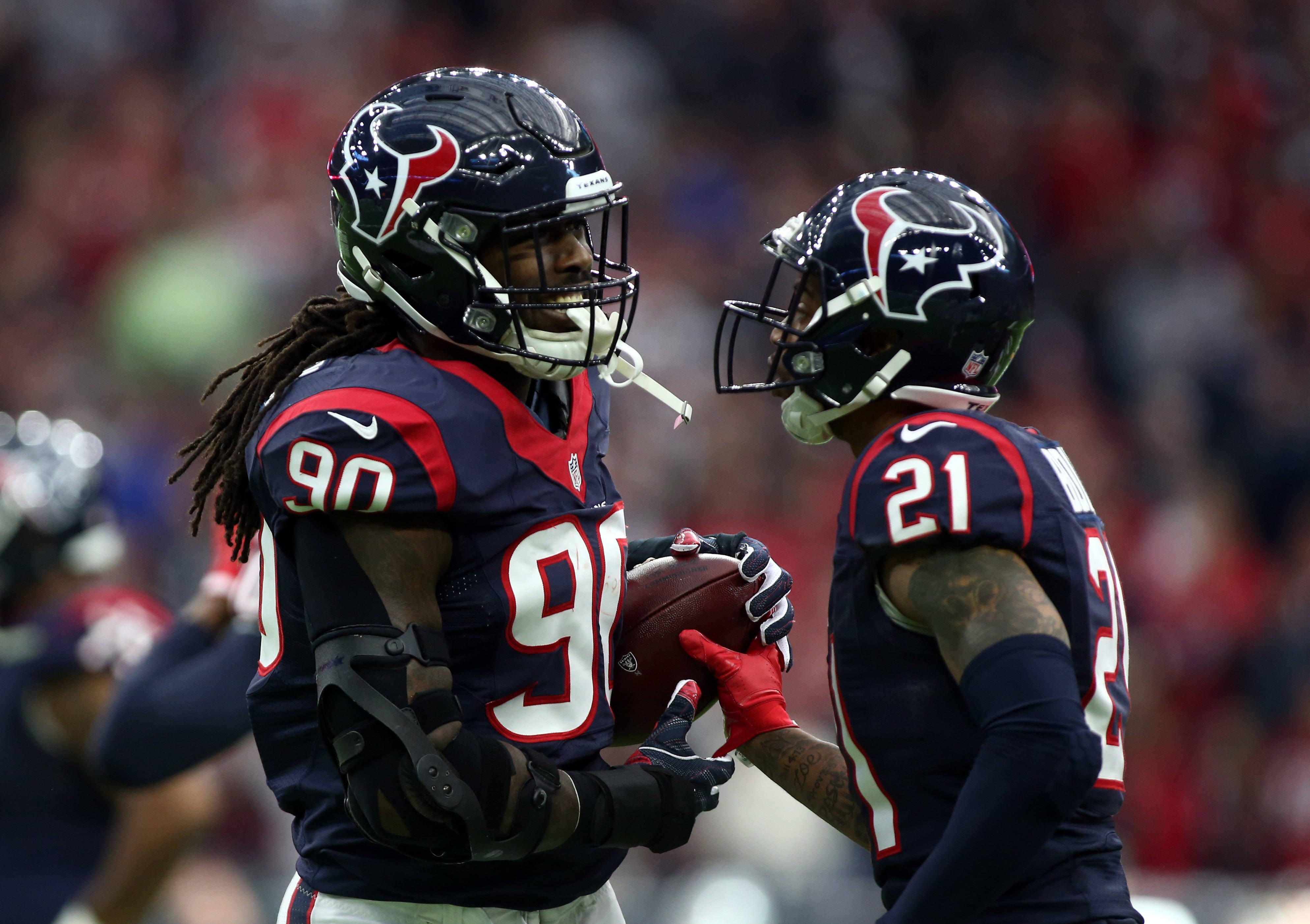 Remember, the Denver Broncos didn't have much of a quarterback last year. Peyton Manning is one of the best players in NFL history, but last season he was one of the worst quarterbacks in the league (even worse than Osweiler).
But because the Broncos had a dominant defense and an incredible pass rusher in Von Miller, Denver won the Super Bowl.
Don't scoff at the comparison — Clowney did one excellent Von Miller impersonation Saturday.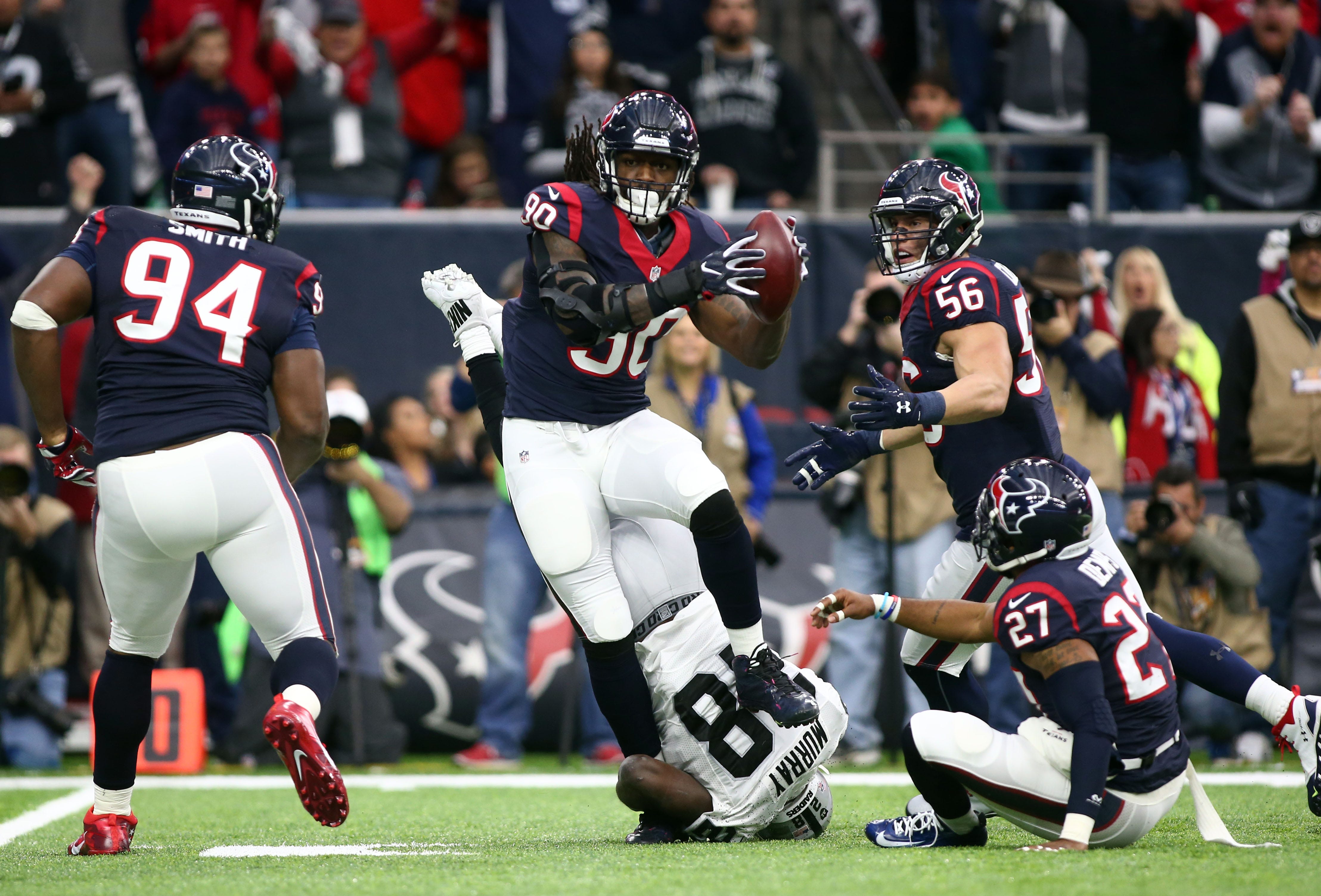 Clowney didn't have a sack in Saturday's Wild Card game against the Oakland Raiders, but he had a pass deflection and an incredible interception that helped put Houston ahead in the contest. And from that advantageous position, the contest was never really in doubt.
.@clownejd. Freak. Athlete. #OAKvsHOU #NFLPlayoffs https://t.co/7KRc0jtHpe

— NFL Network (@nflnetwork) January 7, 2017
The Raiders did everything they could to avoid going to Clowney's side of the field after falling behind 10-0. With a rookie quarterback making his first NFL start, that wasn't easy to do, but plays like an end-around pitch to wide receiver Amari Cooper to start their fourth drive of the second half certainly seemed like a good way to avoid No. 90.
Nope.
Clowney, coming around from the backside, penetrated into the backfield almost instantaneously. He then ran stride for stride with Cooper, whose 40-yard dash time coming into the NFL was 4.35 seconds, to the sideline.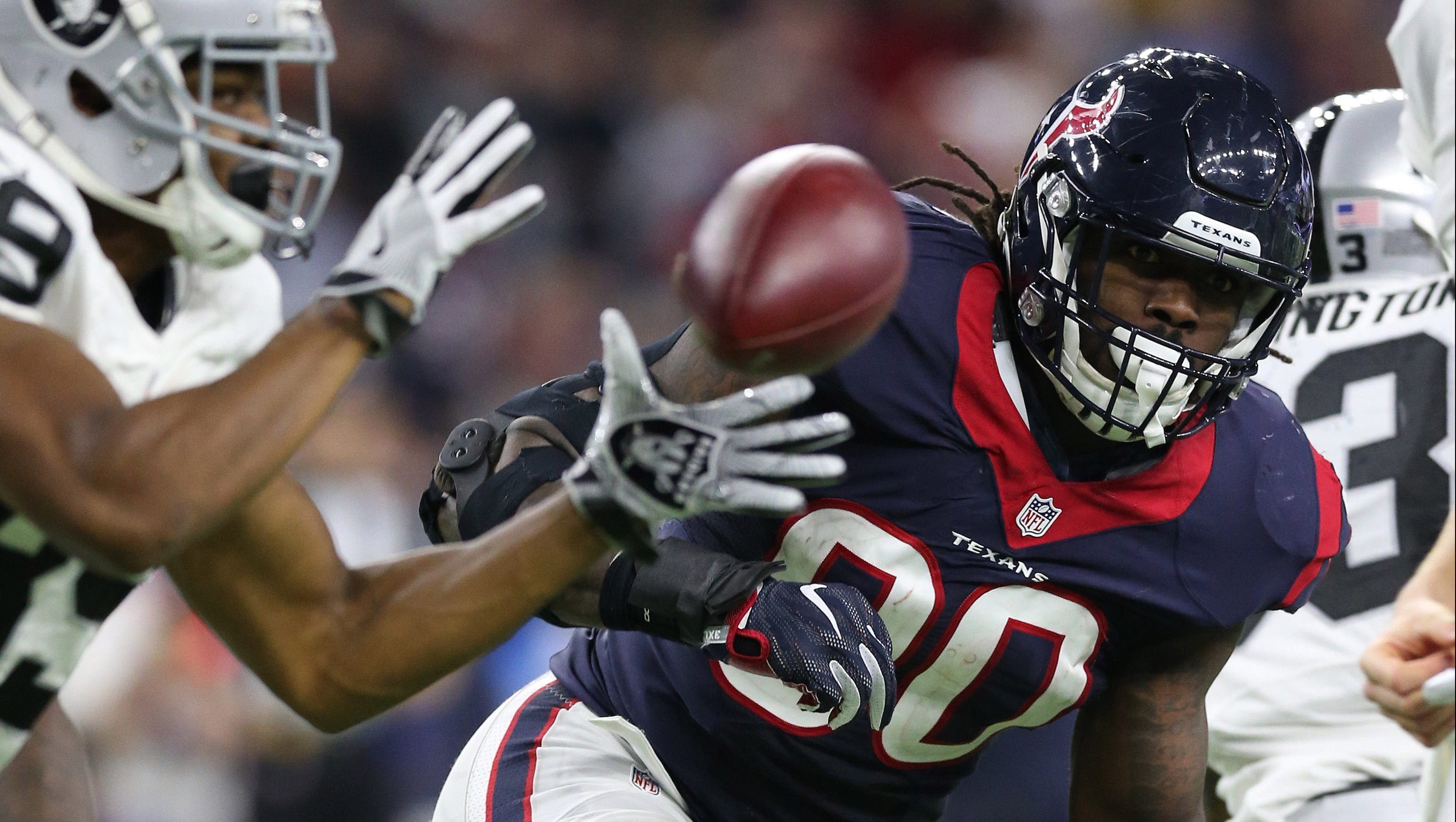 Clowney didn't make the tackle, Cooper was pinned in by the defensive end and Jonathan Joseph and went out of bounds for a gain of a yard.
It's in no way a normal play for a weak-side defensive end to make — but it's the kind of play that Clowney can make.
And if opponents like the Raiders want to double-team Clowney, they can expect a visit from Houston's other defensive end — the aptly named Whitney Mercilus — in their backfield.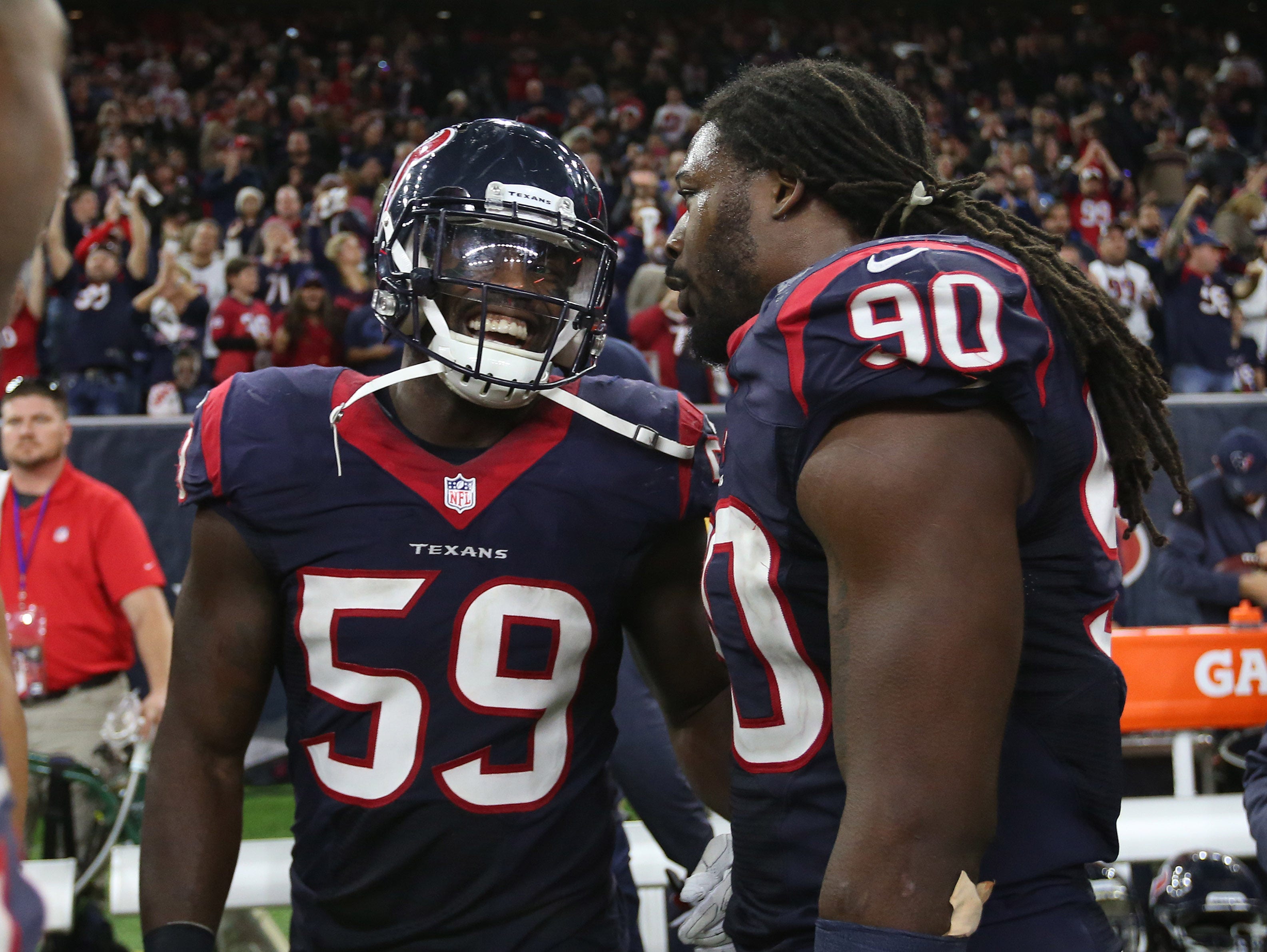 Oakland didn't stand a chance against Clowney Saturday — not with their banged-up offensive line and brand-new quarterback. But Clowney is playing so well there's not much anyone could do to negate him.
And so long as that's the case, Houston's defense is going to be a formidable unit worthy of winning games.
That's some bust.