Jacob Tamme's Wife is Trolling Him About Jason Witten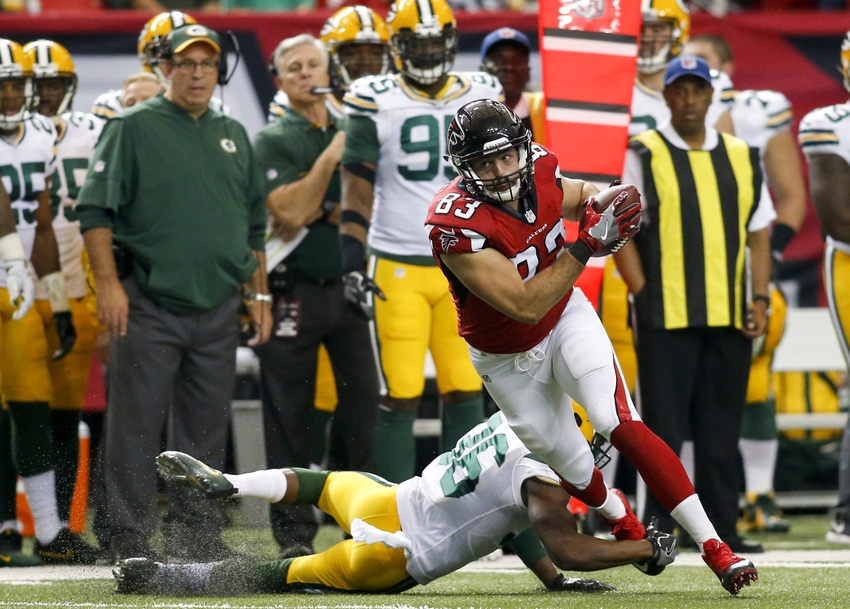 Atlanta Falcons tight end Jacob Tamme has forged a nice, long career for himself and has even played in a Super Bowl, but his wife seems to think Dallas Cowboys legend Jason Witten is better.
There's no doubt that Atlanta Falcons tight end Jacob Tamme has benefitted from playing with great quarterbacks during his career. After Peyton Manning helped Tamme make a name for himself with both the Indianapolis Colts and Denver Broncos, he has become a reliable safety valve for MVP candidate Matt Ryan on the Atlanta Falcons.
Tamme has caught over 70 percent of his passes in both of his seasons with the Falcons, but his 2016 season ended with a shoulder injury.
Now, Tamme's wife is giving him a hard time, wondering why he can't get as open as Dallas Cowboys tight end Jason Witten, who is a sure-fire Hall of Famer and easily one of the best 10 players at the position in history.
My wife is over here asking me why I can't get as wide open as Jason Witten… smh I don't know babe…

— Jacob Tamme (@JacobTamme) November 24, 2016
It looks like Tamme doesn't quite know how to respond to this and I can't blame him. Twitter, of course, has some nasty comebacks in mind, but I doubt Tamme wants to go in that direction.
Before his season-ending injury, Tamme caught 22 passes for 210 yards and three touchdowns. He once caught 67 passes in a season for the Colts, so he's always been a capable pass-catcher and blocker, ideally slotting in as a No. 2 option for a pass-heavy offense.
Tamme's injury cleared the way for Austin Hooper, who will hope he can get as open as Witten does for the Falcons.
Meanwhile, Tamme will be a free agent in 2017, and I'm sure someone will be interested in signing him, even if he is coming off of a severe injury. I'm also sure his wife will have no problems advocating for him if it comes to that. I mean, what's the harm in some playful jokes on Thanksgiving?
This article originally appeared on