Jacksonville Jaguars: Is Blake Bortles really a 'coach killer'?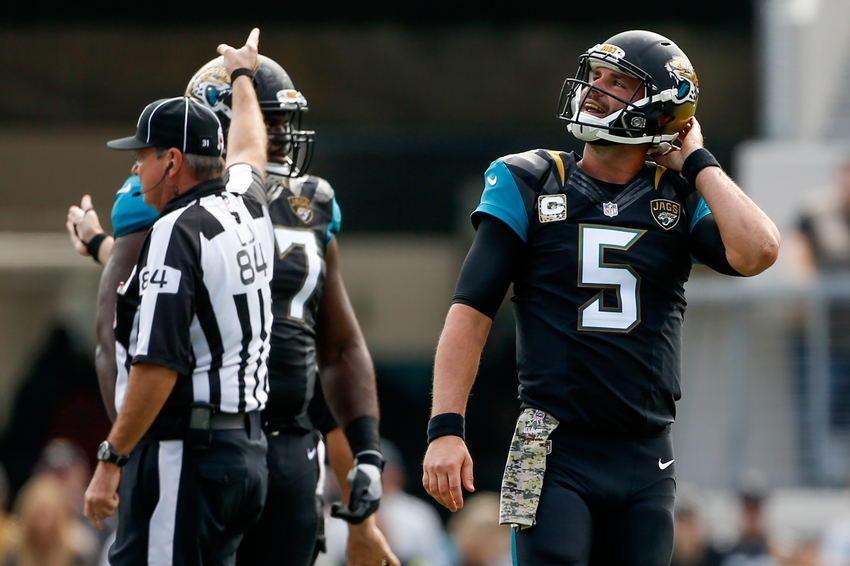 Blake Bortles or Chad Henne? It's a debate raging in Jacksonville Jaguars fans' heads right now as the younger quarterback struggles. Retired linebacker Bart Scott weighs in.
"Blake Bortles will get you fired, man. This team would probably be … at least 6-5 with Chad Henne — he's good in spurts," says Bart Scott to Damon Amendolara on CBS Sports Radio. "He's a coach killer."
Those are the kinds of words that are reserved for the worst of the worst in the NFL. It's reserved for quarterbacks like Ryan Leaf, Blaine Gabbert, and Jamarcus Russell. Quarterbacks that can't win but somehow get shots to do it.
The Jacksonville Jaguars are certainly giving Blake Bortles opportunities to prove himself. But the opportunities come at a cost as the third year quarterback continues to struggle, often completely ruining games for the team.
Fans have been getting in on the action, providing cynical tweets regarding the quarterback's poor play and easily identifiable frustration.
Blake Bortles has never thrown an interception off of a Receiver's foot in three consecutive games.

— Blake Bortles Facts (@BortlesFacts) November 27, 2016
— Cole Hartley (@ColeFartley) November 27, 2016
Frankly, he does deserve at least some of it. But is he really the kind of player who ends a coach's career if he sticks with him? Head coach Gus Bradley and general manager Dave Caldwell have pinned their hopes on him after selecting him third overall in 2014.
Which is exactly why it is worth questioning Scott's presumption that Bortles would kill other coaches' careers.
When Bortles took over from Chad Henne, Henne had gone 0-2 in 2014 and was well on his way to losing his third straight when Bortles replaced him at halftime in Week 3. His overall record in Bradley's tenure is 4-12. That's not considerably better than Bortles' 10-30 record in Bradley's tenure. Factor in the terrible Jedd Fisch offense, the predicted regression under Greg Olson, and the quick shift to offensive coordinator Nathaniel Hackett and it's a miracle the Jags even have an offense, even if it's terrible.
The last time Henne had a positive record as a starter was 2009 when he was 7-6. That's hardly inspiring enough to suggest he'd have the Jags at 6-5 right now, especially considering how inept the offense was in those first 2.5 games of 2014. His 18-35 career record is about as uninspiring as Bortles'.
As many are quick to point out, the coaching matters. Bradley is an historically bad head coach with or without Bortles at quarterback. He's run with Bortles since 2014 but he was just 4-15 before Bortles took over as the starter. Sure, Gabbert was historically bad before but even Henne wasn't winning games. Bradley is statistically the worst head coach in the modern era with a 14-45 record.
Even great quarterbacks, which Blake Bortles has shown potential to be (though not in 2016), can't keep bad coaches afloat. Bradley has been upbeat, he's been exciting, encouraging, and even optimistic, but he hasn't been a winner. The Jaguars will inevitably move on.
And when they move on, it won't be because Bortles is a bad quarterback. The Jags will move on because in four years Bradley was only able to slightly more than a dozen games.
It's too early to call Bortles a coach killer. If the next head coach also struggles with him at the helm then it's time to advance that theory, but with Bradley at head coach it is just too early to evaluate right now.
This article originally appeared on