Jacksonville Jaguars: 5 Questions for Week 3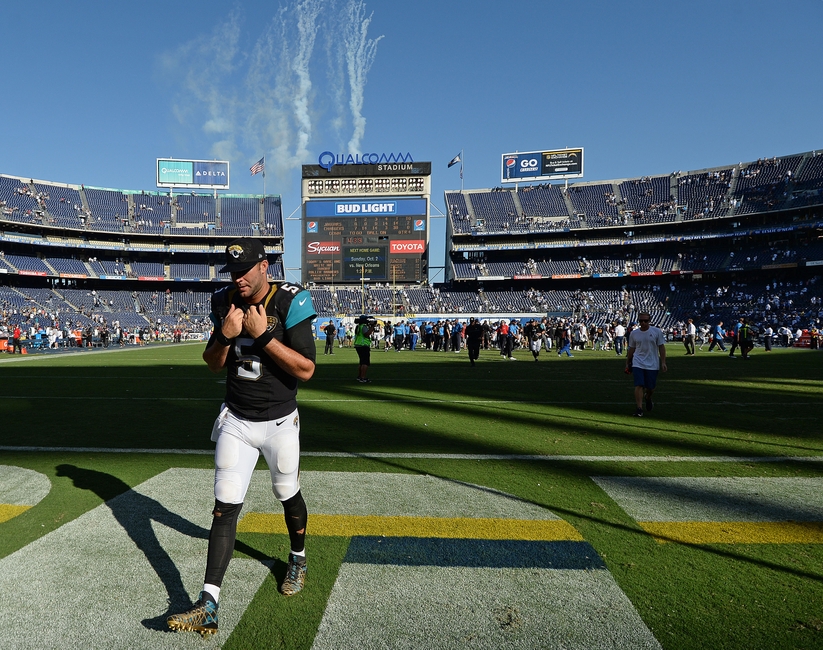 Jacksonville Jaguars vs Baltimore Ravens is a winnable game, but some serious questions must be answered before the Jaguars hope to get the W.
It's difficult to win when your team comes out and plays as poorly as the Jacksonville Jaguars did in Week 2 against the San Diego Chargers. To call them "flat" would be a gross understatement.
And yet that is the kind of performance that lingers in the back of Jags fans each and every week. This team isn't all that far removed from only two wins or three wins in a season. While 5-11 was a pleasant surprise, it certainly isn't a guarantee in year four of the Gus Bradley era.
There were some blatant concerns in Week 2 that will be carried over for Week 3. They need to be addressed if the Jags hope to beat the Baltimore Ravens. They won't be guaranteed another fluke facemask call and long filed goal with zeros on the clock to win the game.
If the Jags can get the answer to these questions right, then this should be a win (even with the Ravens at 2-0 coming into the game). If they can't, then the fear lingering in the back of Jags' fans minds may become reality once again.
Can the Jacksonville Jaguars tackle?
Perhaps the most disappointing thing to see in the game against the Chargers was just how poor the Jaguars were tackling. It seemed that receivers could slip through arms on each and every down and running backs could break through three or four players before being brought down.
While a lot of attention is placed on middle linebacker Paul Posluszny's failures in pass coverage, his tackling ability is clearly needed on the team. He was arguably the only dependable tackler in the game, finishing with 11.
Strong safety Johnathan Cyprien's misses were particularly egregious but it wasn't just him. The Jags were sloppy through and through and need to get better.
For a team headed by a former defensive coordinator, there is nothing worse than seeing the fundamentals deteriorate. The Jags need to address this problem if they hope to win (or even keep the games close).
Will the Jacksonville Jaguars go vertical?
While the missed tackles were disappointing, the almost complete abandonment of the vertical passing game was truly bizarre.
After dominating the deep throws all season in 2015, offensive coordinator Greg Olson ridiculously decided to sling it horizontally on play after play after play against the Chargers in Week 2 of 2016. This came on the heels of losing Week 1 on a fourth down wide receiver screen pass.
Running back T.J. Yeldon was second on the team with nine targets and led the team with eight receptions in Week 2. He gained a total of 10 yards on those receptions. Yeldon leads the team with total receptions through two weeks.
How Allen Robinson and Allen Hurns aren't as involved is baffling. Yes, there have been targets (10 for Hurns in Week 2, 15 for Robinson in Week 1), but there needs to be some manufacturing to make sure they are a bigger part of this offense. They made miraculous catches week after week last season, but they may need a bit better play calling in 2016 now that they demand increased attention from defenses.
When a team has dominant receivers (including tight end Julius Thomas) and a big-time quarterback (arguably top-10) and absolutely no running game, the vertical passing attack needs to open up shorter throws and not the other way around. Olson called a bad game in Week 2 and he needs to return to what made 2015's offense arguably the best he has ever coordinated.
Can the Jacksonville Jaguars get after the passer?
A strip-sack for Yannick Ngakoue and two sacks for Dante Fowler Jr. make it sound like they had a solid day harassing Philip Rivers in Week 2. That simply wasn't true. Those numbers hide how futile the pass rush truly has been.
This, after a depressing Week 1 game in which Fowler and Ngakoue were left sack-less.
The Jags have just four sacks to their name so far this season. That's two per game on average and it simply won't cut it. If the team is going to rely on the defensive ends to generate pressure all season then maybe they deserve to be cut up by the better quarterbacks in the NFL.
Todd Wash and Gus Bradley need to come up with a way for the defense to manufacture a pass rush. Whether that's bringing blitzes from Jalen Ramsey or another secondary player, bringing five of the front seven, or in other ways getting more players involved in harassing the QB. The defense has never delivered productive pass rushing defensive ends and it's time to address it.
Joe Flacco can carve up any defense and giving him time is going to make the Jags' D look like  Swiss cheese. Help the secondary out and make something happen up front.
Will Gus Bradley have the Jacksonville Jaguars ready?
Week 1 was a close game against a vastly superior opponent. It was a pleasantly surprising validation that the Jaguars are finally able to show up and play against anyone.
Week 2 took that revelation and flipped it on its head. They looked completely empty in a game against a weaker opponent and barely appeared to have suited up for the game.
Preparation falls on the head coach and all the old concerns regarding Bradley jumped to the forefront during his team's depressing Week 2 blowout. He simply can't let his team show up without being ready to play.
If the Jags do look as unprepared as they were against the Chargers, expect the calls for Bradley's job to get louder and louder. He's on the hot seat and he knows it, but he hasn't been able to change in the three years he has been at the helm. Can he change in year four?
Can the Jacksonville Jaguars stop the penalties?
The Jaguars had 14 penalties in Week 2, totaling 93 yards. The Chargers had just three penalties for 23 yards.
All things being equal, the most disciplined team will win an NFL football game. Gus Bradley's team was clearly less disciplined against the Chargers and deserved to lose at least based on that. There is no excuse for the sloppy display and disregard for discipline the Jags displayed.
From false starts to pass interference, the Jags simply were not a squad that was prepared to execute. After nine penalties for 79 yards in Week 1 (even if some were bogus, as admitted by the NFL), there is clearly a discipline and execution problem for the Jaguars.
Defensive end Jared Odrick was visibly frustrated and let it known on the football field in Week 2. Similarly, quarterback Blake Bortles let it get to him too.
This goes back to the head coach again but it also falls to the leaders on the team. Captains Paul Posluszny and Bortles have to hold the team to a higher standard.
There's no excuse for a team as talented as the Jaguars to shoot themselves in the foot again and again on the field. There's more to football than just being able to make big plays. They need to do the small things right, too.
This article originally appeared on