Jacksonville Jaguars: 5 head coaches who could do better than Gus Bradley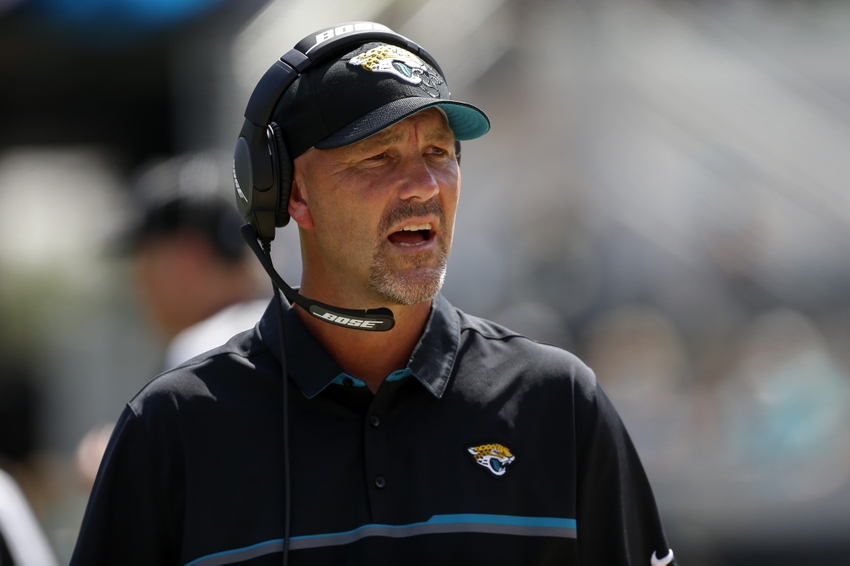 The Jacksonville Jaguars are in a desperate situation after dropping to 0-3 with a Week 3 loss to the Baltimore Ravens and a change at head coach should be in order either mid-season or at the end of the year.
0-3 isn't pretty for the Jacksonville Jaguars. Head coach Gus Bradley knows his time is limited as he's been on the hot-seat all offseason and now knows his job is gone if he doesn't turn things around.
General manager David Caldwell is in a precarious situation as well, despite completely revamping the roster and creating situations where the team should be  competitive. Caldwell's job security is entirely reliant on what owner Shahid Khan is thinking.
Whether Caldwell keeps his job or not, changes will likely be coming to Jacksonville. Whether that's when Bradley inevitably digs a bigger hole in the 2016 season or when the season ends, the changes will be coming.
In the spirit of the "fire Gus" fervor, we look at five head coaches that could do better with the current Jaguars talent in the 2016 season. There's no guarantee that trades or hiring could actually bring these coaches to the Jaguars, but it's worth keeping the options open and discussing them as Caldwell and/or Khan have got to be thinking about getting the money ready to hire the right guy for the job.
Let's dive in.
1) Tom Coughlin, retired, former New York Giants and Jacksonville Jaguars head coach
This is a bit of a dream for many Jacksonville Jaguars fans. Coughlin was in charge of the Jaguars during their early, successful history and he has since led the Giants to two Super Bowl titles.
Now out of a job (replaced by Ben McAdoo), Coughlin has state he is uncomfortable with retirement. Whether he can actually be lured out of retirement is another matter, especially to a team like the Jaguars who have struggled.
Prior to Week 3's big win, the Buffalo Bills were set to meet with Coughlin, suggesting that he may be able to be brought back by someone. The 70-year old coach has to be looking for the right situation to be brough back.
The biggest change that Coughlin could bring would be in the culture of the Jaguars. Where Gus Bradley has been a bubbly, optimistic coach even in the face of severe adversity and failure, Coughlin would come in and immediately demand better.
Either way, he would likely get much better out of current roster than the current head coach is.
2) Josh McDaniels, offensive coordinator, New England Patriots
Josh McDaniels famously flamed out after going 11-17 with the Denver Broncos over two seasons. His decision to bring in Tim Tebow was widely derided by people across the league, even with the surprising playoff win back in 2009.
Now back with the Patriots and uber-brilliant head coach Bill Belichick, McDaniels has returned to his ways of creating a wildly successful offense.
The Patriots have had a top-five scoring offense every year since his return in 2012 and been a top-12 offense in total yards each of those years.
That's the kind of production that the Jacksonville Jaguars could use, especially in light of the recent struggles by quarterback Blake Bortles under current offensive coordinator Greg Olson. Olson had surprising success in 2015 (and arguably his best offense ever) but hasn't been delivering the same sharp performances in 2016.
McDaniels could turn things around for Bortles and the offense. He's certainly earned another head coaching gig after his excellent rebound in the coordinator position with the Patriots. The Jaguars could be a loaded team that could respond well to him at the helm.
3) Todd Haley, offensive coordinator, Pittsburgh Steelers
Todd Haley hasn't been a head coach since heading up the Kansas City Chiefs from 2009-2011. He went 19-26 in that capacity, including a 10-win season in 2010.
Over the last three seasons he has been a brilliant offensive coordinator for the Steelers. The Steelers have been a top-10 offense since 2014 (including 2016) and was a top-five offense each of the last two seasons.
Having Big Ben Roethlisberger and Antonio Brown certainly helps, but there's no question that Haley could come to the Jacksonville Jaguars and change the way the offense is performing. Roethlisberger and Blake Bortles have been compared to each other since Bortles was drafted and there are few wide receivers that can be compared to Brown like Allen Robinson can be.
Haley wouldn't come to the Jags with the best track record ever, but he certainly has the ability to take advantage of the raw talent that a team offers. Currently, the Jaguars aren't capitalizing on talent and Haley could be the guy to take advantage.
4) Sean McDermott, defensive coordinator, Carolina Panthers
Sean McDermott was a popular name bandied about in the head coach discussion in the 2016 offseason. He stuck with the Carolina Panthers, but if the team puts together another big season he could see himself lured away by another team for 2017.
McDermott has been a defensive coordinator for the Panthers since 2011 and did the same job for the Philadelphia Eagles for two seasons before that. He has led his defenses to seven top-15 finishes in eight years and the last five seasons have all been top-10 performances.
For a team that desperately needs to capitalize on defensive talent, bringing in McDerrmott would be a big win. Gus Bradley hasn't been able to do anything with increasing talent each year on the Jacksonville Jaguars defense and continues to fall short in emulating the Seattle Seahawks' defense.
If McDermott could keep games close and bring in the right guys on offense, the Jags could see a quick resurgence under his leadership. The Panthers have been exceptional with strong pieces during his tenure and he could deliver similar results with the raw talent currently languishing on the Jags roster.
5) Matt Patricia, defensive coordinator, New England Patriots
A bit of an outside option, Matt Patricia only has five seasons under his belt as a defensive coordinator and all of them are with the Patriots. In fact, his entire career since 2003 has been working his way up the Patriots organization.
Whether or not he can have success outside of Bill Belichick's tutelage is a big question, but it's hard to argue with the results he has helped to create in any given season.
Over the last four seasons, Patricia has headed a top-10 scoring defense each year. He's on pace to do it again with the Patriots in 2016. Three of the last four seasons he has been particularly stout against the pass, finding inventive ways to limit the opposing quarterbacks with his personnel. In those three seasons, the Patriots have ranked ninth in passing yards allowed.
It's tough to separate just what is Patricia and what is Belichick on the Patriots. Patricia has certainly made the case to be a head coach in the NFL, but if the Jacksonville Jaguars were to pursue him (and his inventive use of talent on defense) they would have to try and separate what makes him so successful from Belichick.
This article originally appeared on