Jacksonville Jaguars: 3 positives from Week 10 loss to Houston Texans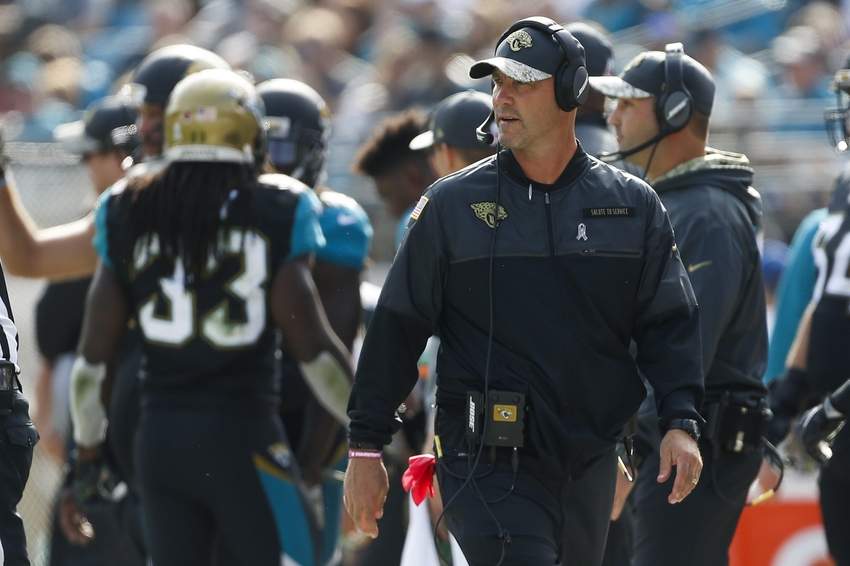 This season seems to be leading to another top draft pick for the Jaguars after another close loss. It can be frustrating for fans of the team to watch because they expected a much better record at this point in the season but here are Three Positives from yesterdays contest.
Sunday may have seemed like another episode of the same story for Jacksonville Jaguars fans, they started slow in the first half and then teased fans once again by falling short in a potential comeback attempt. It almost feels like you are watching a bad movie where you know how it will end but you continue to watch anyway. Jacksonville owner Shad Khan will clearly have some thinking to do at the end of the season but, despite the Jags dropping their fourth straight contest, there are still some signs of positivity.
It is obvious that the Jaguars have underperformed this season but they are still the third youngest team in the NFL. The reasons for positivity are there but the team's record can make it hard to look on the bright side. It's not fun to always be upset over a team  that you truly care about so without further ado here are my Three Positives from yesterday's game.
1. Jalen Ramsey, cornerback, Jacksonville Jaguars
This one is very obvious and he perhaps is the best thing to watch for Jaguars' fans game after game. The 5th overall draft pick from Florida State has helped the Jaguars give up only 1,833 passing yards through nine games which is the third lowest in the league. Jalen Ramsey has faced the likes of Jordy Nelson, T.Y. Hilton, Alshon Jeffrey, Amari Cooper, and DeAndre Hopkins. Granted, Ramsey has had a couple of bad moments through the first nine games but he is only a rookie. Head coach Gus Bradley and defensive coordinator (Gus Bradley Look-a-Like) Todd Wash have trusted him to shut down some of the game's best receivers and for the most part he has delivered.
Despite his talent, Ramsey brings a different attitude to the Jaguars and I think its something the Jags desperately need. The rookie standout is known for his trash talking and he has said it is something that helps motivate him to play better. Ramsey is exactly what this defense needs, he is set to become one of the best young cornerbacks in the league and he has made it known that he fears no receivers, no matter how talented they are.
2. Chris Ivory, running back, Jacksonville Jaguars
In his first three games with the Jaguars, Chris Ivory registered only 75 yards from 31 carries which resulted in a poor 2.4 yards per run average. However, in the last two games Ivory has shown much more flash and he is running the ball with a lot more purpose. In his last two performances, he has tallied 138 yards off 27 carries which is more than double his average of his first three games at 5.1 yards per carry.
It is clear that the offensive coordinator change had a big effect on Ivory. Ivory has 138 rushing yards in two games with Nathaniel Hackett calling the plays compared to only 129 yards through five games with former offensive coordinator Greg Olson.  Maybe missing the first two games of the season made it hard for Ivory to find his groove but it is clear that he has been more effective under Hackett.
Would it have been nice to see him receive more than nine carries in Week 10? Of course! Despite that, it is still nice to see him proving his worth to the young Jaguars offense.
3. Allen Robinson, Allen Hurns, Marqise Lee, wide receivers, Jacksonville Jaguars
The special wideouts of the Jaguars were supposed to be the key to happiness for Jaguars fans this season but unfortunately they have underperformed at times. Allen Robinson, Allen Hurns, and Marqise Lee have had some head scratching moments this season but in Week 10, they all flashed some great ability.
Allen Robinson finally looked like he was in a groove with young quarterback Blake Bortles. Robinson hauled in a season-high nine receptions for 107 yards and an extremely impressive touchdown grab.  A-Rob would have probably finished the game with more yards if he Bortles could fix some timing issues. Their connection has been far from perfect this season – and I mean really far – but it is still great to see him crack 100 yards for the first time this year.
Both Allen Hurns and Marqise Lee flashed big play ability yesterday as well, they both had chances to haul in touchdowns on deep balls but unfortunately the accuracy was not there from Bortles. It's exciting to see their ability to run crisp routes that fake out defenders and create big play opportunities for an offense that desperately needs it.
I hope after reading my Three Positives from yesterday's loss you can find a way to look on the bright side. In no way am I condoning the poor play of this team, it's clear that changes need to be made but if you can't find a reason to be happy about this team then why would you watch them?
This article originally appeared on