J.J. Watt Donates $10,000 to Injured High School Player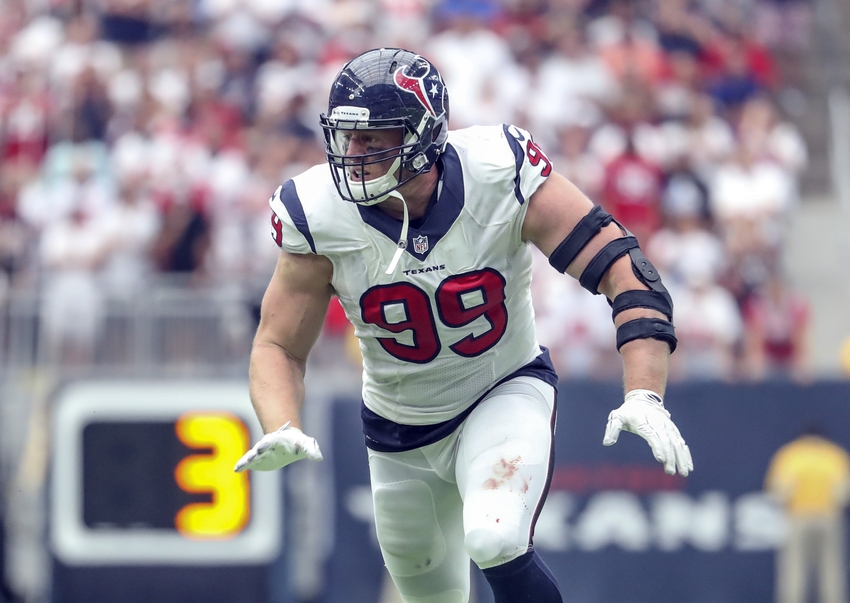 Houston Texans defensive end J.J. Watt may not be playing in 2016, but that's not stopping him from being one of the most stand-up guys in the NFL.
Unfortunately for the Houston Texans, J.J. Watt has not played a down in the 2016 NFL season. The emergence of Jadeveon Clowney (finally) as a potential superstar alongside the rest of a highly talented unit has made his absence manageable in Houston. Yet, it's hard to quantify just how important the best defensive player in the NFL is to a unit. Even in his absence, though, Watt is still making an impact off the field.
On Saturday, Nov. 26, Woodland High School was playing in a playoff football game at McLane Stadium in Waco, TX. A scary scene unfolded when Grant Milton, a player for Woodland, suffered a head injury and was immediately taken to the hospital and has been there since.
In the wake of the frightening scene and tragedy for the young student-athlete, a Go Fund Me page was set up (as is often the case in these situations) to help the Milton family pay for the medical and hospital costs. On Wednesday morning, though, they received a massive donation to the tune of $10,000. Who donated the money? None other than J.J. Watt (per KVUE, an ABC affiliate in Texas).
Along with his donation, Watt included this message on the Go Fund Me page:
If there's anything that I can do to help, please let me know. Sending my best wishes to Grant and the entire Milton family.
This certainly isn't the first instance we've seen with Watt doing good works out in the community and for fans. At least as it appears, the Texans superstar is one of the most caring athletes in professional sports today. It's incredible that he would see a story such as this and help so generously with his donation simply out of kindness and seemingly nothing more.
In an update published on the page by Grant Milton's father, the high school football player still has a road of recovery ahead. He suffered an injury on the right side of his brain, but there are no longer "active bleeding or signs of clotting" where the injury occurred. Moreover, the latest CT scans showed that Milton's "brain stem has now returned to normal form." That said, he is still recovering and doctors aren't sure what the lasting consequences of the injury will be.
This article originally appeared on