It's time to stop funding the Blair Walsh Project in Minnesota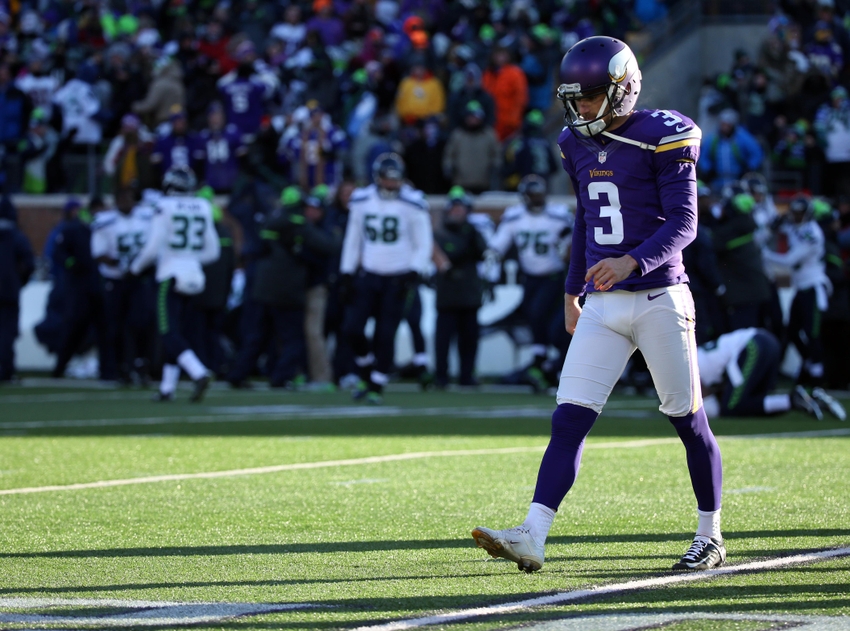 Minnesota Vikings kicker Blair Walsh is not very good at his job, which means it's time for a change.
It wasn't too long ago when the Minnesota Vikings were riding high atop the NFL as the last remaining undefeated team.  A lot has changed since their Week 5 domination of the Houston Texans, as three consecutive losses have many wondering if this team will even make the postseason when the NFC playoff picture eventually comes into focus.
Even when things were going well for the Vikings there was always that elephant in the room — what to do with Blair Walsh. If the Vikings' top brass was hopeful that their fragile placekicker would get over his spectacular meltdown from last year's Wild Card Game against Seattle, they have been proven wrong. Very rarely do athletes ever recover from those; just think back in sports history to players such as Nick Anderson and Mitch Williams. They may be from different sports, but the psychological damage from those failures still loom well after those epic failures. Once broken they cannot be fixed.
There have certainly been other culprits for the Vikings' struggles over the past three weeks, namely the offensive line play. However, much of Minnesota's Week 9 loss to Detroit was linked to Walsh's inability to perform his job effectively. The final score may indicate that Minnesota lost by six in overtime, but it should never have gotten to that point as Walsh's miscues ultimately led to the Lions tying the game in the final seconds. He missed a PAT (his third of the season) following Kyle Rudolph's touchdown reception during the third quarter that prevented the Vikings from tying the score. This was followed a drive later with a miscalculated kick that was blocked and eventually led to points for the Lions. 
For a team whose offense struggles to generate points, the last thing they can afford is having a kicker who can't split the difference. Perhaps no moment better captured the lack of confidence the Vikings have in Walsh then during one of their last drives of the game. Trailing by four with over eight minutes to go in regulation, Mike Zimmer opted to go for it on fourth down deep in Detroit territory rather than take the three points and trust your defense to get the ball back for one last drive. It spoke volumes, and highlights a critical failure in management to get things right on special teams.
General manager, Rick Spielman and head coach, Mike Zimmer have been more than patient with their kicker, but the time has come to pull the cord. Sadly for the five-year veteran, he's become a liability who seems to bring a bad energy to this team. It seems dramatic, or like Walsh is being scapegoated, but his pretense and continue failure is a dark cloud over U.S. Bank Stadium. The Vikings are not perfect, but it wasn't too long ago when this team looked like a serious contender in the NFC. Walsh isn't the only thing wrong with the team, but change needs to start somewhere — and to an extent it has. Jake Long was brought in and failed to make an impact.
Now might be time to get rid of Walsh and clamp the bleeding.
This article originally appeared on