It's Time to Realize Eric Ebron's Talent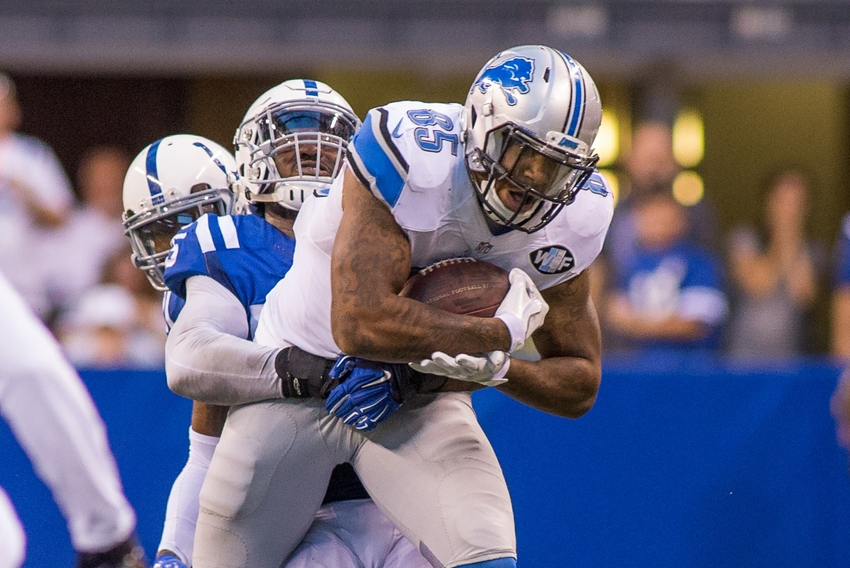 He's always going to have a target on his back from the fanbase. Snapchatting, when fans want him watching film. A victim of the players drafted after him. He's Detroit Lions tight end Eric Ebron, and it's time we started realizing the talent that he is.
Coming out of North Carolina in 2014, Ebron was a mystery to most of the fanbase.  Everybody was pleading for Mike Evans or even Darqueze Dennard (yikes), and when the Lions were up to pick they went with a tight end. And in draft fashion, if it isn't "your guy" or a big name guy, you'll be skeptical. (Actually just being a Lions fan means you're pretty much always skeptical of picks.) So when the selection came through as Ebron fans needed to Google search and pray they find something great.
And there was a little bit of faith in the beginning. But as soon as Odell Beckham Jr. and Aaron Donald started to take off, Ebron didn't stand a chance of catching up. It's not really the right way to judge a player, but it happens. If a guy drafted after you is better then you're automatically considered a worse pick.
Ebron, sans a few drops his rookie season, hasn't been that bad of a pick. Not to mention how much better he is looking this year, it should give fans a lot of hope. And yes, I understand that Odell and Donald are great, but you probably didn't even think to take them back then. Looking back on players that Detroit missed out on is some scary research. But if we start looking ahead instead of at what could have been, we'll see the great player they did end up drafting
This season in six games, Ebron has already surpassed his rookie year numbers, with last season's barely still ahead. He's found a formula to get open, and until the defense starts respecting him more, he will continue torching them. Against the Vikings, he not only caught seven of his eight targets (with the one incompletion being a ball Stafford threw just out of reach) but one of those catches came in a clutch situation. On third down, in overtime, he was able to fight for just enough to continue the drive. The same lone drive that Detroit marched down the field on, resulting in a beautiful Tate touchdown.
But throughout that entire game Ebron was making plays. Where the Detroit offense worked prior with Anquan Boldin, Ebron supplied the same body type with added speed. When Ebron was out, Boldin couldn't get nearly the same separation, resulting in a lot of passes in tight windows. Ebron has the ability to burn linebackers, causing the defense to match up a smaller quick guy on him. The exact reason why Detroit drafted him in the first place.
Now that this offense is clicking and Detroit has some playoff hope again, it's time for Ebron to take the next step. I believe he can be in the conversation of top tier tight end by the end of the year. After seeing how much he did last week with his health back I have a lot of faith. The guy can flat out ball. And luckily the Lions understood that it might take a little extra time to groom him into a weapon.
More from SideLion Report
This article originally appeared on