It's time the Kansas City Chiefs drafted another quarterback
Stacy D. Smith/FanSided via Arrowhead Addict

Fansided The hour is upon us, Addicts. A perfect opportunity to secure this franchise's future is forthcoming. When the NFL Draft rolls around this spring, the Kansas City Chiefs will have a moral obligation to draft another quarterback. And not just any quarterback, like a middle round prospect or an undrafted free agent.
No, the organization has to draft a player high enough that they're wed to him for several years. They need a draft choice taken so high that missing on him demands accountability from the front office and coaching staff.
The Aaron Murray's, Kevin Hogan's and Tyler Bray's of the draft world are safe investments. If they fail to pan out, you're unlikely to come under fire. Low investments into the annual draft do occasionally pay off. The all-time winningest Super Bowl quarterback comes to mind. Though, if I'm being honest, Tom Brady is the functional equivalent to a winning lottery ticket.
Before you mention Russell Wilson, drafted in third round, I want you to consider the gap between the selections of Brady and Wilson. Twelve years separated those two prospects. You're welcome to dig up the name of any comparable prospect between that tandem, but I suspect that will be a shortlist of names. That effectively proves my point. The two of them are NFL super rarities and, therefore, don't serve as a legitimate objection to drafting a quarterback high.
There are other, less obvious benefits to drafting a quarterback early. It sends a message to players that you're serious about winning. That's relevant to players on the roster with expiring contracts and those the organization might be courting in free agency.
The size of the offer isn't the only variable in play when it comes to a player's decision to either stay or defect for a new city. The team's viability as a bona fide contender is another consideration. Think something like that matters to a player like Eric Berry? Were the Chiefs a less viable franchise, think they'd have a legitimate shot at bringing him back in 2017?
I've said this before and it bears repeating: Alex Smith will be your starting quarterback next season — and he should be. The plan is to create a respectable succession plan for him once the 2017 season is over. They'll at least have the option if they've made a real investment and properly prepared his replacement. it would extend the window of opportunity for an otherwise young football team.
It would also buy the administration additional time to finally make a Super Bowl appearance. The way I see it, it's a win-win situation for all parties involved, except maybe #11. Though, he's acquitted himself as an above-average quarterback with a winning reputation in Kansas City and should therefore reap the benefits when he finally does depart for what's likely to be his final NFL destination.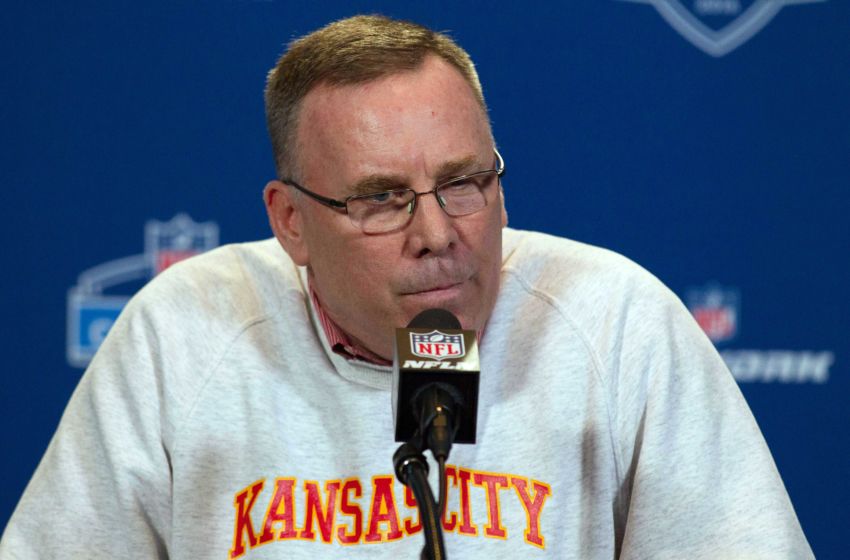 I'm sure you're curious about which prospect I'd recommend after such a strong suggestion that the Chiefs make a high investment at the quarterback position. Honestly, today's not the day for propaganda. The time will soon come for film review and draft analysis. Right now, we're simply looking at what Kansas City must do to extend its championship viability.
Alex Smith's limitations, age, and contract numbers in the near future are perennial postseason contender prohibitive. For the sake of young, ascending players like Dee Ford, Spencer Ware and Marcus Peters, I hope the franchise doesn't squander a budding core the way they did with the last nucleus — comprised of players like Tamba Hali, Derrick Johnson and Jamaal Charles.
Are you on board with the Chiefs pulling the trigger in April or should they wait on an ostensibly superior quarterback class in 2018? Is there a particular prospect you're fond of in this group of incoming players? Should Kansas City give serious thought to a free agent replacement instead? Use the comment section below to weigh in. As always, we appreciate your readership and support.
Until next time, Addicts!
More from Arrowhead Addict
This article originally appeared on