Is the NFL Really the 'No Fun League?'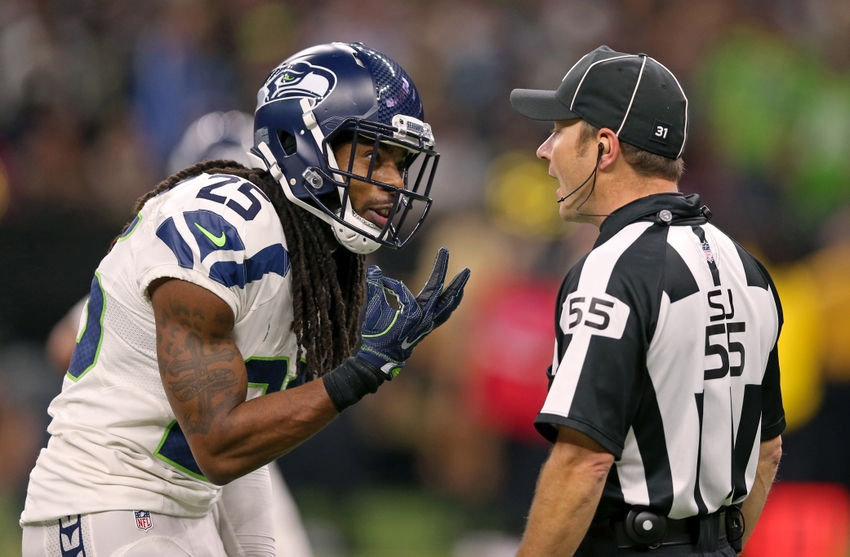 Seattle Seahawks cornerback Richard Sherman recently stated the NFL is no longer 'fun.' Is it really the "No Fun League" more so than ever before?
We seemingly cannot go a week without hearing or reading about how ratings for certain NFL games and broadcasts are down from previous years. Armchair psychologists, individuals with political agendas and fans who know little-to-nothing about how TV ratings are counted and gathered have all offered hot takes for why NFL ratings have decreased.
Some believe pockets of viewers out there tuned out because of the national anthem protests sparked by San Francisco 49ers quarterback Colin Kaepernick. Others have suggested that Sunday Night Football, Monday Night Football and Thursday Night Football games have resulted in an over-saturation of the market. Our ability to stream different types of programming by pressing a button of couple of times may be affecting ratings as well.
Seattle Seahawks cornerback Richard Sherman offered his opinion on the subject when speaking with reporters during a press conference, per Seahawks.com.
"Because the league isn't fun anymore," Sherman explained. "Every other league, you see the players have a good time. It's a game. This isn't politics. This isn't justice. This is entertainment. And they're no longer allowing the players to entertain. They're no longer allowing the players to show any kind of personality, any kind of uniqueness, any individuality.
"Because they want to control the product. They want to control the messaging, etc., etc."
This is nothing new from Sherman. Earlier this year, he used The Players' Tribune to voice his displeasure over what he believes to be the NFL taking fun out of the sport:
I think if the NFL had its way, we would all be robots. We would all be perfect human beings off the field so that the league would never have to deal with another p.r. nightmare and everybody would smile and nod and hand the ball over to the official after a touchdown or a big play.

The funny thing is, if the NFL did have its way, we would lose what makes our game great. We would lose what draws fans to the sport.
Sherman continued:
We're already seeing a bit of that. TV ratings are down, and I think we can point to the NFL legislating the emotion out of the game as a contributing factor. The NFL is enforcing a policy against celebration. Against joy. Against fun. It's something I know a lot of players are frustrated with, and it appears that fans may be as well.
The sequence of events leading to Sherman's complaints in addition to the dip in NFL ratings have been in the works for years. Jokes about the NFL becoming the "No Fun League" didn't arise yesterday, after all. Fans, journalists and observers have remarked about the "No Fun League" seemingly throughout the past decade—or at least it feels as if it's been that long.
The NFL is a business, a billion-dollar business, but a business nevertheless. And that business must answer to sponsors and other groups. Knowledgeable and reasonable fans understand this and can see the difference between organizations being fine with beer commercials running during games and a player such as Antonio Brown performing what is deemed to be a "sexually explicit" dance following a touchdown. Nobody is suggesting the NFL should become the Wild West on Sundays.
As Sherman eloquently pointed out, common sense needs to win the day here before it's too late, before the NFL loses younger audiences who deem the league to no longer be any fun.
The personal conduct fouls that occur during NFL games are ridiculous and they insult adult fans. Players can be flagged for using a football as a prop during a celebration, even if they do so unintentionally in a moment of joy. They're flagged if they remove their helmets when not on the sidelines, even if they do so out of play such as when standing past the back of an end zone. They're flagged for talking trash and they're fined for wearing cleats that feature unique designs.
Come on.
The hottest sports event on cable television this past Thursday wasn't the weekly NFL game. It was a NBA contest featuring the Oklahoma City Thunder and Golden State Warriors. The majority of NBA games played at this point of a season are entirely meaningless. However, fans cared about this one because it involved Russell Westbrook playing against former teammate Kevin Durant. Durant talked trash with some Oklahoma City players during the evening and the TNT cameras did well to grab those moments and even zoom in on some occasions.
The outcome of the contest didn't matter because it was an NBA game played in early November. We tuned in for potential drama and the reality TV aspect surrounding the showdown between Durant and Westbrook.
Certain aspects of the NFL from decades ago are gone and will never return. Hits to the head, for example, should and will be punished. Quarterbacks are CEOs of offenses and stars who need to be protected. This is life in the NFL in 2016.
However, Sherman wants players to have fun and be allowed to become stars—and he's spot-on with his assessment.
Current UFC champion Conor McGregor is an example. McGregor is a modern-day "Nature Boy" Ric Flair. He's a fighter who wears customized suits and who cuts entertaining promos. Casual fans don't spend money to watch McGregor because he's such a talented fighter (though he is that). They do so because he's fun and he's a star.
No league is better at promoting and creating stars than the NBA. The NFL has a plethora of entertaining stars such as wide receiver Odell Beckham Jr. and rookie running back Ezekiel Elliott. Preventing those young men from entertaining audiences as best they can, from having fun on the field during games and from growing their fan bases, doesn't accomplish anything positive.
No one thing is causing a dip in TV ratings for NFL games. A variety of factors are likely leading to fewer people watching primetime regular season showdowns. The "No Fun League" perception mentioned by Sherman, the amount of flags thrown, the number of stoppages and overall quality of play are all matters that need to be addressed by the league sooner rather than later.
Roger Goodell needs to learn that nobody wants to watch a league that's no fun.
This article originally appeared on