Is the Lucas Oil Turf Partially to Blame for Andrew Luck's Concussion?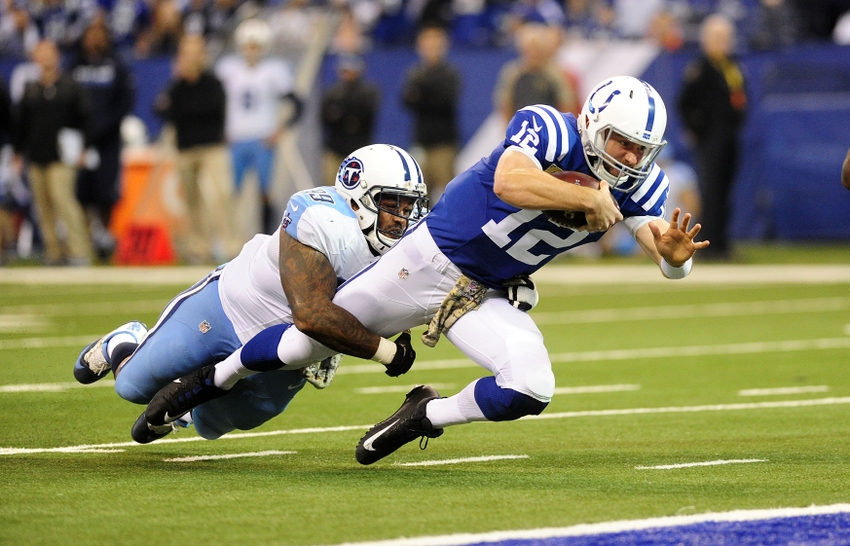 With Indianapolis Colts quarterback Andrew Luck suffering a concussion, it begs the question of who's to blame.
Surely, there's a scapegoat. [Cue: The flaming torches and pitchforks]
There's no question that football itself is an inherently physically violent sport, which alone has concussed many, many players throughout its storied history.
Nevertheless, critics of the Colts front office are already quick to point fingers at the offensive line, as Luck has been speculated to be concussed on this early 4th quarter sack with 11:46 left in the game due to a breakdown in pass protection–as his helmet violently hit the Lucas Oil turf:
[It's a play that was similar to when starting quarterback Matt Hasselbeck was forced to leave last season's Week 15 loss to the Houston Texans in the 4th quarter when his helmet hit the turf hard–resulting in a potential concussion, but later shockingly returned.]
However, there could be an even bigger culprit at play here.
Lucas Oil Stadium's FieldTurf–which although was rated the best playing surface in 2009 and 2010, has drawn significant criticism of at least one opposing team.
Specifically, the Kansas City Chiefs–who played the Colts during Week 8 of this year's regular season recently complained about the Lucas Oil playing surface (via Terez A. Paylor of The Kansas City Star):
"If you hit that ground, sometimes if you hit the ground and your head hits the grass, maybe it gives," said Kansas City Chiefs veteran pass rusher Tamba Hali of a normal playing surface. "This one (Lucas Oil Stadium's), you're hitting concrete. So every time your head hits concrete, you're sure to probably get a little bit of concussion."

"It's a fast surface, it's a thin surface," added Chiefs safety Eric Berry. "It's not the thick turf that you're probably used to seeing."
Of course, the Chiefs may have a legitimate complaint, as starting quarterback Alex Smith was knocked out of the game with a concussion early in the third quarter when Colts safety Clayton Geathers pushed his head into the turf during a sliding attempt.
It's worth noting that their starting running back Spencer Ware was also forced from that game with a concussion, although it's unclear when exactly his head injury occurred.
However, the Chiefs have for sure lost a running back to the Lucas Oil turf before when in their 2013 Wildcard playoff game against the Colts, star running back Jamaal Charles hit his helmet hard on the playing surface in the game's opening drive during a run and did not return.
To be fair though, I'm no doctor, but if 6'4″, 314 pound, Titans rookie nose tackle Austin Johnson is hitting a player at full force and throwing all of his weight around in the process during a 'turf takedown', that player could very well even sustain a head injury realistically playing on pillows.
Nevertheless, it's worth noting that the Lucas Oil FieldTurf has been recently regarded as 'ruthless', as it relates to dealing concussions to players who have hit their helmets hard on its playing surface–including now the Colts very own Andrew Luck.
More from Horseshoe Heroes
This article originally appeared on