Is John Fox Finished as Chicago Bears Head Coach?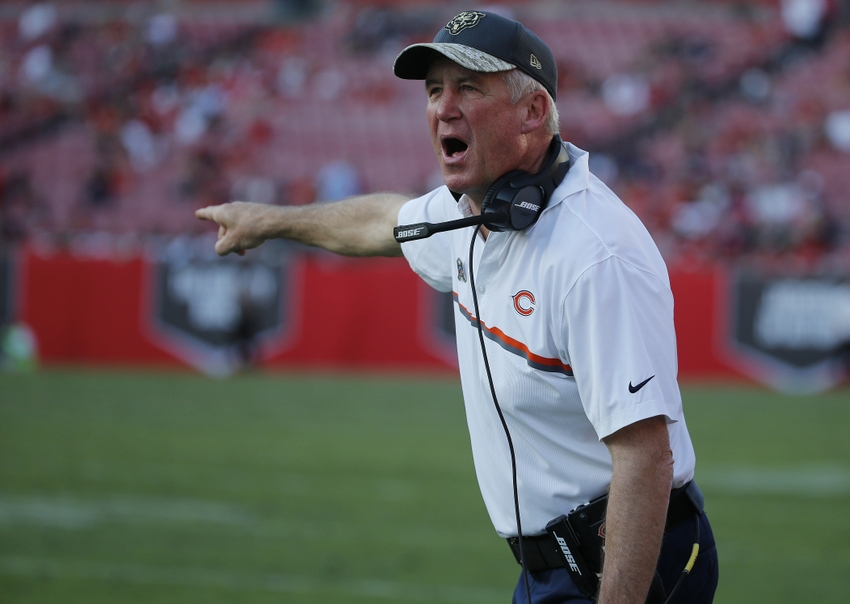 John Fox was expected to come in and head up a quick turnaround, but instead, the latest Chicago Bears rebuilding project is turning out to be a major flop.  Is his time in Chicago running out?
John Fox arrived in Chicago with high expectations and why not?  His resume was clear and had a history of quick turnarounds.  In his second year with the Carolina Panthers, he took them to the Super Bowl by improving by four wins over the previous season.  In his second season with the Denver Broncos, he took them to the Super Bowl with a 13-3 record and +5 wins over the prior season.
I think it's safe to say that at 2-7, there will be no miracle comeback, no quick turnaround and no Super Bowl for John Fox unless he buys a ticket.  The Bears will not improve on last season's 6-10 record and the 2016 season will mark the ninth season out of the last ten in which the Bears have missed the playoffs.  Fox's predecessor Marc Trestman got the boot after two losing seasons, so how safe is John Fox?  Are his days as Chicago Bears head coach numbered?
It was considered a stroke of luck that John Fox was available after the 2014 season.  He had just taken the Broncos on another deep playoff run but fallen short of a championship with Peyton Manning for the second straight season.  For Broncos GM John Elway, failing to win titles is a fireable offense; for the Bears missing the playoffs barely gets noticed.
More from Bear Goggles On
Fans, including yours truly, were excited at the prospect of John Fox.  The Bears had a history of hiring first time head coaches.  Mike Ditka, Dave Wannstedt, Dick Jauron, Lovie Smith and Marc Trestman were all first time head coaches.  The last time the Bears had an experienced NFL coach, it may have been Papa Bear Halas himself.  We all thought that an experienced head coach would make a difference, especially after Trestman's disastrous tenure.
I would be really interested to see who Ryan Pace would have hired as head coach had John Fox not fallen into his lap.  At the time, it seemed like the right move, the best move.  If the Bears had let Fox go elsewhere, Pace would have been viewed as inexperienced, incompetent.  After all, his predecessor let the obvious choice Bruce Arians walk out of the room so he could hire Marc Trestman.
Maybe the NFL game has passed John Fox by?  Maybe Peyton Manning masked a lot of Fox's deficiencies as head coach?  The Denver years on Fox's resume certainly seem like they need an asterisk next to them after we see what he's done here in Chicago.
After the Bears' latest flop, a 36-10 drubbing at the hands of the Tampa Bay Bucs after a bye week, it's fair to question everyone in the Bears organization, especially the head coach.  The team looked utterly flat and completely unprepared.  Some people have questioned Jay Cutler's preparation, but at the end of the day, it falls on the coaching staff.
There are reasons to consider keeping Fox beyond 2016.  If he's fired, it's likely you lose a lot of your coaching staff.  That would be tough on a defense that's been showing improvement under Fox and defensive coordinator Vic Fangio.  You can't expect to hire Mel Tucker to keep Fangio's defense, can you?  We saw how that worked out after Lovie Smith got fired.
It's been rumored that Fox was surprised at the extent of the rebuilding project that he was taking on by coming to Chicago.  The lack of depth and talent throughout the roster was stunning.  Maybe with such a big overhaul, he just needs another year.
Or maybe at age 61 Foxy is starting to think about retirement more than another year of grinding through tape and meetings.  In fact, if he wants to save face, maybe Fox just steps down after the season to say he's going to retire.
This article originally appeared on