Is Deiondre' Hall the Bears' most valuable Rookie?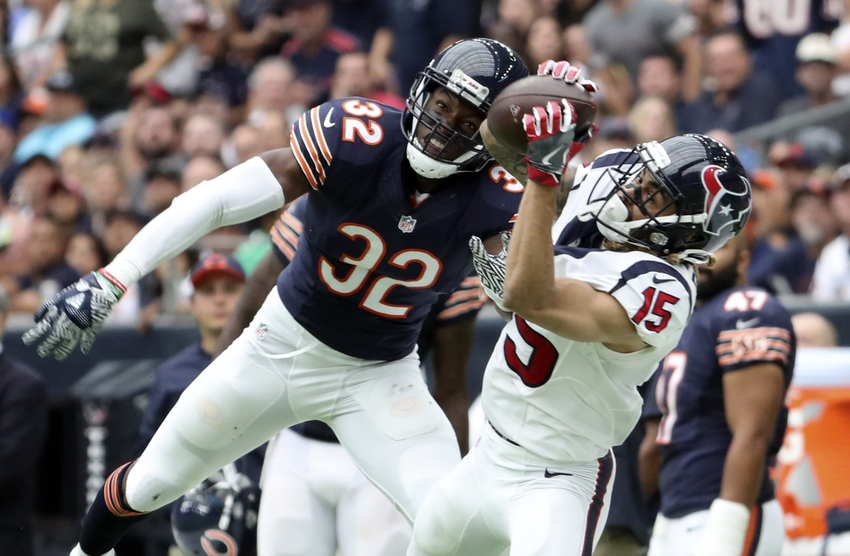 With talented rookies on defense galore, cornerback Deiondre' Hall could turn out to be the Chicago Bears' most valuable.
After an impressive performance against the Texans by Bears' first round hopeful Leonard Floyd, and Jonathan Bullard itching to take over Mitch Unrein's starting job at defensive end, there's no denying that they are more polished and NFL-ready at their respective positions than 4th-round pick Deiondre' Hall. But Hall's upside and instincts against the pass and the run make him an intriguing option at starting CB.
At 6'2″ with an arm length of 34 3/8″, Hall is a physical specimen and represents Vic Fangio's prototypical outside corner. A lanky 50-50 ball weapon, Hall has enough upside to beat out Jacoby Glenn for the starting job. Yet Glenn got the nod in Week 1 against the Houston Texans, starting opposite Tracy Porter for the injured Kyle Fuller.
Why? The answer is simple. Deiondre' Hall is still extremely raw (even for a rookie). He operates wildly in coverage and struggles to control his long arms. He appears chaotic and impatient against the pass at times, turning clean pass breakups into borderline pass interferences. Hall is the definition of a diamond in the rough.
But with all that being said, Deiondre' Hall just might be the biggest ball hawk the Bears have at their disposal. Tracy Porter's nose for the football is beyond dispute, but Hall has the athletic frame and big-play potential to turn into the Bears' No.1 CB in the future.
It's not a secret that the Bears are thinner than thin at cornerback. Kyle Fuller is still recovering from a knee scope, and John Fox and company will certainly not rush him back on the field, jeopardizing the healing process or risking another injury. He could be back against the Eagles on MNF, but there's no guarantee or definite date of when Fuller will be healthy enough to get back on the gridiron.
Tracy Porter has been the playmaker of this Bears secondary, but he's an injury prone playmaker, and considering his age (30), soft-tissue injuries tend to occur more frequently.
I'm not a doctor, nor can I predict the future, but considering the aforementioned injury concerns in the secondary, and the fact that Bryce Callahan is a better nickel than outside corner, Deiondre' Hall could see a lot more snaps as a starter than John Fox would admit at this point of time. And he might be asked to live up to the expectations and hopes sooner than later.
Now, back to my statement that Deiondre' Hall could finish the season as the Bears' most valuable rookie. First, I want to explain that by no means am I saying that Hall is, or could be, the Bears' best rookie. I'm saying he might the Bears' most valuable. There's a big difference.
Leonard Floyd and Jonathan Bullard could finish the 2016 season as Chicago's best rookies, but because the Bears are fairly deep in the front-seven, their value might not be as high as the value of 4th-rounder Deiondre' Hall playing a position that's struggling with obvious depth issues. The same can be said about Cody Whitehair, who's sharing snaps with two of the most productive offensive linemen in the NFL (Kyle Long and Josh Sitton), and Jordan Howard, who's still third on the Bears depth chart (behind Jeremy Langford and Ka'Deem Carey).
If you believe the only reason why I think of Hall as the most valuable rookie is because the Bears desperately need help at cornerback, you are wrong. I can actually back up my statement with some impressive game film:
Deiondre' Hall has flashed his potential on several occasions. Especially in the red zone he has continuously looked like he can handle the responsibilities that come with being a starting cornerback. Sure, not everything we've seen from him so far has been a feast for the eyes, but if injuries continue to weaken the Bears secondary, I'm confident Vic Fangio's brilliant defensive mind will find a way to help Deiondre' Hall grow up before our eyes as early as this year.
More from Bear Goggles On
This article originally appeared on